Face it, it's always a challenge to come up with the right interior paint colour and perfect lighting.
But what about for a basement? In winter? How do you make that space warm and cozy and easy on the eyes - literally, for eye health?
We went to the experts for some tips on lighting and paint choices, plus advice on computer and TV placement for optimum eye health.
Lighting
When it comes to lighting, it's important to consider how you plan to use the space, as well as the dimensions.
Natural daylight tends to be minimal in a basement, making artificial lighting key (spaces that are bright tend to feel bigger too). Halogen bulbs render truer colours and are a close simulation to natural daylight. Another alternative is daylight compact fluorescents.
Often with basements, the ceiling is lower than standard height, and you don't want people to hit their heads on hanging fixtures, which can also make a ceiling feel lower. When height is limited, consider recessed fixtures (pot lights). But beware; if not used appropriately, they can actually make the space feel smaller by creating shadows on the upper part of the walls.
Experts recommend using adjustable recessed fixtures so the light can be aimed towards the walls. "This highlights what is on the wall - artwork or wall hangings - and the light bounces back into the space."
Dimmers can help provide a lot of light when it's needed and atmosphere when it's not - but you must have the proper dimmer for the type of light. Fluorescent lighting, for instance, requires special bulbs and specific dimmers.
Layering of lighting (think wall sconces in combination with table lamps) can be used to create atmosphere, and for task lighting. Lighting shouldn't be in the centre of the room, one expert says, but rather placed where it can bounce around the room. Flush-mount ceiling fixtures can spread light into areas for ambient lighting as well.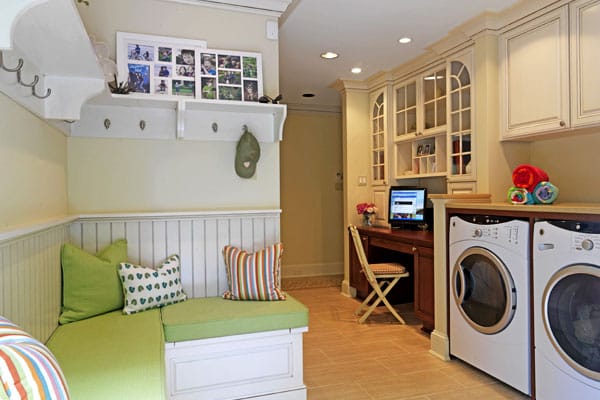 Sometimes, basements - often used for TV rooms, play spaces for children, or hobby rooms - need to be subdivided for different activities. This can be helped along by positioning lights according to furniture placement - for example, by placing a few lights over the sofa if it is to be used for reading. One of the best reading lamps is an Ott-Lite because it has a colour temperature that simulates daylight (good for older eyes), and good colour rendering. It is fluorescent, so energy efficient and cool to operate.
"The basement is not like what we were used to years ago," one lighting expert says. "There are now entertainment areas for adults and children, and lighting has become a key factor in completing the look."
A current trend is to incorporate a theatre-style space into the downstairs area, and, of course, this demands special lighting.
"We see more recreational spaces requiring that special pool table light and bar lighting. These light fixtures tend to be on the more creative side allowing the home owner to personalize the space for entertaining. People are not staying with the standard-looking light. Now the fixtures take on an artistic look, adding dimension and character to the living space, making it more appealing and fun."
Since basements are short on natural light, try to make the most of what's there. One tip is to place mirrors near windows. They will reflect light off the wall, back into the centre of the room.
If you have a solid door between a room with a window and one without, consider replacing it with a glass door that will let natural light flow from one room to the next. If privacy is a concern, choose a frosted or stained glass insert.
Another tip is to make sure window treatments can be moved aside easily, or are sheer enough to let light pass through.
Proper lighting can go a long way toward making the room itself feel more inviting.
Paint Colour
Colour is another key consideration, and paint can help in a couple of ways. If the space feels cool, warm colours can help. Reds, oranges or yellows can work beautifully. Bright yellow-based colour is ideal for basements, as it compensates for a lack of natural sunshine and reduces any sense of dampness.
When choosing the wall colour, resist the urge to look down at the colour chip in your hand. Holding it at eye level will give you a better representation of what it will look like on the wall. Similarly, the ceiling colour chip should be held above your head to best choose the right colour.
Not all ceilings need to be white; a very pale yellow ceiling will warm up the space. A hint of colour that ties into the wall colour also works. A ceiling painted with semi-gloss will make sure any light hitting the ceiling bounces back into the room.
Once you've chosen your wall colour, paint it in a sheen that has a little more reflective value than you might use in a room with more natural light. Using a pearl finish will help to bounce light around the room. It also has the added bonus of being more washable.
If the basement doesn't have a focal point, solve this by painting one wall a feature colour, and hanging a beautiful piece of art on it.
Screen Placement
Optometrist Leah Gallie says for TV viewing, normal room lighting is best. "When the room is too brightly lit, the screen has less contrast, and when the room is too dark there is too much contrast for comfortable vision."
The TV should be at eye level, and the screen placed away from glare sources such as windows and lamps.
As for the computer? She recommends the screen be 20° below eye level, and an arm's length away. "Consider a glare screen for your monitor, and use diffuse, not direct, light," she says.
Dr. Gallie also says it's important to maximize your vision by wearing the appropriate vision correction, as prescribed by your eye doctor. An anti-reflective coating on lenses can help.
And remember the 20-20-20 rule: every 20 minutes take a 20 second break and focus on something 20 feet away to relax the focusing system. Concentrate on blinking and use artificial tears as needed: the average blink rate drops from 12 times per minute to five blinks per minute when you're at the computer, leading to dry eyes.
Overall, it may be helpful to remember this rule of thumb: when choosing a light source, simply adding more light is not always the solution to clearer vision.