Modern innovation has made pools and hot tubs cheaper and easier to maintain
Last year saw a dip in Canada's pool and spa business, with the number of building permits issued for swimming pools dropping by almost 10 per cent nationally, and by a whopping 17.6 per cent in Atlantic Canada. The one bright spot was Moncton—not for weather, which was as wet as everywhere else—but for pool sales.
Happily for pool and spa retailers, the outlook for 2010 is much brighter. "There's a sense that things are improving," says Rob Wood, the executive director of the Pool and Hot Tub Council of Canada. "There's pent-up demand out there."
"People never lost interest," says Brad Sweet, a partner in Holland Home Leisure in New Minas and Aylesford, NS. "They were just waiting until the economy improved." Sweet attributes the popularity of pools and hot tubs to a recent home vacation phenomenon known as the "staycation". "People are tired of packing the family into a van and driving for days. They're reluctant to get on a plane. They have demanding jobs, big mortgages, kids in activities and aging parents. A stay-at-home vacation fits well with their busy schedules."
According to Sweet, the stay-at-home vacation makes sense financially as well. "Go away for two weeks and you come back with nothing but memories. Put the money into the house and it's still there." The trick to home improvements is to invest wisely—whether in bathroom fixtures, kitchen cupboards or backyard equipment.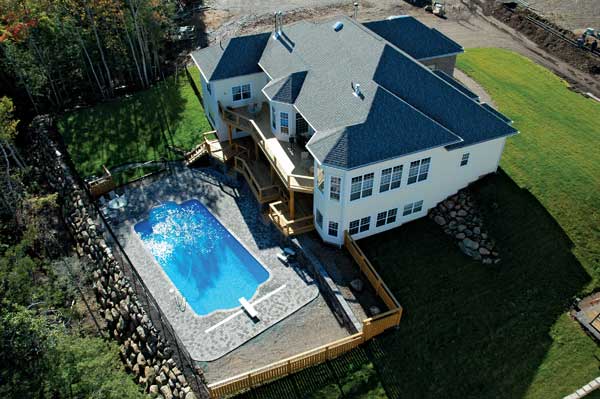 In-ground pools are the costliest leisure option (especially those made from poured concrete and fiberglass forms). "Concrete and fibreglass aren't that popular on the east coast," says Brad Sweet. "The tradition … is to go with vinyl-lined pools."
At Sparkling Pools and Spas in Dartmouth, manager Lisa Dickson sees the same trend. "We're booked through the summer and most of the jobs are for vinyl-lined pools."
A decade ago the normal size for an in-ground pool was an 18 X 36-foot rectangle. "Today there is no normal size," says Sweet. "There are 50 different shapes and a variety of styles. It's all about customization." Cookie cutter installations are a thing of the past. People want to create their own personal look in the back yard, in the same way they do for their home's interior. "Years ago you enclosed the pool with a simple chain link fence," says Sweet. "In New Minas we have seven different iron fences on display. The options are endless."
There is impressive new technology as well. Robotic cleaners lighten the workload. Automatic covers close over the pool with the push of a button. Supplemental UV and ozone sanitation systems decrease the need for chemical sanitizers; salt water systems take the next step towards eliminating them.
"More than 60 per cent of the pools installed by Holland Home Leisure are now salt water," says Brad Sweet. "It's been around for some time but the awareness has begun to grow." In a salt water pool an electrolytic chlorine generator converts salt to elemental chlorine. To maintain the proper level of salinity in the pool, simply add more salt. There are no large containers of chemicals to store and the chlorine produced makes the water more buoyant and is gentle on the eyes, nose, skin and hair.
"The industry is taking positive steps to make pools easier to maintain, less expensive to operate and more environmentally friendly," says Rob Wood. Substantial energy savings come from improved insulation, variable-speed pumps, automatic controls, heat pumps, and digital internal time clocks for lighting, filtration and water features. Insulated pool covers can cut heat loss by almost half. Solar roof panels can reduce the cost of heating a pool by up to 75 per cent, and LED lighting can lower electrical consumption by more than 50 per cent. Some pools are eco-friendly enough to qualify for an Energy Star rating.
Despite cost-cutting innovations for operating and maintaining in-ground pools, the basic price still begins at about $30,000 and climbs quite quickly with the addition of natural stone pool surrounds, landscaping and lighting. It's likely that for this reason above ground pools are the best sellers in Atlantic Canada. They may not have the aesthetic appeal of an in-ground pool, but the appearance has improved and they are now more readily accepted.
Holland Home Leisure's installed price for an 18 X 33-foot above ground pool is less than $10,000. An installed 15-foot diameter above ground pool with 52-inch metal walls sells for $3,795. Fencing and decking are extra. "It's an economical and professional way to put water in your backyard," says Sweet.
Or a hot tub
An even more popular way to put water in the backyard is by adding a hot tub. If the hearth is the heart of the home, the hot tub is the heart of the yard. Described as today's kitchen table, the hot tub is a place to relax with friends and family—especially in the evening after a meal. "It's a place to get re-energized," says Brad Sweet. "For the cost of a typical two-week family vacation, a hot tub will give you years of relief from daily stress—and you can take it with you when you move."
The hot tubs sold today bear only passing resemblance to those sold a few decades ago. California-made Cal Spas, a line carried by Sparkling Pools and Spas in Dartmouth, NS, offers one of the highest numbers of hot tub molds in the industry, ranging from intimate models for two to oversized spas you can swim in. Hundreds of option combinations include blaster jets for every inch of the body and audio-video accessories like auto rising LED TVs and marine-grade, iPod-ready SONY stereo systems with six-inch speakers.
Other manufacturers like Canada's Beachcomber Spas have fewer bells and whistles, although they do make a pricey automatic cover that raises and lowers like the roof of a tent trailer. "They sell on the basis of hydrotherapy and environmental awareness," says Sweet, who carries only spas made by Beachcomber. "The manufacturer has made a conscious decision to be environmentally responsible, and it translates into low running costs. You can get the 104-degree temperature you need for about $1 a day."
Most spas are now designed for year-round use. Insulation has been maximized for optimum heat retention and horsepower has been minimized to reduce power consumption. At Holland Home Leisure the entry level Beachcomber model starts at $5,495, but very few customers purchase this one. For $7,695 they can get a hybrid model with better insulation, a better entry system and more options.
An uncertain economy and poor weather conditions have had the same negative impact on sales of both tubs pools, but lately there has been a surge in sales that Brad Sweet attributes to warmer temperatures and growing consumer confidence.
Our new slogan is "Why wait? Live life now," says Sweet. "We spend so much time planning for tomorrow that we sometimes forget to live for today. There's no point in waiting to make our pleasure purchases—but you have to do it responsibly."