A quest for a better storage area for recycling bins led to a full mudroom reno.
George Drake's renovation started with a quest for a better place to store his recycling bins. When it ended, the Marion Bridge, NS, homeowner had a new mudroom, complete with recycling storage, a closet for outerwear and cleaning equipment, and a solution to the nagging challenge of how best to use an awkward space.
Drake says his 25-year-old home wasn't built with recycling in mind, and he wasn't happy with the existing bin area.
Pre-renovation, the bins were kept in a 6 x 7-foot room just off the home's side entrance. At that time, the room accommodated the washer and dryer, two recycling bins, a vacuum cleaner, some brooms and cleaning supplies. Because the door opened in, the space was even more impractical.
While planning the renovation, Drake considered what other problems he might solve at the same time. There was no hall closet near this entrance, so guests' coats and things had to be carried through the den and hung in the front closet.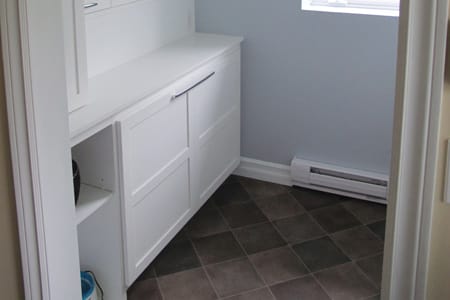 There was also a large, but awkward, 3 x 6-foot space inside the wall that wasn't being used, which was the headspace over the basement stairs. At one time, it had been accessed through a small door in the hallway. This small opening made it difficult to organize; it was also a challenge to retrieve anything from this space.
During the renovation planning, Drake began to look at accessing that same space from inside the mudroom. His plan included installing three large pullout pantry shelves on the top half of the wall, as well as a shallow cabinet for small-item storage. He opted for wooden pantry shelves for a strong, easy-to-clean solution. The lower half included a drop-down door for pull-out recycling bins. (The space now has two bins, but there is ample room for three.)
To the left, he built a space for his cat's food, water and grooming supplies. On the opposite wall, he created a closet for outdoor clothing, and a separate section for the vacuum and brooms.
With the help of the paint colours he selected—white and soft blue—the room took on a clean, fresh appearance. That inspired him to remove the door completely, which gave him more space and allowed direct access.
For even more space, he moved the washer and dryer to a laundry room in the basement and placed a large bench, which also provides storage, at the home's front door—providing a place for people to drop parcels and sit while removing their shoes or boots.
In the end, Drake's recycling challenge resulted in a more effective use of the space he had, and he now has an inviting mudroom that truly meets his storage needs.