Let your feathered friends be your guide to your outdoor living style.
The robins returned to Wolfville on a sunny Friday in late February—bucking tradition by a good three weeks. Determined to have the best selection of territories and a hearty meal of newly thawed worms, these early birds had an important message for summer-seekers of the human variety: with the right attitude and some essential equipment, it's never too soon to take it outside.
Outdoor living is decidedly more luxurious today than in decades past. The humble picnic table and concrete slab patio still exist, but they've been joined by a legion of other backyard features including pergolas, gazebos, decks, walkways, accent walls, screened rooms, fire pits, fireplaces and—particularly popular—water features. "Any feature that incorporates water is big right now," says New Minas, NS-based landscape designer, Jerry MacInnis.
As the yard becomes an extension of the house—complete with separate areas for cooking, eating, drinking, lounging, and even sleeping—the traditional two-week get-away is seeing some stiff competition from stay-at-home holidays. "The 'staycation' is alive and well," says MacInnis. "My customers tell me that they used to take car trips in the summer, but with the price of fuel they've decided to stay home and spend their money on upgrading the yard."
With the abundance of choice in outdoor upgrades, transforming the great outdoors into the outdoor great room may sound like a breeze, but a motley assortment of fire features, lawn furniture and screened structures can look more like a scene from a military reenactment than a tranquil place to kick back after work. For a cohesive outdoor living space in which form follows function, consider the orientation of the yard, the people who spend time there and the things they like to do.
And if that sounds like a daunting task, it may be time to take another lesson from our feathered friends, and channel your inner bird.
Socialize like a junco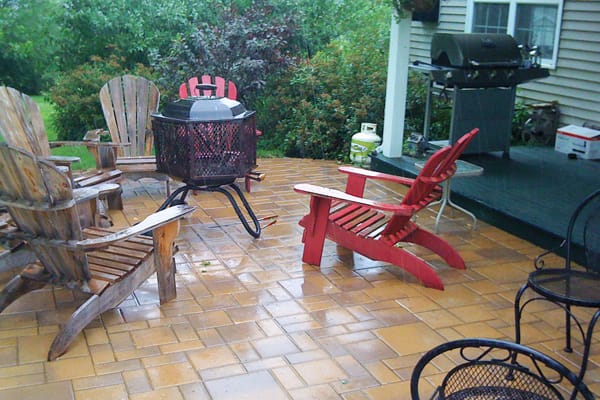 Sociable and gregarious, these slate grey sparrows readily mingle with other birds in search of food. Like-minded humans will want a yard equipped for entertaining. With many backyard get-togethers based on cooking and eating, the basic requirements are a barbecue grill with a large cooking area, comfortable seating to encourage family and friends to linger over an alfresco meal, and an outdoor dining table that will seat at least eight.
Home supply stores now carry an extensive selection of outdoor furnishings in styles ranging from traditional country to modern minimalist and in weather-resistant materials like wicker, metal, plastic and wood. Aluminum is one of the most popular options. Lightweight, long-lasting and strong, it is also relatively inexpensive. New couch-style seating and modular pieces can be used to create a grouping that's great for encouraging conversation.
Flaunt your colours like an American goldfinch
Its winter plumage may be drab, but the male goldfinch celebrates spring by turning a brilliant yellow. Like many Atlantic Canadians, this permanent resident hangs around all winter so summer gives him a welcome chance to spread his wings. Human birds of a feather will delight in giving their yards a colour makeover. In fact, there's no easier way to establish a cohesive backyard look than by coordinating the colours of backyard accessories like market umbrellas, tableware, placemats, chair cushions and outdoor carpets.
According to Pantone, the world-renowned authority on colour, the hottest colour for spring 2012 is a dramatic shade of reddish-orange called Tangerine Tango. Other top trendy colours include a sunshine-y yellow, a blue-tinged purple, a rosy red, a maritime blue and a breezy turquoise. Use several solids together or mix and match one with complementary stripes and patterns for a pleasing, punchy colour scheme.
Take back the night like a barred owl
Owls are not very active during the day, but they come alive at dusk. Humans, for their part, have it both ways. Starting at dusk, we rely on decorative low voltage lighting to create an inviting atmosphere (and to help see where we're going). For after-dark activities like grilling, preparing food, playing games and reading, we look to electric fixtures and outdoor lamps.
And for a sure-fire way to keep warm when the sun goes down, human night owls count on outdoor fireplaces, fire bowls, fire pits, fire tables and patio heaters. Models range from simple to robust with an array of features like ash catchers, spark arrestors, rain caps and cooking grates.
Prices range broadly as well, from inexpensive wood-burning fire rings and tabletop fire bowls that run on one-pound propane cylinders to costly outdoor wood and gas hearths with full chimneys. With styles from rustic to elegant, and prices to fit any purse, there's no better way to stay outside after dark.
Modern fire features provide convenient alternatives to tossing a few logs into a pit, but keep in mind that you're still playing with fire. Some places have restrictions on outdoor flames, so check with your municipality before going shopping.