The ins and outs of storing firewood
From the kitchen window at the Wild Caraway restaurant in Advocate Harbour, NS, chef/proprietor Andrew Aitken can see the fanciful firewood wall he built last fall as a windbreak for his vegetable garden. He can also see the surprised looks on the faces of restaurant patrons as they alight from their cars and examine the wall.
Although firewood as an art form is relatively rare, there's a definite art to firewood storage. Logs should be cured for up to a year before their moisture level drops below 20 per cent, which is considered an acceptable level for use, but keep in mind that wood does not dry properly until it has been cut and split. Where and how that curing takes place has a significant impact on burn quality, convenience, forest conservation and home safety.
"The basic rule," says Tim Whynot, a stewardship and outreach manager with Nova Scotia's Department of Natural Resources, "is to hide the wood from water, but not from sun and wind.
"We all know people who store their wood in the basement and run a dehumidifier to dry it," says Whynot, "but it's not a good idea. Damp wood requires the dehumidifier to work harder and burn more electricity, while drying with the wind and sun is free."
Cost aside, there are other compelling reasons not to store wood indoors, particularly in a damp environment such as a basement. In addition to being a serious fire hazard, one cord of wood can give off up to 500 litres of water.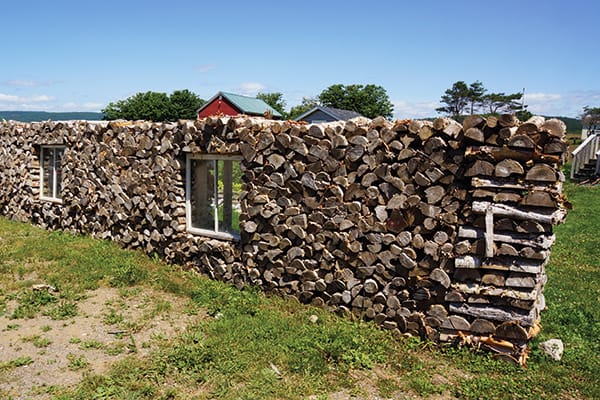 "That's what causes black mold," says David MacKay, who ran a firewood business for 20 years, and who is now the owner of an outdoor supply store in Truro, NS. "You get that in the basement and it can spread throughout the entire house. Short of ripping out walls and ceilings, it's almost impossible to get rid of it."
MacKay always encouraged his firewood customers to store only a few logs indoors at a time, and even then, to let the logs experience a good frost before moving them indoors. "Bring them in too soon and you end up with spiders, wood lice, wood mites, worms and every other type of bug going," he cautions.
"Insects brought into the home in firewood can be a nuisance," agrees Tim Whynot, "and some, such as the powder post beetle and carpenter ants, can cause serious problems."
In order to avoid the hazards of insects and moisture, Whynot and MacKay recommend storing firewood about six to nine metres away from the house in an open-sided woodshed.
"Far enough to keep wood-borne insects out of the house," says Whynot, "but not too far when you're carrying an armload of wood."
Down the wood hatch
There's a lot to be said for safety and convenience. After one winter of clambering up an icy slope to retrieve logs stashed under a low deck, my husband altered his plans for a home renovation to include a new woodshed that's close to the front door, and a small wood closet inside the house. On sunny days he drops logs through an exterior hatch into a box in the wood closet. On snowy evenings, he retrieves those logs from the wood closet, where the in-floor heat has prepared them nicely for the woodstove.
10 tips for storing firewood
Buy firewood in the spring and dry it yourself for a few months before using it
Dry wet wood in convenient lengths: 18-20 inches (46-51 cm) or roughly 3 inches (8 cm) shorter than the size of your firebox
Use wooden pallets, a checkered pattern of poles, or a grid of scrap lumber as a base to raise wood off the ground to allow air to circulate
Stack split wood loosely, with bark side down, to allow moisture to evaporate and decrease the risk of mold
Protect wood from rain and snow by covering with a tarp or roof; if that's not possible, protect uncovered stacks by placing the top layer of logs bark-side up to allow water to shed
String a wire between two vertical poles behind the pile to steady the stretch of stacked wood
Leave a few logs in the house overnight before burning to avoid the condensation that forms when cold logs enter a warm room
Allow an air space when stacking wood against a woodshed wall. Lean logs toward the wall to prevent collapse
Check safety regulations for specific models of woodstoves, wood furnaces and fireplaces, and observe adequate safety distances for proximity of wood storage
Maintain a dry, lit path between the house and where firewood is stored