A WELL-USED HEARTH is a cherished part of any home, but there comes a time when it needs a different kind of attention. If your fireplace has lost its glow, it may be time for a makeover.
Interior decorator Shelley Clee says, "You can build your room around your fireplace or you can build your fireplace into your room." If the room has recently been renovated or is just as you like it, then the focus of the renovation will be the fireplace. If the room seems outdated, you may want to look at a complete room renovation. Decide on your budget and explore the possibilities.
Clee asks, "Is your fireplace functional? Do you want it to be?" She says you have to address the fireplace first as a functional piece before you address it as an aesthetic piece. There are many homes with fireplaces that don't work, and homeowners should consider the renovation investment carefully if it doesn't include having a fire in the fireplace.
A traditional open brick or stone fireplace can waste energy and raise heating bills. Today's heating technology can make an enormous difference with the addition of a wood or gas burning insert. This would make the home more comfortable, lower the heating bills, and raise the resale value. Simply adding glass doors will also improve fireplace efficiency.
You decide the scope of your makeover. If it is purely aesthetic, you could start by cleaning the brick. Jennifer Hall, sales co-ordinator for Shaw Brick, recommends Sure Klean Fireplace Cleaner from Prosoco.
"The product is non-acidic and it dissolves smoke, soot and dirt. If you have blackened brick or stone, it will make it look new again." As with any chemical, she advises following product directions carefully, including using in a well-ventilated area and wearing protective gloves and glasses. She warns homeowners not to use muriatic acid to clean their fireplaces. "Because it is acidic, it can actually etch the brick, and if left on too long, it can remove part of the brick surface."
An update that delivers a new look in a short time is the addition of a fireplace surround. Surrounds are available in kits from home improvement stores and range from $700 to $2,000. They come in a variety of styles and colours. If you already have a fireplace surround and want to make it more appealing, consider adding glass tiles.
"Glass tiles add that little bling-bling," Clee says. The tiles are one inch square and come in sheets with a mesh backing. They are easily cut to fit. "If the homeowner can't afford a major undertaking, this is a way to add sparkle to the room. You might want to do two rows of a soft cream tile then one row of copper. It's a great way to bring life to an otherwise dull surround."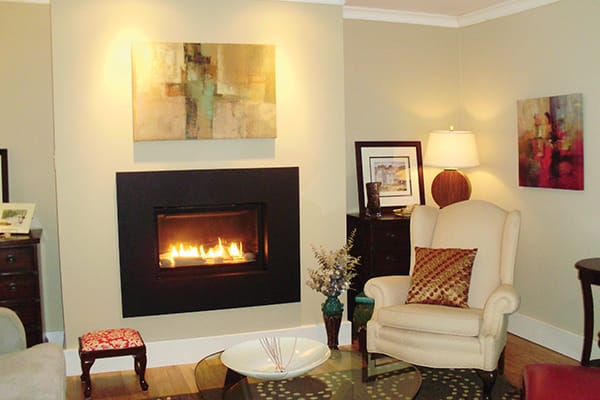 Adding or changing a mantel is another option that frames the space. Mantel kits run between $200 and $400. A mantel provides space for artwork, a mirror, or clock. Clee cautions homeowners to make sure the person installing the mantel is a legitimate contractor who knows how to install in brick or stone. She also says to consider scale in all the changes that you make. Choose a mantel that reflects the size and style of the fireplace and the room.
Little changes can make an impact. Replace an outdated brass screen with a black wrought iron one. Accessorize with a few select pieces on the mantel or hearth. This is no place for clutter. "Don't run objects across the whole mantel," Clee says. "On the hearth you may want the fireplace tools (again in sync with the style of the fireplace) on one side, and on the other, a basket for wood and possibly some greenery with pots to suit the fireplace. "You don't want to hide the surround."
If you are doing more than just the fireplace, consider built-ins along the fireplace wall.
"They not only give functional space for collectibles, they create a visual centrepiece for the fireplace where you can put something nice, maybe hang a plasma TV," Clee says.
Randy Van Zeumeren, of Elmsdale, owns a 160-year-old home and has renovated a lot of it, including the fireplace. He's an experienced carpenter so he built the oak surround himself and distressed it to suit the home. When he decided to add a wood burning insert he called in a WETT certified installer. Wood Energy Technology Transfer is an organization that trains and educates installers on the safe and effective use of wood burning systems. Check out wettinc.ca for a directory of qualified installers.
"In order to meet code, we had to get the wood surround a little further away from the fireplace opening," Van Zeumeren says. Materials around a fireplace have to be non-combustible so he installed ceramic tiles around the fireplace opening and on the hearth, which he also built out to meet code. The insert itself had to be a CSA and EPA approved product, something you can check with the retailer and on the insert itself. (CSA–Canadian Standards Association, EPA–United States Environmental Protection Agency)
"Because we had a brick fireplace without even a clay liner, the installer added a stainless steel flue," Van Zeumeren says. When the job was done, his insurance company had to have a look to make sure everything was done properly. Building to code and ensuring the installation will be covered by your home insurance are practical necessities for your reno.
If the whole idea of renovating a fireplace seems a bit daunting, you can always consult an interior decorator to help get you started.
Pam Tower, of Tower Interiors Ltd., Bedford, NS, says they custom design the face of fireplaces all the time. "We do a lot of things, anywhere from refacing with tiles to ripping it out and rebuilding for a whole new look."