Ensuites are becoming sexy sanctuaries for stressed-out couples
Until recently, the steamiest thing in many master bathrooms was the mirror. Lately, though, designers in Atlantic Canada have been raising the bar—the heated towel bar—in ensuite design, creating sexy new couples' sanctuaries inspired by fancy hotel rooms and spas.
No longer the smallest room in the house, the master bath is fast becoming an adult retreat. Sometimes referred to as "the new den," it's a place to prepare for and recover from a busy day, and in some cases, the only spot in a hectic household where a couple can enjoy a little privacy.
Only a few decades ago, renovating a master bathroom amounted to adding a vanity and an exhaust fan. Modern couples still want storage space and good ventilation, but they also have a wish list of other amenities that can include double sinks, towel warmers, makeup mirrors, flat-screen TVs, radiant in-floor heat, multiple shower heads, built-in benches, fireplaces, lounge areas, dressing areas, wet bars and bidets. (Whew!)
Many of today's showers are designed with sharing in mind. They may feature seating, shelving, steam, and cool new water features like dual shower heads, hand-held shower wands, therapeutic massage jets and an assortment of sprays that target heads and toes and everything in between. A shower with all these toys and room enough for two is more than a place to get clean: it's a happy alternative to couple counselling.
Bathtubs are still important, but the truth is that most couples just don't take enough baths together to justify devoting half of the bathroom to a tub, and concerns related to energy savings have taken the fun out of pulling the plug on 150 litres of warm water. Smaller, more water-efficient one-person air tubs, soakers and stand-alone tubs are replacing expansive two-person whirlpools and hot tubs.
And while couples may be willing to share the events of their day in their private bathroom, no one really wants to share his or her storage space. The upshot is that a bathroom built for two requires enough storage space to keep conflicts at bay. Sleek, wall-mounted countertops may have a stylish, minimal look, but they're really no match for litre-sized bottles of shampoo and 12-packs of toilet tissue. Vanities remain popular for their storage capacity, although other organizing solutions—including storage towers, storage benches, dressers and closets—can also work, depending on the size of the bathroom.
Conventional thinking has it that two sinks are better than one, but there's also a down side to double sinks. Not only do they cost twice as much to install, but they also take up more space and eliminate under-counter drawers. One sink can work for a couple's bathroom as long as there are two separate zones: one for water-based tasks such as tooth-brushing and one for mirror-based tasks such as hair drying. Creating the zones is simple: just position the sink to one side of the vanity rather than in the centre.
In my home, my husband, architect Brian McKibbin, looked to French hotel rooms for precedent and added a second sink, but not to the bathroom. Instead, he fitted out the master bedroom with a wall-hung sink which has a towel bar attached to the underside.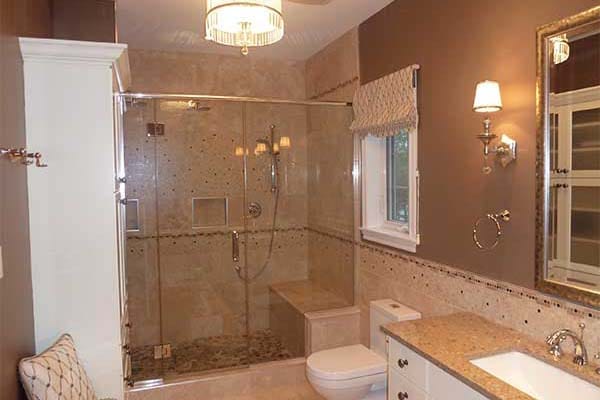 "Having a wash basin in the bedroom is not a new idea," he says. "The Victorians filled a pitcher with water and sat it beside a basin on the dresser. I frequently incorporate wash basins within bedrooms, especially when there is no ensuite."
A vessel in the bedroom accomplishes all that is expected of a double sink, but with the added benefit of freeing up the ensuite for more private endeavours. Brian also designed and built a maple vanity for the bedroom, providing additional storage space and further reducing master bathroom congestion.
Whether renovating a master bathroom or building from scratch, it's important to keep in mind that many of the dream bathrooms depicted on the covers of design magazines are larger than the average bedroom, and have showers that could double as car washes. Consider the amount of space required for fixtures and furnishings, and prioritize accordingly. There's a balance between luxury and excess, and it's important to be able to relax in the bathroom without having to worry about paying for it.
"Many clients find their existing washrooms claustrophobic and request larger rooms with more fixtures," says Canning, NS, architect Lisa Tondino. "However, a small washroom can work well if it has a simple lay-out, plenty of storage space, materials that are easy to clean and good natural and artificial ventilation."
Regardless of size, the trend in ensuite bathrooms mirrors the direction of bathrooms in general. "People are going for the feeling of a luxury spa," says Halifax interior designer Pam Tower. Tower sees a preference for white marble tops on dark cabinetry, or light cabinetry with contrasting countertops, natural stone, glass and mosaic tiles, muted paint colours and multiple levels of lighting with pretty light fixtures that sparkle.
There is some speculation that the shared master bath will eventually evolve into two separate rooms, but for now, many couples are still willing to share. Careful planning and attention to detail can result in a master bath that's as conducive to sensual pleasures as it is to essential ablutions.