When Jim and Tanya Conrad started tapping into maple trees in Southwest Nova Scotia, they tapped into community spirit as well.
DRIVING THROUGH the Argyles in Southwest Nova Scotia in those last days of winter, when the sun's warmth is fickle but teases enough to know the season is changing, you will probably at first miss the white buckets hanging from every maple tree in every yard for several miles. The buckets are placed with such synchronicity that they look like part of the landscape.
Such are the efforts of lobster fisherman Jim Conrad, his family and the whole community. Once Jim has landed his catch of lobsters for the day he waits for school to end. Parents call to identify a collection point and then bring their eager children.
Late afternoon is like a scene from a favourite novel, as the entourage of young folk scamper throughout the community, eager to discover what each tree has produced. They then empty the buckets, the sap going into a 200 gallon tank on the back of Jim's truck.
In the first year, 2009, activities were somewhat disjointed. Jim initially thought the white liquid in his bucket was rain water. He tried to boil down the sap using several burners and propane tanks outside, while his wife, Tanya, tried to bottle the syrup in their kitchen. Twenty hours straight and $300 in propane made it clear that if he was to continue, things needed to change.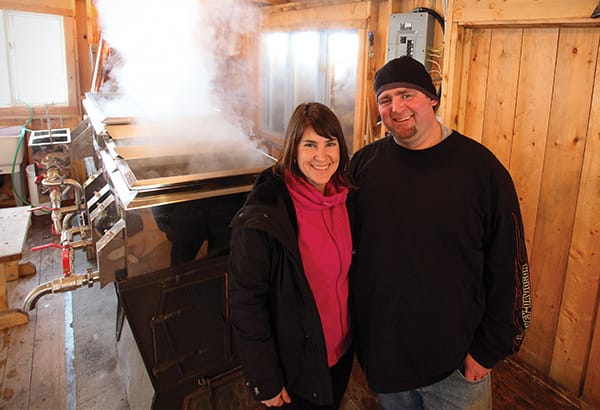 In 2011, with the construction of the Sugar Shack—a beautiful building beside the couple's home, in Central Argyle—people could share the experience in warmth and comfort. Its wooden structure and high ceilings create an ambience like the camps of days gone by, and steam from the stainless steel tanks, called evaporators, add a delicious scent throughout the room.
On any given night musicians gather for a jam session, and often communal gifts of food appear on the large wooden table.
Jim has used his experience and knowledge from his fishing business to smooth out the production process. For instance, the sap is pumped into the upper holding tank using a bilge pump originally intended for his boat.
He says the work makes a welcome change from the competitive fishing industry; he and Tanya have been impressed with the generosity and easy information sharing from other maple syrup producers.
But, he says, "I'm not really a competitor because my syrup is free. My profit is measured in a different way."
Washing the rum bottles
The parking is scarce, but if you're about the area you're welcome to stop in and be part of the action. As people observe the routine, they step up to help. Jim burns eight cord of wood in 16 days—an egg timer rings every 12 minutes to announce that another wheelbarrow-full of wood is needed in the stove. Some keep a keen eye on the temperature gauge, looking for the exact moment to announce the syrup is ready, while others assist in sterilizing the small bottles.
He's made a deal with one of the recycling depots, who collect cases of small Crown Royal whiskey bottles for him.
Jim's entire family is involved; his mom, Karen, laughs every time she tells the story of a friend calling her and asking what she was up to, "Why I'm preparing my Sunday school lesson and washing rum bottles!" Jim also has a collection of odd-shaped bottles friends have given him—some from far-away places.
The last Saturday of March is designated as toffee day. Snow is needed to turn the syrup into toffee—not always an easy acquisition in Southwest Nova Scotia at the beginning of spring. In fact, through word-of-mouth and community spirit, insulated boxes of snow have been trucked in from as far away as New Glasgow, NS—some 500 kilometres away.
When Jim and Tanya first started, 30 to 40 people showed up for the chewy sweet treat. Last year, they served 300 to 400 in three hours.
Sugar shack rules
The sugar shack has few rules, but three are important: It's a lively bunch of adults celebrating the rebirth of nature and spring, so indulgences of liquid spirits are permitted, but only after 9pm, when the young children have gone to bed.
The oldest people get to sit closest to the fire; and anyone whose trees are tapped gets a small bottle of syrup.
Overall it's important that everyone feel welcome.
There is something life-shifting in the air at the sugar shack. As the sap boils off and its sweet scent fills the room, as people engage in activities or games long forgotten, day-to-day struggles seem to fall away. Laughter and fun helps them find their way again.
Jim's Aunt Diane says it's wonderful to watch the children running around outside, playing hide-and-seek, creating adventures throughout the trees, stopping now and then to share a few scrapes and tears before heading off to join in again. She adds that it's a great way for Jim to spend time with his own daughters, Regan, 9, and Julia, 14—as a fisherman, he's often away for days at a time.
At the end of the maple season Jim, Regan and Julia deliver bottles of syrup to everyone whose trees have been tapped, and a few find their way to the local nursing home, and seniors living alone in the community.
You seldom find a production venture that has nothing to do with monetary gain. Gregarious and warm-hearted, Jimmy Conrad is most at ease making others feel at home.
His sincerity and quiet observations make one believe in true kindness—again like a scene from a favourite novel.