The most common regret about a sunroom is not building one sooner
Mary and Dave Barrett thought they had waited too long to add a sunroom to their Beaverbank, NS home. "We're seniors," says Mary, "so we questioned whether it was a wise decision at this point in our lives. Fortunately, we went ahead with it, and we've never had any regrets."
The Barretts built their 12 X 15-foot Victorian-style conservatory as an extension of the kitchen; it's visible from the moment you enter their home. "It's what my husband calls the 'wow factor'," says Mary. "No one wants to go into our living room anymore. Guests walk in the door and head right for the sunroom."
The "wow factor" continues throughout the seasons, thanks in part to the glass roof, and to what Mary describes as a treehouse effect. "Our lot slopes down at the back, so the sunroom is raised about eight feet off the ground," she says. "We sit overlooking the yard and we see every bud and leaf and bird from only an arm's length away."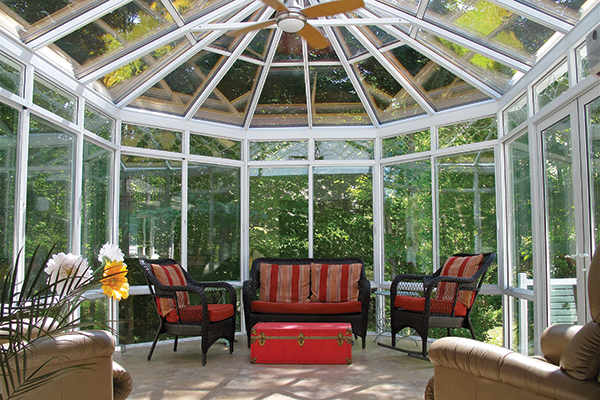 Outdoors in comfort
For avid outdoors people like the Barretts, there's no better place to be outdoors in bad weather than inside their sunroom. "At first, we thought we wouldn't use it that much in the winter," says Mary, "but with the wall-mounted heat pump and in-floor heat, we do use it all year. There's something special about sitting quite comfortably in the middle of a snowstorm or stretching out in a recliner to watch the stars on a chilly evening."
Connecting with nature was also appealing to John and Brenda Ginn, a busy working couple who live in Cole Harbour, NS. Initially, the Ginns considered moving to a more rural location, but they like their house and they love their yard. "It's a very pleasant place to be in the summer," says John, "so we decided to add a sunroom and enjoy it all year."
Look at options
Before making any decisions, the Ginns spent almost two years researching options, ranging from conventional frame additions with walls of windows to factory-built kits made from vinyl, wood and aluminum. In the end, they created a 200 square-foot sanctuary with wooden walls and beams, high efficiency windows, and a pitched glass roof with high-performance glazing.
With radiant, in-floor heat to keep them warm on the coldest nights, and the hot tub only a sliding door away on a two-tiered deck, John and Brenda have their own year-round retreat. "In order to make it a more relaxing and meditative space, we've eliminated the distractions of electronic equipment such as a TV," says John. "In the evening, we sit and read, or simply watch the moon and the stars."
George Dickey has been building and selling sunrooms for almost 30 years. His Bedford, NS company has constructed everything from simple, straight-roofed studios with rustic pine interiors to soaring conservatories with elegant finishes and domed glass ceilings.
"Every situation is different," says Dickey, "but we hear some of the same things over and over again. Most of our customers say they use their sunrooms more than they thought they would, and they all wish they had built them sooner."
Technological advancements
Like the Barrett's conservatory, the Ginn's sunroom benefits from recent innovations in window design. "Window technology has improved dramatically," says George Dickey. "Glass now comes with double and triple panes and metallic, exterior coatings that provide the perfect balance between visibility and glare reduction. Not only do these coatings keep rooms cooler in summer and warmer in winter, but they also keep the glass cleaner all year."
Dickey compares the cost of a sunroom to the cost of any high quality, conventional addition, estimating that prices range from about $150 per square foot for an unheated, seasonal sunroom to approximately $350 per square foot for a high end, year-round custom model.
Newfoundland's attention-seeking weather made it a price worth paying for Howard and Judy Scott. The Scotts are "more than pleased" with the sunroom they added to their cottage on the Salmonier Line as an enclosure for an in-ground swimming pool. "There are a few people around there with swimming pools," says Howard, "but we're the only ones who can swim every day."
Some people say there's not enough sun in Newfoundland for a sunroom, precisely the reason you need one, says Bill Gill, a sales representative for an outdoor living business in Grand Falls-Windsor, NL.
"There's nothing like sitting in a warm sunroom watching the snow fall. With improved thermal glazing and new construction technologies, sunrooms are perfect for Atlantic Canada's weather extremes."