Retractable awning technology a modern take on traditional shade coverings
In the song "Morning Morgantown," Joni Mitchell leads off with the image of merchants rolling their awnings down. In this idealized vision of small-town prosperity, it's a ritual that conveys optimistic anticipation of the day to come.
There are still some shops that roll their awnings down each morning, but today commercial buildings are more likely to have fixed awnings that extend outward only a short distance, with the business name or logo emblazoned on them—more for promotion than protection from the elements.
Fixed awnings also feature as a window treatment on private homes of a certain vintage, sometimes made from durable sheet aluminum in brightly coloured stripes, to replicate the classic look. Having awnings over south-facing windows will keep your house cooler on hot summer days, reducing energy consumption for those who have air conditioning. But in the Atlantic provinces we are not subject to prolonged heat waves, so moderating indoor air temperature tends not to be a prime motivator for homeowners.
Similarly, reducing light damage to furniture and carpets may be a consideration for some, but at these latitudes most of us consider sunshine a welcome guest; in all but the warmest three or four months, we would be loath to have fixed awnings depriving us of those precious rays.
Outdoor shade
So when people in this region think of awnings, we tend to think of larger shade covers that can be extended over a patio or deck. This kind of installation has the fringe benefit of blocking some of the sunlight blasting into the house in high summer, but the greater appeal is the creation of a pleasant outdoor living area—a space to lounge or dine al fresco without being roasted by ultra violet rays. This overhead protection will also allow you to enjoy the sweet smells and musical patter of a light summer rain without getting drenched.
In a climate that occasionally doles out high winds and heavy snow loads, retractable awnings are clearly the way to go. This type is also the obvious choice for owners of recreational vehicles, who want an awning that will roll out quickly at the campsite and retract just as quickly when it's time to hit the road again. The same technologies serve both applications.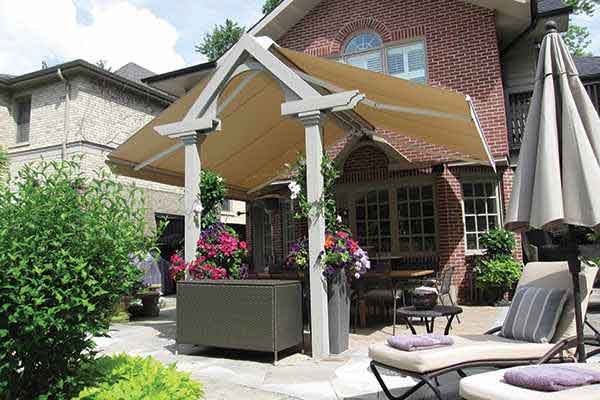 New technology
Old-fashioned awnings simply folded back against the building when not in use, leaving bunched-up fabric that was unattractive and subject to weather damage. Today's standard design involves a metal tube or drum running the full width of the area to be shaded, allowing the awning to be rolled up. The concept is similar to those spring-loaded roller blinds sometimes used for windows, except that there are significant gravity issues to contend with—both due to the weight of the awning, and because it extends horizontally away from the roller.
The technical challenge here is supporting the front bar that draws the awning off the roller. The traditional drop-arm type has metal bars on either side of the awning, anchored a few feet below the drum, so they extend at an angle to carry the weight of the outer edge. This mechanism, however, limits how far the awning can extend. Longer extensions would be possible with support from vertical struts, but many people prefer a design without obstructive posts that have to be manually removed every time the awning is rolled out.
For these reasons, recent developments in retractable awning technology have centred on lateral arm designs. The concept involves supporting bars that fold up below the drum when not in use, and unfold under the awning, on a parallel plane, as it extends. Longer extension distances require more robust arms. Some designs have arms that cross over each other when they fold, for an awning with a projection distance greater than its width. Some are operated manually with a crank, but motorized versions are increasingly popular, either hard wired or plugged into a regular outlet. In many cases they are operated by remote control.
Some models are more easily or more extensively adjustable, allowing greater flexibility for changing the pitch based on the angle of the sun or the need to shed rainwater—an important consideration. There are also options with respect to protecting the awning when not in use. Semi-cassette designs feature a hood which shelters the assembly from precipitation and sun, while leaving it exposed from below; the full-cassette type has a housing to enclose the rolled-up awning and the folded-up arms—keeping the components hidden from view and inaccessible to birds or wildlife that might be inclined to nest there.
Fabric choices
As is the case for tents and tarps, awnings are no longer made from heavy cotton canvas. The choices are acrylic fabrics, treated to offer various degrees of resistance to UV rays and water, or else vinyl. The latter tends to offer a longer lifespan, it can be patched more easily if it tears, and it is usually less expensive than fabric. On the other hand, acrylic fabric is lighter, and some people prefer its more natural cloth look. Either material is available in a wide array of solids and stripes, to complement any home's colour scheme.
Among the many add-ons available for patio awnings, there are gutters to direct rainwater away from your seating area; side screens to create a bug-free space; and lighting and heating units. For motorized models, you can even opt for electronic controls tied to wind and sun sensors, so the awning will extend automatically when your patio gets hot, and retract at the earliest indication of gusts that could cause damage. Some of the rituals of the awning may be lost, but sitting in the shade is a timeless pleasure.