Finding the perfect window treatment to complete any room
When it comes to window treatments, one size doesn't fit all. Choosing the best drapes, shades or blinds for your home is an important, but often under-valued decision. Good window dressings can help insulate a room from the heat or cold, save your furniture from sun, or help make summer bedtime easier for a child who can't go to sleep when it's still bright out. The perfect window treatments will make your home feel and look more comfortable, functional and fabulous for years to come.
Function
Before you get started choosing styles and colours, consider how you want your window treatment to function. Think about the room and how much natural sunlight comes in through its windows. Do you want to reduce the glare with a sheer treatment, block out the sun completely or highlight a view? You can even reduce outside noise with proper lining.
Shades and blinds
Once you've determined what you want out of your window treatment, you can start thinking about what styles you like. Shades and blinds offer a variety of choices. Do you like a clean look, that accentuate architectural details, or is a more layered look for you? Roller shades have come a long way from the fringe-edged, vinyl relics of yesteryear. Solar sheer rollers block out UV rays (see image A), and filter out the glare, allowing for a muted outside view. You'll often see these in restaurants and coffee shops, but they look beautiful in homes too. Fabric rollers can also make excellent blackout blinds. But remember to install them outside the frame if you want to keep slivers of light from seeping in.
Pleated and cellular shades (see image B) add soft elegance to a room. They have a low profile similar to roller blinds, and offer good light control and insulation. Plus they can be purchased in a variety of fabric types, ranging from semi-sheer to blackout.
Roman shades (see image C), which can be made of bamboo, woven grasses or fabric, give windows a classic look. When they're open, they hang down a few inches lower than pleated or roller shades, affecting your view. But it can also mimic the look of a fabric valance.
Wood and faux-wood blinds are also popular choices. Faux-wood is more budget-friendly, and can be used in humid rooms because they're resistant to warping. They're also versatile since you can close them fully, pull them open completely or simply tilt the veins up or down to control the sunlight.
And nothing beats plantation shutters for staying power—they've been around since ancient times. They'll not only give you privacy and light control, but often become part of the architectural interest of the home itself. They come in configurations from dressy and graceful to casual and cottage-like (see image D: These bi-fold louvered shutters are shown at full height and café height).
Drapery panels
Today's sheer drapes are less fussy than their frilly predecessors and can be hung straight to the floor from a decorative rod with rings (see image E). Tab tops (see image F) and grommet tops are an economical option, but one downside is they don't move as easily along the rod as other options. They do, however, make great stationary panels if you use them with a shade or blind.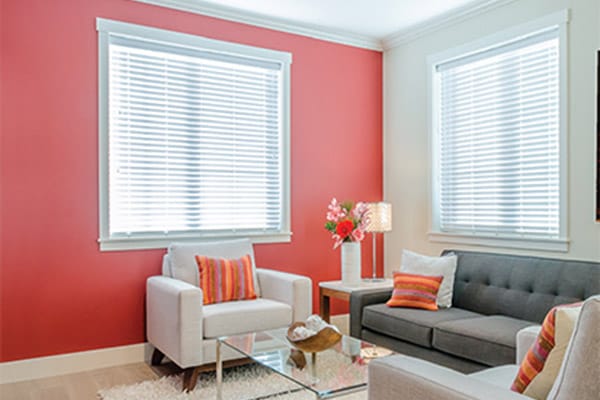 Drapes can be easily altered to suit your specific needs. Off-the-rack curtain panels that are not long enough to reach the floor can be easily tailored by adding a solid fabric in a complementary colour to the top or bottom (see image G). Add some rings and thread them onto the rod for a custom look that won't break the bank.
Finally, pleated drapery panels can be hung from rings, and move a bit easier along the rod. They come in classic pinch pleats (see image H), box pleats and pencil pleats, just to name a few. And you can use them either as functioning panels that open and close, or decorative stationary panels.
Pulling it together
Once you've chosen the types of window treatments to go with, you can decide whether or not you want to layer them. The choice is based on your needs, budget and style. If you like a simple aesthetic, you may want to stick with a blind. If you prefer a softer, more luxurious look, a shade with drapery panels might complete the look in your home. After you've made those decisions, you can move on to choosing the fun stuff, like fabric and colours.
Outfitting your home in window dressings is not an easy task. If you have a good eye and standard-sized windows, chances are you'll manage just fine. But if you're struggling to decide or have weird windows (hello arch!), reach out for help from the professionals. We are here to help guide you through those tough decisions.
Kimberley Eddy owns Evolve Interior Decorating. Find her online at evolve.vpweb.ca.