Flooring options to consider. There are many things to consider when flooring the cottage: fluctuating moisture levels, maintenance, longevity and, of course, style.
I have a cousin who has quite refined tastes—at least, relative to mine. When he was planning to have a floor laid in his cottage, he went to considerable effort and expense to procure square-head nails, in hopes of achieving an authentic colonial look. He purchased nice wide plank floor boards, and hired a local carpenter to do the installation—but when he came back some time later to see how the job was progressing, he found that the guy had painstakingly counter-sunk the nails and used wood filler to hide the holes.
To his credit, my cousin told this story at his own expense. He saw the humour in this disconnect between his personal aesthetic vision and the carpenter's idea of good workmanship.
Especially at the cottage, where we may feel more freedom to express our individual taste (or lack thereof), notions of suitable décor vary widely. Some like the idea of not having to take off their boots before tromping into the cabin to warm up by the fire; others view their second home as a showpiece, and would definitely expect you to exchange your outdoor footwear for slippers before treading on glistening wood floors.
For the most basic camp, where utility and economy are the watchwords, a plywood subfloor may be left unfinished, although over time it will look increasingly grubby. Some cottage owners choose to varnish a plywood or OSB floor (oriented-strand board, which looks like large flakes of wood compacted together into a sheet). Many would consider this pretty cheesy, but at least it serves to brighten up the floor and makes the surface washable. Alternatively, a couple coats of durable floor paint in a bold colour can turn an unfinished floor into a folksy feature.
Most people, however, choose to put down an additional layer of flooring. Most commonly, what they want for the cottage is the informal, old-fashioned look of wide planks. Pine is popular because it's light in colour and considerably less expensive than hardwood—although this region's abundant white pine is quite soft, and even when treated with varnish or oil it will be somewhat susceptible to damage.
Lower grades of tongue-and-groove pine—defined as rustic- or cottage-grade or sheathing-grade—can be obtained very cheaply from lumber yards, and may be adequate if you don't mind the appearance of knots and some colour irregularities.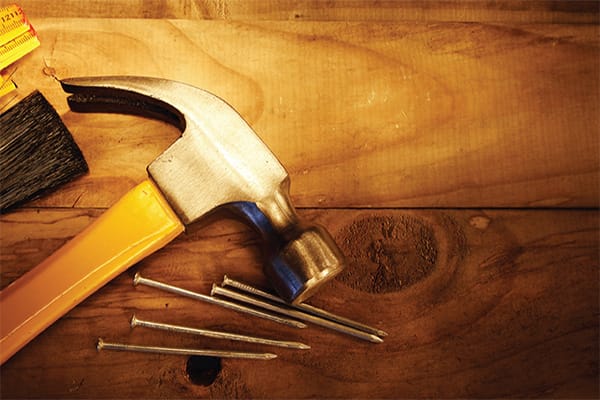 But here's the thing: in a cottage that won't be kept at a consistent temperature through the winter, fluctuating moisture levels may cause flooring to warp. Narrower boards, in the vicinity of four inches wide, will be more stable, and less prone to curling or "cupping." Wider boards, ranging from six to 12 inches, are often surface nailed to help hold them flat, although this is not a failsafe remedy. Some installers screw them down, and fill the holes with wooden plugs—either matching or in an accent colour. Using floor boards with grooves cut into the bottom also helps to avoid cupping.
Prefinished wood flooring has become extremely popular, because it saves the labour of sanding and varnishing, and also because the factory finish used by manufacturers tends to be more durable. It even comes in distressed or rough-hewn textures, for those who want an authentic heritage look.
But any solid wood flooring, even a high quality prefinished product, could still be subject to distortion as a result of variations in moisture. For a seasonal home, some suppliers will implore you to choose an alternative material.
If you're not a purist, but have a discerning eye for real wood, a reasonable compromise might be engineered wood. This type of flooring is made with layers of plywood or fibreboard glued together, with a veneer of attractive natural wood on top. The layered structure provides stability and moisture resistance, even in larger widths. The trade-off is that the floor can only be sanded and refinished a limited number of times, depending on the thickness of the top layer.
Engineered wood flooring is occasionally referred to as laminated wood, which is technically accurate, but can lead to confusion, because it sounds like "laminate" flooring, which is an entirely different product. Laminate flooring generally comprises a fibreboard core topped with an image of wood (although it's also available in imitation tile patterns). Essentially, what you see is a picture. The pieces click together, which makes installation easy, and the completed floor requires no maintenance. On the other hand, if the surface becomes worn or damaged, it can't be sanded, repaired or refinished.
For a combination of stability, easy maintenance and durability, another option would be tile, which comes in a huge range of styles. Ceramic is the most common type, while natural stone is a premium product. There are even porcelain tile products made to simulate wood flooring, with a realistic weathered grain—although you'll know it's not really wood when you walk on the cold, hard surface in sock feet. Another consideration with respect to tile is that it must be installed on a concrete bed, and some might consider this overly ambitious for a cottage project.
Finally, there's that much maligned flooring standby: vinyl. This category has expanded in recent years, and now includes a vast range of products, many of them quite realistic and attractive, either smooth or with various textures or profiles. Vinyl comes in peel-and-stick squares, to give the appearance of tiles, in a plank configuration with a simulated wood grain or in sheets, typically as 12-foot wide rolls.
Vinyl is impervious to moisture, but with heavy use it will eventually wear out. Then again, it's relatively easy to install. Depending on the backing material, it can offer various degrees of cushioning under foot, which is a key feature for many people, especially when they anticipate padding into the kitchen on chilly mornings. Some vinyl flooring products are more durable than others, with warranties ranging from five to 30 years, and they're priced accordingly.
You have to consider cost, of course, but in choosing flooring for the cottage you should also consider how much abuse the floor's going to get, how much effort you're willing to put into installation and maintenance, and the values you associate with traditional building materials. Your decision, ultimately, will reflect what kind of cottager you are.