Three modern-day kitchens ready for any kind of East Coast shindig
Not all kitchen parties are toe-tapping evenings with live performances of seafaring songs, but they all take place in and around the kitchen, and they all benefit from good music—and good design.
Whether planning a new kitchen, renovating an old one or making a few small changes, there are ways to create a space that's welcoming enough for any type of kitchen party. "You don't have to have a large area," says Saint John, NB architect Monica Adair, "but it should be functional and it must be soulful."
So turn up the music and join us on a tour of three designer kitchens begging for a party.
Big-bash kitchen
On the playlist: "Wasn't that a party," The Irish Rovers
With a busy practice and an energetic toddler, Adair and her husband, architect, Stephen Kopp, weren't quite ready to design and build their own home, so they purchased an existing house in a scenic Saint John neighbourhood and went to work creating a space that fit their particular brand of kitchen party: big, boisterous occasions with friends and family.
"The house has great features," says Adair, "but the kitchen was small and sad. We wanted to be able to accommodate large groups with kids, while still having a space for intimate dinners." So the couple gutted it. By taking down two original walls, one between the kitchen and dining room, and the other between the kitchen and den, they created flanking areas on either side.
In the new space, expansive windows pull in the backyard deck and the ravine that runs behind their house, while chic black-and-white cabinets with white Corian countertops contrast the home's bohemian feel.
On one side, the dining area flows from the kitchen, partially separated from the living room by a double-sided fireplace. On the other side, a teepee anchors the "camping" area play space.
"The arrangement allows people to form lots of comfortable groupings and still feel connected to the heart of the kitchen where the food is prepared," says Adair, "and I can stand at the stove and see the front door through an opening we cut in the wall."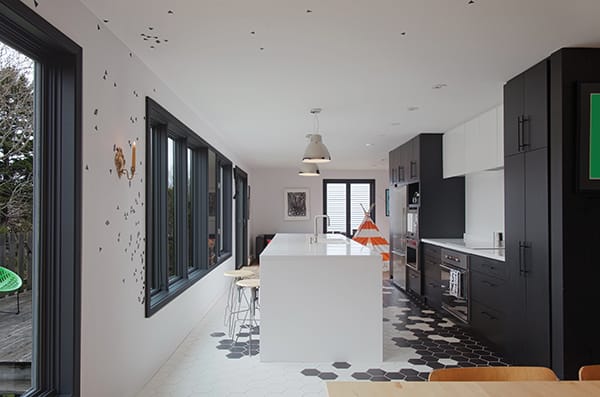 Last fall, Adair and Kopp broke in their new space with an annual birthday brunch, which for years had been a celebration of Adair's birthday on November 20. Now it's become a party for their two-year-old son Hugo, born November 9.
"My mother and chef brother plated more than 75 servings of huevos rancheros," says Adair, "and a friend's band jammed 'Happy Birthday' to a bunch of excited, screaming infants in the camping room. Whether it's guitars and drums or just a small dance party, music is an important part of the way we entertain."'
Dinner-party kitchen
On the playlist: "Home in Halifax," Stan Rogers
Peggy Issenman and Bob Young entertain on a smaller scale, but their previous kitchen couldn't keep pace with their kitchen party of choice: the intimate dinner party.
"None of our previous parties ever left the kitchen," says Issenman, a Halifax graphic designer, "so we renovated the kitchen in the fall of 2013, opening things up by removing one of the walls in the dining room."
In the new space, people sit either at the granite-topped peninsula or around the table. And when it's not in service as a drinks bar, the peninsula multi-tasks as a prep space.
"Adding a large, new window and removing one wall makes the whole space so different," says Issenman. "We now see the kitchen from the living room, which makes the entire main floor flow much better, and the window makes it feel like we are outside."
Cottage kitchen party
On the playlist: "Safe Upon the Shore," Great Big Sea
Blurring the line between inside and out is a defining feature of this South Shore Nova Scotia cottage designed by Halifax architect, Omar Gandhi. Standing at their long kitchen counter, owners Keith and Rosemary Hamilton look past a comfortable-looking seating area, through sliding glass doors, and by a suspended, modernist wood stove to the broad ocean.
"The design precedent is the Caribbean great room," says Keith. "With the sliding glass door system that Omar designed, we can open all or part of the area depending on weather and needs. In the summer, we have the doors open most of the time, and for the fall evenings, we close them a little and light the fire."
The Hamilton's cottage kitchen is spacious and white, with a peninsula for food preparation that doubles as a buffet counter. "No one is left out when it comes time to prepare meals," says Keith. "The people who cook are part of the party."
Rather than worry about wear and tear, the Hamiltons chose tough, practical materials like polished concrete for the floors and stainless steel for the countertops. "The countertops will scratch at first," says Keith, "but in time, they'll develop a natural patina."
From Hong Kong and London, England respectively, Keith and Rosemary have been living in Nova Scotia since the 1970s. Like Peggy Issenman and Robert Young, they have a kitchen-party style that leans more toward recorded music and friendly conversation than live music and jigs. Lately, however, their cottage has been the unexpected scene of many impromptu concerts.
"We have seven grandchildren who play violins and recorders and sing in choirs," says Keith. "When they visit in the summer, someone is always performing."