Planning a special crafting nook
At the turn of the 20th century, when stores and supplies were few, crafting was a necessary part of family life. Sweaters and mittens were knitted, candles were dipped and rugs were braided or hooked by hand. Quality trumped quantity every time. Things had to be durable and useful, or beautiful and cherished. There were few disposable items; they had to last. Crafting was simply an element of existence and the "know-how" was naturally passed on to younger generations through need and custom.
In today's world of convenience, we no longer have to craft for comfort or survival; crafting has become a hobby instead of a necessity. A major source of instruction and inspiration is the internet. With endless online blogs, forums and social media like Pinterest, ideas are limitless. Classes, books and instructional magazines also abound, and with supplies so easy to source in craft shops, online and big box stores, it's easy to find exactly what you need for each project.
A dedicated creation station
There is a renewed interest in both heirloom crafting (see "Heritage Crafts," page 47) and other imaginative pursuits, like scrapbooking or card making. For many people, an important feature to consider is a dedicated crafting space in their home. Some have a whole room devoted to their hobby—lucky ducks! For others, a "creation station" can be carved out of a space within a room. One benefit of having a devoted space is that your messy project isn't spread all over the dining room table when, say, your mother-in-law stops by for tea. Another practical bonus is that all your supplies are organized in their own "living space" and within reach. Nothing leaves a crafter feeling more like a pegged lobster than an elusive pair of needle-nose pliers when you need them!
It doesn't have to be complicated. In a few easy steps you can have an artsy area up and running in your home. There are three Ws to consider: Where, What and Who?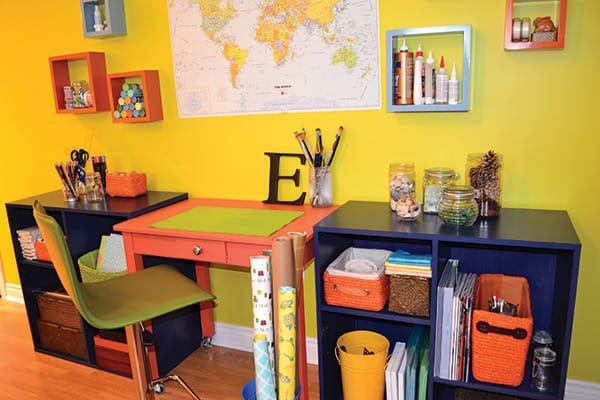 1. Where?
Which area of your home will accommodate your craft space? Perhaps you have a nook in the rec-room, spare bedroom or even a closet that could be emptied out. You will need a flat surface to work on and some storage in the form of shelves, cubbies or drawers. Make sure you have adequate lighting; add a task lamp if the ambient lighting is dim.
2. What?
Identify the types of crafts you will work on; i.e. scrapbooking, gift wrapping or jewelry making. For your space to function well, it is important to have a well planned place where everything has a home. Categorize your supplies and use appropriate storage. You don't always need to buy storage components; everyday items like canning jars and coffee tins can be given a new lease on life with a little imagination.
3. Who?
Who will use the space? Is this a single person workspace? If multiple people will be using the space at one time you will need extra seating and a suitable work surface. If you occasionally have two people crafting together, install castors on your desk (as with the desk in the photo on page 45) to allow it to move away from the wall and have a chair on the other side from time to time. Make sure you have a comfortable chair with good support and use your favourite decorative colours. Remember, you should feel inspired by your creation station!
Heritage crafts
The Atlantic provinces have an exceptionally rich crafting history including basket weaving, quillwork, crocheting, soap making, needlework, and the list goes on and on. Some craft was practiced in our area by the Innu and Mi'kmaq; settlers also brought handy skills with them to enhance life in their new home. Through observation and instruction, these arts and crafts were passed down from one generation to the next. Somewhere in the past few generations things have changed. No longer do we have to spend hours moulding candles, spinning wool, or sewing a quilt as we can easily buy mass-produced items. As a result, some heirloom crafting techniques are at risk of vanishing and knowledge—such as when saplings should be harvested for basket weaving or which part of the birch tree can be used as red dye.
There is hope for heirloom crafts though with the recent movement to preserve historical craft forms through heritage craft societies and other artisan organizations. In Blandford, NS, the Heritage Handwork Group holds regular meetings to learn about the history and methods of various crafts, making sure traditions like felting and rug hooking are preserved for generations to come.
The Atlantic Économusée Network, also known as Artisans at Work, links Atlantic Canadian businesses operating as "working museums" and provides visitors hands-on learning experiences (www.artisansatwork.ca).
And, of course, national historic sites and other interpretive attractions across the region, such as the Village Historique Acadien in Caraquet, NB, offer special workshops and opportunities for visitors to get behind the scenes and learn by doing.
Want to learn more? Representing various craft councils throughout the four Atlantic provinces, the Craft Alliance works as an excellent entry-way for people interested in exploring contemporary and heritage crafts (craftalliance.ca).
Kimberley Eddy owns Evolve Interior Decorating.