Take a tip from the Finns and spend some time in a sauna
Say "sauna" to an Atlantic Canadian and she'll likely point you to the nearest gym or hotel. Pronounce it correctly (it's an ancient Finnish word pronounced "sow-na") and you'll get a blank stare.
The sauna originated in the Nordic countries, most notably Finland, where some say there are more saunas than cars. From as early as the 1500s right up until the 1950s, when Finns built a house, they built the sauna first and slept there until the rest of the house was ready.
Before the Industrial Revolution, Finns dug pits in the ground, placed heated stones inside and threw water on them to create steam. The archeological remains of similar sauna-type structures were found on the northern tip of Newfoundland, at the L'Anse aux Meadows Viking settlement.
It wasn't just the Finns who were sauna obsessed. Much of Europe, Russia, Africa, Japan, the Mediterranean, the Middle East and indigenous North America have some kind of historical version of the sauna. Saunas, like a sacred ritual, were meant to cleanse toxins out of your body, since extreme heat kills some bacteria and viruses, and to renew and purify the spirit and mind.
While the sweat lodge has retained all of its spiritual significance, the sauna—though still spiritually important to many—can also be a much more lighthearted social affair, especially here in Atlantic Canada.
Given the northern cultural similarities between Finland and Atlantic Canada—our shared appreciation for nature and a strong desire to stay warm, for instance—it's no surprise this region has a subculture of sauna aficionados.
But like any piece of culture passed down over generations and across continents, saunas have changed outside of Finland—and so have sauna lovers. Each one is different, and has a different idea of the perfect sweat.
Built by hand
Fifteen years ago, Jim Black of Shenstone, NB opened his door to find a young woman with flaming red hair. "My name is Kimberly Gautreau," she announced. "I'm in love with this village and I want to live here!"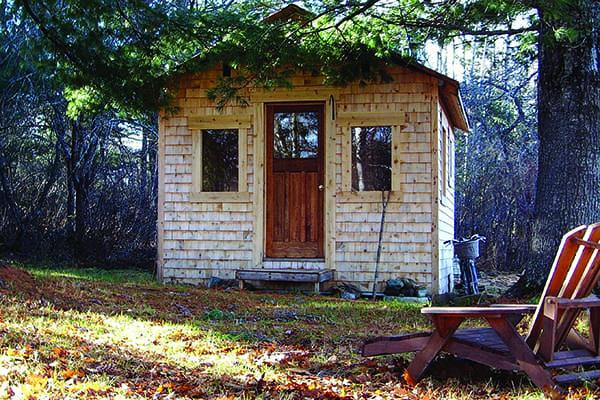 Gautreau and her partner, Christian Theriault, were looking for a forever home. Driving through Shenstone adoring the fall colours, she was overcome with energy and, looking for local assistance in finding property, she jumped from the slow-moving car onto the dirt road.
Black put Gautreau in touch with a beekeeper and conservationist, who owned an overgrown field of weeds with a hunting cabin. The beekeeper was fond of the land but he wasn't using it, and when he met Gautreau, a massage and holistic therapist, he agreed to sell it to her because he thought she'd be the perfect steward.
The cabin needed significant renovations. Theriault—an Acadian blacksmith, leatherworker and carpenter—first built a sauna, by hand. Inspired by the Finns of old, they slept in the sauna until the house was ready.
Theriault made the sauna from New Brunswick cedar and antique crackle-glass windows rescued from the roadside on garbage day. Gautreau added Moroccan lamps and copal, a pre-Columbian Mesoamerican incense.
She sees it as mainly a dry sauna but sometimes creates steam by placing snow on the wood-burning stove. Also like the Finns, she enjoys rolling in snow between sauna sessions to cool down and revive the spirit.
Gautreau now lets artists and others in need of a break from modern life take personal retreats at the Shenstone cabin and sauna. It's a place where they can reflect and gain perspective.
Big dreams and sauna steam
Twelve-year-old Patti Larsen wanted to be a writer. Thirty-eight-year-old Patti Larsen was a hairdresser, and the owner of a salon in Stratford, PEI. "I was at the point in my life where I either gave writing 100 per cent and saw what happened or gave it up entirely," she recalls. Five years later, she's published 33 young adult novels and earned a large and loyal following.
A few days after making the decision to change careers, Larsen embarked on a more mundane trip—to Canadian Tire. (Though as far as shopping trips go, it turned out to be a significant one.) On impulse, she took home an easy installation infrared home sauna, on sale for $900.
The dry sauna—advertised as a two-seater but only comfortable for one—is exactly what Larsen needed to celebrate saying yes to her dream. Unlike wood-burning saunas that can exceed 100° C, it maxes out at 60° C.
Like the writing, it was something she'd always wanted. It now helps confirm her decision to be a full-time writer. After a long day at the computer she sits alone in the sauna (no husband or cats allowed), reads a good book and lets the world melt away. "Every time I got in it I thought about how awesome my life was," she says. "It's just a cedar box, but it has a deep emotional meaning."
Sauna comes first
After school, Megan Leslie's first priority was to get a cottage, or kesämökki in Finnish, because it would have the sauna. Second priority was a house.
"It's all about Finnishness," says Leslie, a Finnish-Canadian. But once Leslie was elected member of Parliament for Halifax, and had to maintain homes in Ottawa and Halifax, owning a cottage was no longer feasible. Neither was owning a house.
Instead, Leslie rents a North-End flat with her partner. For the first few years, she assumed having a sauna at a rental was impossible.
But when you're Finnish, you find a way to sauna. For years, that meant joining Canadian friends in their home saunas. But it was awkward. "I don't know the social norms," she says. "You could go to anybody's house in Finland and it's the same experience." That is, men and women take turns, everybody's naked and the temperature is hot. But the idea is to sweat, cool off and then sweat again.
"It's not an endurance test," Leslie says. But in Canada, each sauna has its own norms—a poor Finn doesn't know what to expect. Leslie's solution came from a freestanding cedar barrel sauna. And there was no need for plumbing or electricity hookups.
Her landlord is easygoing and lets her burn wood from an old tree cut down on the property. The sauna will move with her should she ever buy that house.
Leslie saunas every weekend in the heart of the city, serenaded by birdsong and the occasional party next door. "The minute I get in, just smelling it, I feel better," she says. The pressures of Parliament disappear.
Now Leslie enjoys hosting friends for a sauna and a little mojakka (Finnish soup). "I enjoy when people realize how special it is," she says.