Hearth safety and maintenance year round
MANY CANADIANS come from a tradition of wood burning, but with increasing urbanization and other convenient and efficient home heating options on the market, we grew disconnected from these roots.
In recent times, however, with rising oil prices and electricity rate increases, many homeowners have returned to wood, pellet and gas stoves and fireplaces. The safety, efficiency and convenience of these units have improved greatly since our grandparents' day, but they still need care and attention.
Woodstove safety and maintenance
Handling and storing firewood is the starting point for dealing with wood heating safety. Burning wet or "green" wood can cause a dangerous build-up of creosote in your chimney and lower the stove's efficiency. Your wood should be seasoned (or dried) to between 14 and 20 per cent moisture content. Green wood is less expensive than seasoned wood and, with planning, seasoning is fairly simple to do yourself.
The wood should be cut to length and split, and stacked outdoors off the ground in rows spaced a foot apart, to allow airflow to the cut ends. The top of the pile should be covered and the sides left open for six to 12 months. An inexpensive moisture meter can be purchased at many hardware or woodstove stores. They are simple to operate and will tell you when your wood is ready to burn.
Disposal of ashes and embers is another key safety issue. Placing ashes that are not fully extinguished in the garbage or composter, or in a container on your deck has the potential to ignite a house fire. Embers can smoulder in ashes for days, so it is critical you ensure they are completely extinguished before disposing them. One good method of disposal is to spread the cool ashes in a garden bed.
What does WETT certification mean?
WETT is a non-profit education association in Canada for training and recognizing professional competence in the field of residential woodburning. WETT is governed by a volunteer board of directors drawn from people in all areas of the industry from across Canada. The organization was developed to promote knowledge of, and adherence to, the safety regulations governing residential woodburning systems among those who provide professional services to the public.
WETT has been offering courses since 1988. Since then, thousands of participants from fields as diverse as retail sales, installation, chimney sweeping and home, insurance, fire and building inspection have been certified.
Upon completion of a series of courses provided by WETT and the required experience level, all participants can then apply for certification. WETT members must abide by a code of ethics requiring professionalism in all aspects of their work.
To find a WETT member in any of the various categories of the industry visit wettinc.ca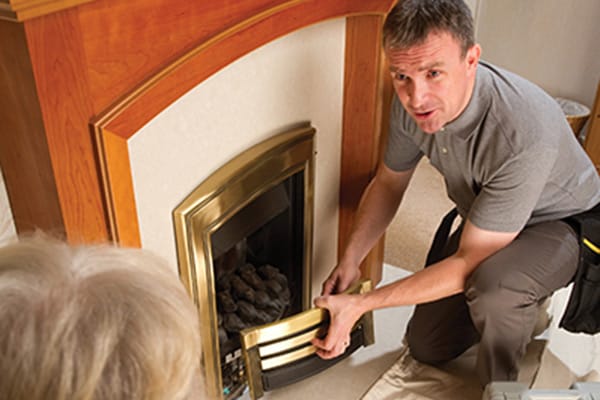 Gone are the days of filling your stove to the brim and shutting the air off in order to get the maximum burn time possible. This practice is not only considered unsafe, if you have chosen the correct stove model and size for your needs, it's inefficient.
Proper operation of your woodstove contributes to both safety and efficiency. Unfortunately, some people view the manual that comes with their stove as an excellent fire starter, but take the time to read it and you'll find some of the most important safety tips anyone can offer.
While professional help may be required for some maintenance issues, there are many things that most homeowners can monitor on their own. Take, for example, the stove's door glass and gaskets. Cracked or broken glass should be replaced immediately and the stove must not be operated until that is done. The door and glass gaskets can be easily inspected a few times each heating season for fraying and security. Gaskets in good repair will ensure smoke isn't leaking into the home. Different manufacturers have varying instructions, so refer to the manual for more model specific safety and operation information.
Probably the most critical maintenance issue when burning wood is proper inspection and cleaning of the stovepipe and chimney. Creosote and other products of combustion can accumulate on the inside of the chimney system and, under the right conditions, ignite and cause a chimney fire.
Newer, high efficiency and EPA-certified stoves are much less prone to causing fires as they burn fuel more completely. Burning properly seasoned wood also reduces this risk. Cleaning and inspecting a chimney is typically not within the abilities of a homeowner, and done improperly won't lower your risk of a chimney fire.
When shopping for the services of a professional chimney sweep, the starting point is to find one who is WETT certified (see inset on page 67). As with most home maintenance tasks, ask around family and friends for a recommendation.
A chimney sweep can be good luck in more ways than one. A certified sweep will inspect your entire system from top to bottom and will supply you with a written report of the findings. A qualified sweep inspects the condition of the chimney, the brick and mortar, the lining, the flashings, where the chimney penetrates the roof and the stovepipe condition, including where it connects to the chimney and stove. The sweep should also check the installation in general to ensure it meets codes, as well as the condition of the stove gaskets and firebricks, if applicable.
Hiring a qualified and reliable chimney sweep is an excellent investment for peace of mind, not to mention for your insurance company, who may require it.
Pellet stoves
Safety and maintenance with a pellet stove is both simpler and more complex than woodstove maintenance.
A typical pellet stove has a more automated operation system, therefore requiring fewer maintenance tasks. Also, wood pellet fuel requires no seasoning or outdoor storage as it comes sealed in 40-pound plastic bags that can be purchased as needed. Since the fuel is compressed it has more energy by volume, therefore less room is needed to store it if you buy in bulk.
Disposal of ash is the most important daily or weekly maintenance task and one that is easily done by the homeowner, as is regular glass cleaning. The concerns with disposal of the ash and embers are similar to those with a woodstove. Though there is less volume of ash, there can still be hot embers in it, so it should be stored in a metal container until completely cool, and not on a combustible surface.
Additionally, the door glass and gaskets are also easily inspected throughout the season when opening and closing the door and ash drawer for cleaning. Gaskets on a pellet stove can be an issue should they wear enough for the seal to break down, causing ash and odour to be blown into the room; watch this closely and ensure the door closes securely. The recommendations for these tasks may vary from manufacturer to manufacturer, so refer to the manual.
For annual or seasonal maintenance of a pellet stove, the venting and exhaust system is the main concern. Pellet stoves use a special double-walled metal vent pipe, certified for this purpose, and sealed at the joints as it is under pressure from the exhaust blower.
A pellet stove doesn't typically require a traditional chimney as it is "forced draft" using an electric exhaust blower instead. As well, there is usually another blower to move air from the room through a heat exchanger and another motor to feed pellets into the combustion chamber. There are various switches to control all the mechanics and, once again, the exact system varies widely between different manufacturers and models.
Pellet stoves are relatively complex systems so repair and maintenance beyond day to day cleaning should be carried out by a WETT-certified technician who is also pellet certified.
Gas fireplaces
Propane and natural gas fireplaces can be both built-in and freestanding. In most cases each particular model is able to work with either fuel. Strict government regulations for installation and maintenance of gas appliances require that professionals do the work.
On the other hand, once a gas fireplace is installed, there is very little to be done for maintenance to the vent or exhaust systems. Most gas fireplaces are "direct vent" in that exhaust gases are vented directly outside and combustion air is brought in, all within special sealed pipes and ducts. Very often this is done through the sidewall of the house.
All other maintenance, such as annual cleaning of the ceramic logs, testing the gas piping and valves, as well as checking the glass, gaskets and controls must, by law, be carried out by a licensed technician.
Again, there are many and varied methods to run these heaters, so be sure to read the manufacturer's manual and contact a dealer or your fuel supplier with any questions.
There is one important thing a homeowner can do to maintain their gas fireplace—and that is to annually change the batteries in any handheld remote control or battery-operated receiver for your gas fireplace. It is surprising how many phone calls to a dealer or expensive visits by a technician can be avoided by doing this.
All of these stoves and fireplaces have the potential to be one of the most enjoyable aspects of cold weather living here in Atlantic Canada. With a little forethought and planning, as well as consulting with qualified technicians for your annual maintenance, you can enjoy many years of gathering round the fire on a cold winter's evening-—safe, snug and warm.