A fresh coat of paint (and some new accessories) took this family room from stale to stunning
IN WINTER, the shorter days and icy weather can induce us to spend much of our time comfortably nestled at home.
But if your rooms leave you feeling less than inspired, this may be the perfect time of year to inject a little character with a few new accessories and a bit of paint. By simply introducing a new colour combination, you can completely transform a dull space into a new favourite room.
Unfinished business
TWhen Rebecca Churchill, of Bedford, NS, came to me for assistance with her family room, the space felt cold, lifeless and unfinished. The wood stove provided heat, but the hearth and mantle lacked inspiration. Items that had accumulated in the room over the years were tired-looking and mismatched. The room's overall lack of ambience meant that her family was not very motivated to spend time there.
We established that she wanted a relaxing and cosy space that seemed inspired by nature—a space where her family would feel comfortable congregating to watch movies and play games. She wanted to utilize most of the existing furniture in a way that would coalesce with the new design.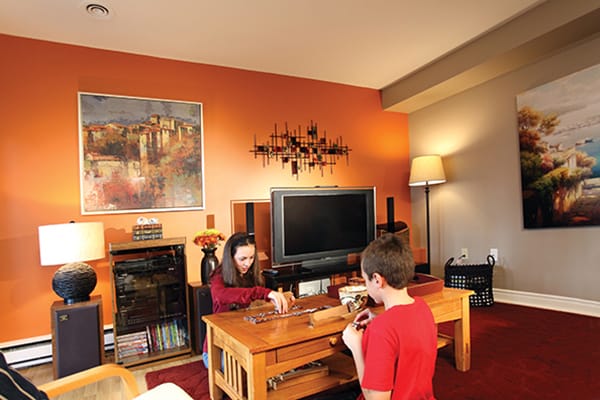 Inspired by nature
We are fortunate in Atlantic Canada to have four wonderfully diverse seasons—three of which are exceptionally colourful and vibrant. Beauty abounds in the shorelines, lakes, forests and fields that surround us.
The natural world has a way of grouping colours to create stunning palettes—and is, therefore, an ideal source of inspiration for the colours that we bring into our homes.
Rebecca loves orange, blue and taupe because they reference the coppery leaves, cobalt lake and weathered wood of an autumn day. With that in mind, burnt orange was chosen as the main accent colour for her family room. The shade is rich and welcoming, and complements her blue and taupe striped sofa; it also enhances the brick of the hearth.
One wall—the wall facing the sofa—was painted russet orange. (Painting one wall only in a spirited hue is a good option if you are afraid of being overwhelmed by a strong colour.) The other three walls were painted a warm shade of putty, keeping the backdrop for the rest of the room neutral.
Vibrant artwork is another key way to inject colour; of course, artwork should also reflect the tastes and interests of the homeowner. Although the art in this room echoes the colour scheme, we were careful to select only pieces that were meaningful to Rebecca.
You can create a feeling of depth and comfort by adding layers of textiles. Patterned throw pillows infuse this room with a sense of ease and interest—and accent pillows are an effective way to add small hits of colour without a long-term obligation.
Textured drapery panels on the French doors add another layer of warmth. These can be drawn at night to enhance the snug feeling of the space. A wool area rug in a baked clay shade not only adds visual warmth but is also toasty under the toes.
Finally, simple references to nature such as stones, shells and logs round out the room, and allude to the warmer seasons ahead. Earthy items in brown tones help to ground the space. Wicker baskets hold comfy blankets for chilly nights. Candlesticks, lanterns and lamps offer accent lighting and provide visual warmth to the hearth when the fire is not ablaze.
With the easy addition of some rousing colours borrowed from nature, the Churchills' family room has been revamped into a space where the family can sit back, snuggle in and relax.