Mouldings and trim are an economical way to add drama and impact to a space
LOOKING FOR A decorative way to add a sense of height and interest to the walls in your home, define a space and establish a visual flow? Start with the finishes, say experts in the renovation and construction business.
"Finishes are absolutely essential," says Halifax area homebuilder Tamara Barker Watson. "A house without finishes is like a cocktail dress without jewelry."
Finishes include a general category of trim such as crown and base mouldings, window and door casings, panel moulds, wainscoting, chair rails and even interior doors. Once found more frequently in high-end construction, they have become an affordable option for regular home owners.
Equally important, according to Barker Watson, finishes are necessary for concealing imperfections in the joints where drywall meets floors, ceilings, windows and doors.
In her own home, Barker Watson just replaced all the old trim with a product called Lunenburg Trim—a flat board with a small bevel, topped by 6-inch cove moulding. "It looks really pretty," she says, "and it's also a great way to protect my walls against everything from the vacuum cleaner to kids' roller blades."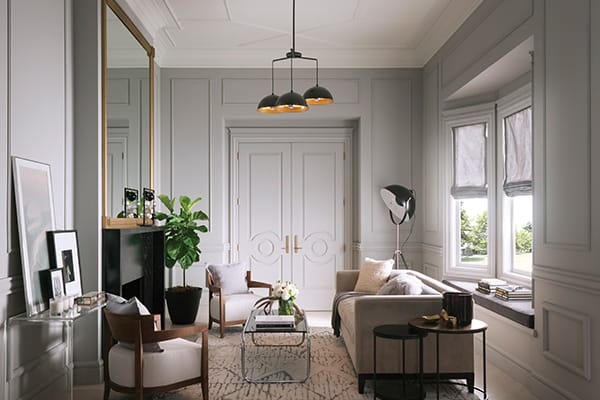 Colour options
Whether you're embarking on a home improvement project or a new build, there are many profiles of moulding available. Barker Watson's company offers new homebuyers a custom trim package that includes four different options, ranging from traditional to contemporary. "No matter what style they choose, ivory is the most popular colour for trim," she says, "but it's currently seeing some stiff competition from black and grey. They both look great with a dark grey feature wall."
Canadian interior design celebrity Andrew Pike sees the same trend away from white and beige and toward grey.
"Grey is on the rise," he concurs. "And because of that, the whites used elsewhere in the room are moving away from a warm, pinkish yellow to a crisper, slightly more neutral and cooler tone."
Choosing the right size
Also on the rise, according to Pike, is a trend toward larger sizes and more contemporary styles in baseboards, crown and other mouldings, as well as casings for windows and doors.
"It's not just a matter of bigger and more modern (finishes) are better," cautions Alexandra Marshall, vice president of marketing for Metrie, one of the largest manufacturers of interior finishings in North America. "It's important to remember that finishes need to complement the style of the room and be in proportion to the overall size of the space."
The optimum trim size, according to Halifax-based designer and construction manager Dale Campbell, is best determined by ceiling height.
Like Marshall and Pike, Campbell has observed a move toward taller, and more substantial, trim. "It used to be that the standard profiles for trim were 3.5 inches," he says. "Now that's just the starting point."
As a guideline, Campbell suggests that for rooms with a ceiling height of 8 feet, crown moulding should be limited to 4 inches and baseboards to a maximum of 5 inches. Similarly, door and window casings in a room with 8-foot ceilings should be under 3 inches.
"With a 9-foot ceiling," says Campbell, "you can go as much as 6 inches for the crown moulding, 6 inches for baseboards, and up to 5 inches for the casings."
Unless homeowners decide on a wood finish, Campbell recommends trim made from paint-grade MDF. "That's what most of the finishes are made from today," he says. "It's dimensionally more stable than wood so the joints don't come apart. There are no knots to bleed through the paint, and it also takes a good coat of paint."
Co-ordinated look
As a result of the new interest in home finishes, moulding companies have launched co-ordinated lines of interior finishes that include everything from crown moulding and baseboards to ceiling treatments and door treatments like architraves (the trim on top of the door). For a cohesive look, many of these new collections also include interior doors.
"Things have really improved," says Alexandra Marshall. "It used to be almost impossible for consumers to find mouldings in the right dimension and design. The new co-ordinated collections take the guesswork out of the entire process."
Despite the recent increase in availability, finishes remain one of the most neglected aspects of home décor. "It's odd," says Marshall, "because compared to other costs for home renovation projects, finishes are an economical way to add drama and impact. Most people would be surprised at how little it costs."
The benefits are clear for Andrew Pike.
"Interior finishes are one of the first things I suggest to a client who wants to renovate a home," says Pike. "Whether you add crown moulding, or stack additional trim on existing crown moulding for a taller profile, with a little design savvy and some ready-made finishes, it's easy to create something brand new and beautiful."