Outbuildings, cupolas and accents can add a little whimsy to your property
HOMEOWNERS ARE often on the lookout for something that can add character to their property—and for ways to express their creativity for all to see. Cleverly designed sheds and other outbuildings can do all that, in addition to providing ready storage and increasing a home's value.
Ready-made outbuildings are an option many homeowners choose, but if you really want to express yourself, you'll probably want to build your own. In that case, opt for a structure that is similar to your home.
Decide whether you want to match the pitch of your shed's roof to the pitch of your home or other outbuildings. Examine the idea of using exterior materials that are similar to other buildings on your property. Once these basics have been established, let your spirit and imagination run wild.
Bring the whimsy
Arguably, the most important element in any creative venture is to incorporate some personality. A bright and whimsical yellow shed with large painted poppies and tulips can brighten the day of any passerby, and indicates that the owner of this home is artistic and flamboyant. In another community, I have seen a unique round shed, clad with natural cedar shingles and a durable green tin roof that features a matching cupola and weather vane. (See photograph, page 78.) The bright red door welcomes curious visitors. Horseshoes above the door suggest that the owner is a horse enthusiast—or maybe just a bit superstitious.
The owner of a lovely heritage property in southwestern Nova Scotia recently renovated a shed using old church windows, which brought an air of history and elegance to the structure, complementing the heritage nature of his property.
Beautiful examples of historical creativity can inspire the shed-seeking enthusiast. The steep pitched roof of one converted carriage house tells a story of bygone years and offers a hint of talented craftsmanship. It also offers an aspiring designer ideas about how to add character to a shed by employing a dramatic roof line.
Get creative with cupolas
Cupolas are frequently added to the rooflines of barns and sheds to add character. Originally built to allow air to circulate and sunlight to enter, they are now a frequent decorative accent on outbuildings. Like the buildings they adorn, they tend to reflect the personality of the property owner, and add a distinctive element.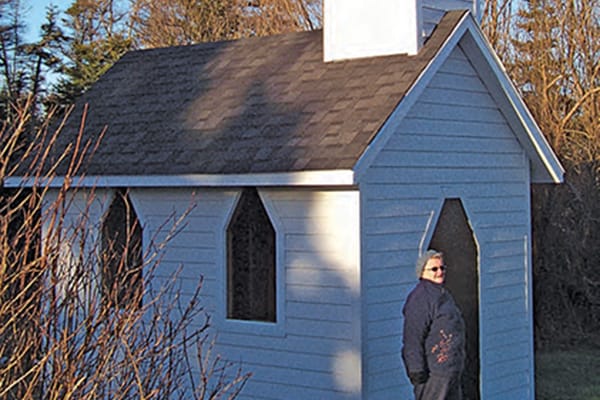 When a builder I was working with designed a decorative cupola for my gambrel-roofed workshop, he designed it to complement the roof's design.
Many people have also added cupola designs to gazebos, gate houses, and garden accent buildings. These slender structures are functional, yet elegant.
Add sparkle with accents
Simple accents can make a plain-looking building into something special, at minimal cost. Under-window flower boxes add sparkle to our neighbour's garden shed. Matching window boxes adorn her horse barn. Similarly, adding shutters to a shed can pump up the charm factor with little financial impact on your pocketbook.
Grab a pencil and pull up a chair. Start designing a whimsical shed that will add character to your surroundings to put a smile on the face of anyone who sees it.