There's nothing small about the appeal of these mostly miniature plants
As is so often the case, I slid into a fascination with alpines as part of a natural progression of learning about plants and different gardening styles. Some years ago, I was visiting a horticultural trade show in St. John's, NL, when my attention was caught by a fantastic display of hypertufa troughs, planted with delicate, ornate, and lovely rock garden plants.
They had been created and were being demonstrated by staff at Memorial University's Botanical Garden—which is one of the finest public gardens in Canada, and well worth a visit if you are in St. John's.
Rock or alpine gardening is a natural fit for Newfoundland gardens, where soil is often scarce and studded with plenty of rocks, from scree-sized gravel to compact-car-sized boulders.
My fascination with alpines was reconfirmed while on a plant-hunting trip to western Newfoundland and southeast Labrador with my mentor, the late Captain Richard Steele of Bayport Plant Farm, NS.
We explored sites in Gros Morne National Park, along the Great Northern Peninsula, and up to Battle Harbour on an island off the coast of southeastern Labrador, now operated as a historic site. I saw plants that we have in our gardens growing as natives in these locales, clinging to existence on wind-scoured rocks with the barest minimum of soil, and flourishing beautifully. I returned to Nova Scotia with a host of cuttings and seeds, and a fascination that verges on obsession with these versatile, beautiful plants.
Endless possibilities
Alpine plants and rock gardens are an ideal fit for any gardener. Jackie Bezanson, the retail manager at Blomidon Nurseries in Greenwich, NS, says alpines hold appeal for many reasons. Whether your garden is large or small, you can have a dedicated alpine bed, and since so many plants for these beds are quite small, you can fit a whole lot of plants into a not-very-large space, creating a landscape of miniatures.
"Many of them are great for slopes where other plants might not work well, and there are so many textures and plant varieties to choose from," she says.
If your soil isn't perfectly suited for these plants, or if you're limited to a deck or balcony, you can grow them in planters made of cement, hypertufa (a durable mixture of cement, sand and peat moss or vermiculite), clay pots (remember strawberry pots?), faux stone troughs—the possibilities are endless.
Container-grown alpines are also ideal for those who aren't able to manage the physical labour involved in planting in the ground. You can sit at a potting bench or table and work with some of the many different types of alpine plants available. Perhaps best of all, containers frame your focus, playing up small accent plants.
One great garden
Just over 10 years ago, what is now the Rock Garden at the Dalhousie Faculty of Agriculture campus in Bible Hill, NS (the former Nova Scotia Agricultural College), was simply a grassy hill.
That was before Bernard Jackson, former director of the Memorial University Botanical Gardens and a rock gardening enthusiast, moved to Truro, and decided to help create one of the finest gardens in Atlantic Canada.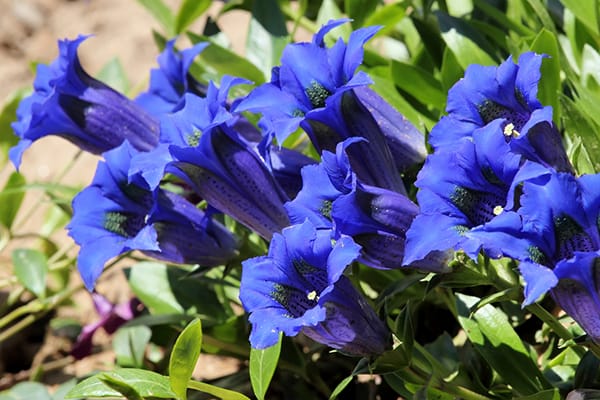 With his enthusiasm and experience creating the vision—and with the help of dozens of town volunteers, as well as campus students and staff—that formerly grassy slope is now awash in 600 tonnes of red granite boulders, 150 tonnes of gravel and sand for soil amendment, 15 tonnes of cut limestone paving and six tonnes of slate flagstone, forming the foundation for hundreds of species of plants.
The rock garden looks like it has been there forever—although it is constantly a work in progress, with areas being developed and plants added or removed.
Visitors from across Canada and beyond have visited and photographed the garden, which is open to the public year-round at no charge.
Drainage, drainage, drainage
Darwin Carr is a horticultural technician at the Dalhousie Faculty of Agriculture campus and works with grounds maintenance, as well as being treasurer of the Nova Scotia Rock Gardening Club. He has played a part in the rock garden since its inception, and continues to be involved in its evolution.
When it comes to creating an alpine bed, he says, instead of location, location, location, think "drainage, drainage, drainage," adding that gardeners should think about where these plants grow in nature.
"Most of the choicest plants grow in scree type conditions—in loose gravel, on top of rock formations that provide the extreme drainage they require."
Having said that, however, the perfect soil for rock gardens is one that also retains moisture. In other words, clay is not advisable. If your garden soil is heavy and clay-filled by nature, add sharp sand or pea gravel to improve the drainage.
You can give your plants an added boost by making the bed's soil with a mixture of one part good garden soil, one part sharp sand or pea gravel, and one part well-rotted compost or leaf mould.
An ideal location is a south-facing slope, where plants will get plenty of sunlight, and where you won't have to worry about excessive soil moisture.
Darwin adds that we should avoid large, overhanging trees and shrubs in the rock garden vicinity—shade makes plants grow leggy and weak.
Take a page from nature in creating your alpine bed: imitate natural rock formations; place rocks in layers with close-fitting crevasses between them; and don't overcrowd plants, so you can fully enjoy each specimen—on its own terms.
Great plants for rock gardens
While alpines haven't always been hugely popular, Jackie Bezanson of Blomidon Nurseries says that whenever a speaker focuses on them, gardeners "get all juiced up about them." Most nurseries in our region carry plants suitable for alpine gardens. Avoid rapidly spreading groundcovers such as snow-in-summer (Cerastium tomentosum) and bugleweed (Ajuga), which can crowd out smaller, slower-growing plants.
The list of perennials is long and varied:
Androsace: Rock-jasmine produces dainty pink flowers on rosettes of foliage; spreads by producing runners similar to strawberry plants.
Armeria: Sea thrift can be found growing wild in parts of Atlantic Canada. Its grassy foliage is sometimes semi-evergreen; the drumstick-like flowers come in shades of red, rose, and pure white. 'Vesuvius' has chocolate foliage, while 'Nifty Thrifty' has variegated foliage.
Aster: There are numerous species and varieties of asters that work well in an alpine format, including the spring-flowering A. alpinus, and the striking, fall-blooming creeping aster 'Snow Flurry.'
Dianthus: Numerous, low-growing pinks include D. alpinus, D. deltoids, and 'Tiny Rubies' cheddar pink. Most have attractive grey-green foliage and are deer and drought resistant.
Dracocephalum: Dragonhead is a member of the mint family, with blue or purple flowers. Bees love this plant.
Ferns: There are ferns that do very well in well-drained, even sunny sites, and that will grow on boulders and cliff edges. Look for parsley fern (Cryptogramma acrostichoides) and the well-named cliff fern (Woodsia sp.).
Helianthemum: Rockrose or sunrose is semi evergreen or evergreen, with a mounding growth habit, and produces flowers in shades of yellow, red, pink, and pure white.
Gentiana: Gentians are coveted for their cobalt-blue flowers; bloom time varies with species, from spring into autumn. My favourite is G. acaulis, a spring-bloomer with large, bell-like flowers.
Lewisia: Bitterroot produces sprays of jewel-toned flowers from spring until early summer.
Opuntia: We can grow cactuses here—the prickly pear cactus thrives in alpine gardens. There are numerous varieties available, most very spiny, and they bloom in shades of rose, scarlet or yellow.
Phlox subulata: Creeping or moss phlox comes in a variety of colourful forms; blooms in early spring.
Pulsatilla: Prairie crocus blooms in white or shades of red and purple in early spring, and produces showy, feathery seedheads.
Saxifraga: The saxifrages are loosely divided into two types: mossy, with soft moss-like foliage, and crusty, with fleshy, succulent foliage. Flowers are white, pink, yellow or red.
Thymus: Creeping thymes are especially effective when planted in walkways, where they can spread and share their fragrant foliage.
Veronica: There are several fine creeping speedwells available—a favourite is V. gentianoides, the gentian speedwell—but be careful not to put in overly vigourous species such as the ground-covering 'Georgia Blue.' Gold-foliaged forms such as 'Aztec Gold' are much better behaved.
Annuals such as portulaca and annual ice plant add a burst of colourful blooms and can help to add interest as a new planting establishes itself.
Dwarf conifer shrubs lend an exciting accent to an alpine bed, and aren't apt to overrun plantings. Jackie Bezanson suggests dwarf rhododendrons such as 'Ramapo' and 'Purple Gem,' and dwarf cypress such as Chamaecyparis obtusa 'Nana' or C. pisifera 'Mops.' Darwin Carr likes 'Little Gem' and 'Pixie' dwarf spruces, as well as dwarf forms of juniper and fir.
Dwarf flowering shrubs give texture and supplemental flowering colour to an alpine planting. There are numerous dwarf willows (Salix sp.), some of which are native to Atlantic Canada; as well as lowbush blueberries (Vaccinium angustifolium), bog rosemary (Andromeda), dwarf weigelas such as 'My Monet' and 'Rumba,' dwarf lilac Syringa 'Palibin,' and dwarf deutzia 'Chardonnay Pearls.'
Bulbs can also play an important part in an alpine garden, providing a boost of colour early in spring while many perennials are still emerging from winter slumbers. Snowdrops, winter aconite, glory-of-the-snow (Chionodoxa), fritillaria, and dwarf varieties of tulips, iris and daffodils add charming accents.