A bit of fabric and a few well-placed accessories can bring new life to your dining room decor
SPRING IS the season of renewal; a time to refresh and revive. Your garden may not be bursting with colourful blooms yet, but with a bit of fabric, some paint and a few accessories, you can easily bring some sunny spring energy into your home—particularly your dining area.
Whether it is an extension of your kitchen or a separate room, the dining area is a natural gathering place to share celebrations with friends and family—a place to refuel your body and soul with tasty food and good times. That is particularly true here in the Atlantic Provinces, where we are well known for our kitchen parties.
Here, then, we offer some tips to help you create a fresh, inviting eating area—the perfect place to hold a cheerful celebration to welcome spring.
The problem
Although it was perfectly serviceable, the dining room in our "before" scenario felt heavy and dated (see photo, page 68). The wall colour and accessories needed refreshing; the table was the perfect size for family gatherings, but the buffet and hutch added too much visual weight to the space.
A few pieces, like the antique chairs, did not feel unified with the rest of the room. Overall, the space was not very inviting and felt a bit bland and one-dimensional.
The solution
The walls were kept neutral in colour—so they would work with the fresh hues of spring, and with warm accent tones in the cool months. A rich driftwood tone of paint fit the bill nicely.
In terms of furnishings, we kept the solid maple table and chairs; the large table anchored the room, and the classic Windsor back chairs added visual interest in this eclectic space.
The dark and heavy hutch had to go; a family heirloom sideboard took its place. The sideboard had a lighter wood tone and a lower profile, which gave the impression of more space. This treasured piece of family history not only added character to the room; it freed up wall space for an oversized painting that helped define a fresh colour palette.
Two weathered antique wooden chairs were freshened up with a coat of matte black paint; they were reupholstered with a washable green linen-look fabric that had an earthy feel and was also durable—important in a dining space where food and drink could easily be spilled. The chair's black paint added a touch of depth and contrast to the otherwise light and airy decor.
On the table, we swapped out a heavy red tablecloth for cheerful, soft linens in blue and green. Light or pastel pink glass dishes keep the look nostalgic; a silver, three-tiered serving dish introduces a touch of sparkle.
A silver tray is also used to corral items such as a water carafe, glasses and napkins on the sideboard.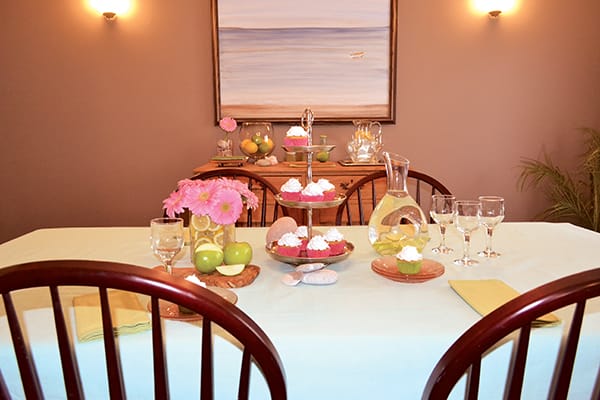 Window treatments were kept minimal to maximize the light. Natural elements like wood, shells and stones, placed in vignettes around the room, symbolically "bring the outdoors in."
Fruit is used to punch up the feeling of freshness: limes and lemons are added to the crystal water carafes and displayed in a deep round glass bowl, adding a hit of colour. Sliced green apples and a lime, displayed on burled wooden cutting boards, add to the look.
Finally, nothing says spring quite like flowers (see "How to Zest up a Vase," page 68). Clear glass vases display pretty pink Gerbera daisies; we accented one vase with sliced lemons and the other with smooth beach stones to round out the look and add the final "natural" touch.
5 ways to bring spring into your home
You don't have to stop with the dining room; with a little imagination you can add spring cheer to the rest of your home as well.
Fruit and flowers
Fresh blooms from the florist almost always bring with them a feeling of spring, but don't overlook flowering branches from your own backyard. Forsythia branches, for example, will burst with yellow blooms if they are cut and brought indoors. Fresh lemons, limes or green apples look cheery when displayed in crystal bowls or on a silvery tray.
Lighten up the linens
Swap out heavy fabrics and saturated colours for lightweight materials and airy hues. Replace warm throw blankets with flowing shawls, or change woolly pillow covers to luminous silky ones. Heavy drapes can be taken down—and airy sheers hung in their place. Slipcovers immediately revive a tired ottoman or sofa; purchase them or have them custom made for a tailored look.
Pick a paint
It's fairly easy to paint an accent wall, but paint can also be used to spruce up a chair, tray—or even a lamp. There are paints on the market that can be applied to virtually any surface. Do your research about which one to use for your particular project. Remember to paint in a well-ventilated area if you're using spray paint.
Natural items
Nature provides great materials for decorating. Look around at the beach, in the woods or on your own property for items that might look nice on display in your room. Use a small dish to hold seashells or collections of beach glass. Place a large, interesting rock on top of stacked hardcover books. Display a beautiful branch of driftwood on your mantle.
Flood your room with natural light
Nothing raises the energy of a room quite like natural light. Throw open those shades and let the sun shine in.