No garden is no-maintenance, but you can enjoy low maintenance
WHILE SOME of us live for gardening and can't think of anything we would rather do, there are always those moments when we do want to kick back and relax. Maybe it's a hot summer day when just the thought of weeding or planting makes us perspire; maybe we want downtime at the cottage or in our backyards without doing anything. Yet we love the look of our gardens blooming with colourful and fragrant plants, and enjoy the taste of fresh produce just picked from our own plots. What to do when summer is (sort of) short and other activities call us? What if we want a garden to beautify our cottage as well as our home, but are only there on weekends or vacations?
The answer is to plan and plant a low-maintenance garden. Before we get started, I have to be the bearer of bad news, and I'll break it as gently as possible. There is no such thing as a no-maintenance garden, unless it's a photograph of one in a magazine or on your fridge door. If you don't tend a garden at least enough to weed it in spring, divide perennials that are getting straggly and prune damaged shrubs, you'll soon have a mess. But gardening is cathartic (I go outside to deadhead annuals or pull weeds when I'm pondering a problem), and you don't have to do it all in a day. Nor does it have to look like a magazine. My gardening style is best described as ruthless eclectic plant collector, because I cannot resist so many unusual and beautiful plants, of all sizes.
Here's how to make less garden maintenance, and more time for other pleasures.
Plan before you plant. If you're starting with a blank slate and going to make a yard, make it low maintenance to begin with. If you're changing over a garden to make it easier to deal with, work out on paper what you like and don't like for garden tasks, and if you have to, hire someone to help you with the work.
Free yourself of lawn. I confess I despise everything to do with lawn care, and I applaud anyone who takes their lawn out—or has none to begin with. Many cottagers don't have any lawn, which is smart—why spend weekends mowing and tending to grass? If you like the feel of grass on bare feet, or want a play area for kids, try a mix of clovers and slow-growing grasses like cool-season fescues, which don't require mowing very often, and are also resistant to pests like chinch bugs.
Love your mulch. You've heard this before from me, but it always bears repeating—mulch is a gardener's best friend. It helps keep moisture in the ground, keeping roots of garden plants cool, plus it helps to suppress weed germination and growth. There are many options for mulch, but remember it only needs to be a couple of inches deep, and not a mulch volcano piled up around a tree trunk.
Make friends with shrubs and trees. Many shrubs offer a variety of traits—multiple seasons of interest, long or repeat blooming, good fall colour, sanctuary for birds and pollinators. For those with small spaces, there are dozens of dwarf shrubs on the market, and many shrubs can simply be planted, mulched and left to flourish year after year. Pruning may still be required for some shrubs such as roses and hydrangeas, but my rule of thumb is to remove dead, diseased or damaged branches and otherwise tidy a little as required. There are also many dwarf tree species, which are beautiful, slow growing or compact in size, ideal for smaller properties.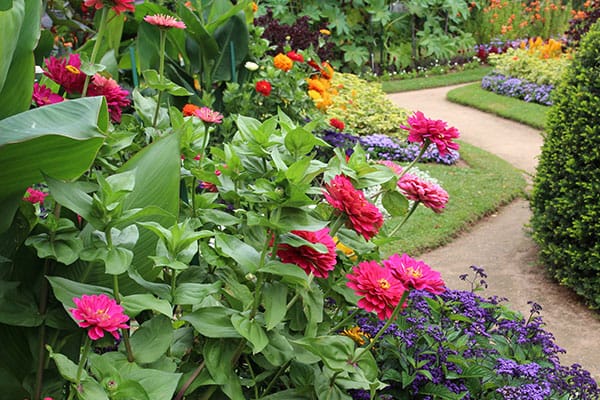 Avoid tender plants. Unless you enjoy planting annual bulbs such as dahlias and gladiolas, then digging them up again in the fall, you have two choices: either don't plant them at all, or plant them and enjoy them as annuals then let them die off at frost time. The other option is to grow them in containers, which makes for easier digging and planting. And speaking of containers…
Container gardening. If you're doing container plantings of flowering annuals, make sure to use large containers but remember they will still need to be watered regularly. If you don't have an irrigation system, a simple solution for containers is a 2-litre plastic pop bottle with a small hole drilled into the lid. Fill the bottle, put the lid on, and invert it into the pot, and it will slowly trickle water into the container. If you want easy-care, drought-tolerant container plantings, use succulents such as sedums and sempervivums, which don't need much water because of their fleshy leaves.
Portable veggies. Confession time: I don't do a vegetable garden. They need faithful maintenance and my work takes me away from home a lot during the gardening months, so for the most part I stick to flowering plants. The exception is my portable salad and herb garden—pots of salad greens, herbs like cilantro, basil and rosemary, and pea shoots (snow peas enjoyed for their young greens) on the deck. Otherwise, I leave the growing of foods to my local farmers, who I am proud to support. You can easily do this at the cottage as long as you make sure to have a source of water for when you're not there.
Pick the right perennials. I am a perennial fiend, finding it hard to resist most of them, especially when new varieties are developed. But I enjoy dividing and tending perennials, so the spring rituals of tasks are welcomed after a long winter. For those who don't enjoy or don't have time to lavish the care required by some perennials, there is great news—there are many species that you plant, mulch and enjoy (see below for suggestions).
Are you inspired now? Enjoy your garden, your summer, your barbecue and your glass of wine—guilt-free, in the garden.
Easy care perennials
Not all perennials have to be divided every few years to keep them vigorous—some never require dividing and in fact resent being disturbed, so be sure to plant them where you want them to be for years to come. These are some of my favourites.
Amsonia: Bluestar is a native North American with dainty blue flowers. Full sun to partial shade, and doesn't require dividing.
Asclepias: The milkweeds are vital for Monarch butterflies, but be sure to select the right species for your conditions. Swamp or rosy milkweed, A. incarnata, likes moist conditions, while butterfly weed, A. tuberosa, prefers good drainage.
Astilbe: Astilbes look great whether in bloom or not, with fernlike foliage. They are deer resistant and attract pollinators. They prefer a moist soil, so mulch well or plant in a shaded area.
Baptisia: If you like the look of lupins but don't want them seeding everywhere, look for the clump-forming, almost bushlike false indigo or its close relative, false lupin (Thermopsis).
Brunnera: Siberian bugloss 'Jack Frost' has silvered leaves so it looks handsome even after the blue flowers of mid-spring are faded.
Campanula: There are many bellflowers to choose from, some low-growing and creeping, others taller. Some will self-seed like peach-leafed bellflower, but it's easy to remove the seedlings.
Dicentra: Old-fashioned bleeding heart will bloom for a long time if it's in light shade and moist soil. It will go dormant in hot weather but returns next year.
Dictamnus: Dittany is also known as gas plant because it has highly fragrant flowers. It's a fairly tall, showy perennial that blooms in late spring or early summer.
Euphorbia: Drought-tolerant euphorbias include some spreading varieties, but for durability and good behavior, look for clumping, cushion spurges such as 'Bonfire.'
Ferns: There are so many different types of ferns, most of which are clumpers and deer resistant. Most are for shaded sites but there are some that welcome sun. My personal favourites are the delicate maidenhair (Adiantum) and Japanese painted ferns (Athyrium).
Hosta: If you don't have deer problems, hostas are a fabulous, hard working and pretty much worry free plant, especially if you choose the tough-leaved varieties that slugs don't like. If you do have deer, forget hostas. The end.
Lavendula: Lavender wants full sun and good drainage, but if you have these things, you can have lavender for many years. Make sure to choose a hardy variety such as 'Hidcote' or 'Munstead'.
Ornamental clumping grasses: Like ferns, there are many different types of ornamental grasses, some of which spread, some of which are drought or shade tolerant. My personal favourites are the Panicums.
Paeonia: When I moved here, I brought three special peonies with me from my former home—one herbaceous, one tree peony, and a hybrid of the two called an Itoh. This year, I have so far purchased six more peonies—they are hardy, long blooming, fragrant and wonderful. What's not to love?
Papaver: Poppies are irresistible with their silken blooms in blazing colours. Many will go dormant after flowering, and some will self seed, but not obnoxiously. Try Icelandic poppies, which will bloom all summer if deadheaded regularly.
Perovskia: Russian sage is a late blooming, deer-resistant and pollinator-attracting perennial. It's also drought tolerant but MUST have good drainage, especially over winter, or it will die.
Siberian iris: The Siberian irises are among the most trouble-free irises you can look for, tolerant of many growing conditions and long-blooming. They may need to be divided every few years if the centres start dying out, but they are so beautiful and easy-care otherwise, it's worth getting out the shovel to do that small task.