Time to update that dated wood panelling
WE HAVE this little cottage in our family on the south shore of Nova Scotia. My grandfather built it with the help of some of my uncles in the 1960s. It's a cabin; rough and small, and we love it. This cottage has a long family history and holds heaps of sweet memories. Actually, it was here that my husband asked me to marry him.
But these walls didn't just contain nice nostalgia, as you can plainly see in the before photo. Nope, they had lots of wood veneer panelling too. You know the stuff; I know you do, that heavy, dark and dated relic from decades gone by. It was, once upon a time in the 60s and 70s, a widespread choice for cottages and dens everywhere.
Now, there is always a little project on the go at a cottage of this vintage. A little yard work here, a little repair there and, of course, you want to make sure there is some downtime worked into the weekend visits. That is the reason for having a cottage to retreat to, after all. Plus, not everyone who uses this cottage was on board with painting out the wood look. I am looking at you male family members. And it's not just a non-starter in my family either. I cannot tell you how many times in my decorating career talk of painting out wood in a home project has divided men and women. Yes, even wood veneer. So, although that panelling bothered me my entire adult life, it stayed put, dark and dingy, until one sunny day last summer. I finally had everyone on board for this one-room refresher.
Planning the look
This bedroom project had to be quick and economical. I wanted the room to look fresh and the paint to be durable, and knew I would be OK with some imperfections. It's a very casual space where we like to spend some time unwinding and unplugging with the family. Little flaws can actually be quite charming.
Of course, I had a vision in mind. I love the look of a minimal, white-on-white esthetic. Plus, I knew I wanted little touches of blue here and there. Although I wanted to reuse as many things as possible, some things like that lighthouse painting and the bed had to go. The bed was replaced with a simple new frame, and I painted a calming blue water scene on canvas for the wall above. I kept the Roman blind, which is pretty and fit with the colour scheme. The bedside table also stayed, and the lamp got an update with a new crisp white shade. I repurposed the cute little wind-up clock and checked throw at the foot of the bed from another room in the cottage. I bought two inexpensive accent pillows and covered an ugly cushion in a pretty floral, modern cotton. If you can sew a straight line you can cover a pillow, I promise.
I was happy with the room revival and in the end even the naysayers admitted it was fresher and brighter. Now, for the next project…did I mention the entire cottage is clad in wood panelling?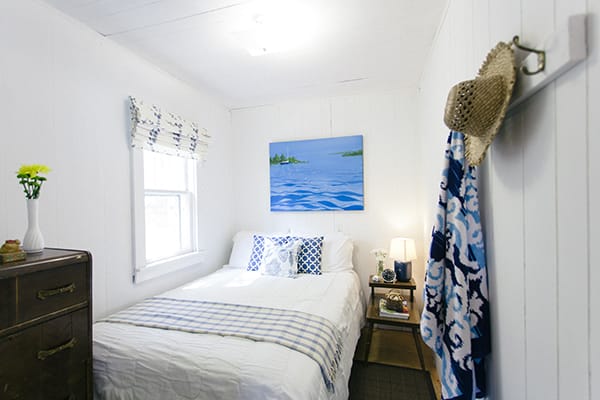 Ready to tackle your own panelling paint over?
Here are the steps for a successful painted panel project.
Remove furniture and other items from the room, including switch plates, window treatments and glass light shades. Open your windows and use a fan for good ventilation.
Lay a drop cloth to protect the floor and tape off any areas that you won't be painting, unless you like to cut in freehand.
Lightly sand the surface. This sounds daunting, but it really is an important step. I gently used a fine grain sandpaper to rough the surface up a bit and remove some of the sheen on the panelling. If you have any trim to paint, like a window frame, sand that too.
Vacuum and wash the sanded surfaces down and let them dry. A fan helps speed up the process.
If you do not want to see seams, use a caulking gun with some paintable caulk and seal away the lines where the panels meet. Make sure the caulking is dry as some require extra curing time before painting.
It's primer time! Select a good quality primer appropriate for the surface and use a plush roller to get into the grooves in the panels. You can use a brush to cut in the edges of the wall, for the window frame and the places where the grooves are stubborn to cover. Ask at the paint store for recommendations on primer and paint. If you notice dark wood still peeking through you can add a second coat after the first is fully dry.
I wanted my room to be white, very white, pure white! But if that isn't your style, choose a more colourful option. Use a matte finish to help hide imperfections on the wall and a durable semi-gloss finish on your trim. The shinier the paint finish, the more the flaws on the surface are visible.
Kimberley Eddy owns Evolve Interior Decorating. Find her online at www.evolve.vpweb.ca