Home décor projects to take you through the whole year
A brand new year. A fresh start. Time to make some resolutions for 2016! This year, how about taking some time to reflect on projects around your home that need some work, too? I have assembled a full year's worth of interior ideas to pluck away at each month. So grab your calendar and sharpen your pencils; we have some plans to make.
January–Bust the clutter
We tend to amass things in life—some good, some bad, some neutral. Unless you keep the detritus of life in check, the clutter can overwhelm our interiors. Hang on to the "good," figure out what you need to keep of the "neutral," and get rid of the "bad." Harmony will come naturally.
If you take control of just one room each week, by the end of the month you will have four peacefully organized rooms. But in order to do this right, you can't just shift things from one room to the next. You actually have to find homes for items to live permanently and you have to let some things go. You know, get them out of the house. There are many ways to decide what gets the ol' heave ho.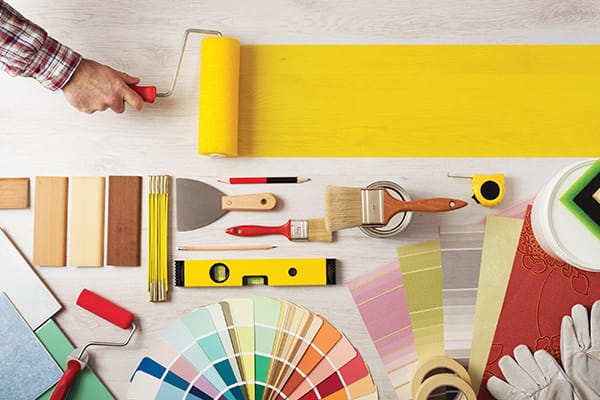 You can start by tackling the most cluttered space. Consider each object (book, shirt, figurine, twist tie, pen…) and asking the following:
Do I use this regularly?
Is this in good repair?
Does this make me feel happy?
If the answer is no, then it should go. Make a donation to a goodwill drop box or centre at the end of each week in January.
February–Foliage
In order to keep the good times rolling with this yearlong resolution, here's an easy undertaking for February—it's a short month after all.
Add some live plants to your home. Not only will the green leaves and flowers (on those that bloom) add some life to the frozen scene outside your window, they will perk up the indoor air quality by adding some extra oxygen. Some popular varieties include aloe (Aloe vera), prayer plant (Maranta leuconeura), reed palm (Chamaedorea seifritzii), and splitleaf philodendron (Monstera deliciosa). If you have pets or children, be sure to ask the experts for non-toxic choices.
March–Makeover
Find one item to paint in your home that is looking a little tired. It doesn't matter if it's a small item like a tray or picture frame or a larger one like a bookshelf or a wooden chair. A fresh coat of colour can have a big impact. Ask the folks at the paint counter what type works best for the surface you are working with, then grab your brush and pick a colour.
April–Accents
Time to think about spring. A few hits of colour can go a long way to brightening up our moods and our spaces. Select two rooms for a textile reboot. Consider colourful cushion covers and bright throw blankets in the living room. Or tea towels and napkins in the kitchen. With a little ingenuity this project doesn't have to break the bank: repurpose a pretty scarf as a table runner or to drape over a chair as a reading shawl.
May–Flowers
The garden outside may not be blooming yet, but we can scatter fresh blossoms throughout the house. If you don't have a big budget for fancy flowers from the florist, try this simple trick:
Grab a couple of inexpensive bouquets from the grocery store.
Divide the flowers.
Make a fresh cut on the end of each stem.
Assemble a few sprigs in a number of small vases, glasses or Mason jars.
Place bouquets throughout your rooms. Don't forget the bathroom and bedroom.
Just remember that when they wilt or lose their vibrancy, they are done. Kaput. Throw them out in the green bin.
June–Sun control
Okay, don't lose focus, you're halfway there. Make sure all your window coverings offer good privacy and light control. If anything is broken, fix or replace it. If your drapes are dusty, launder them. If you are squinting every night at the dinner table, put up some blinds.
July–Trim touch up
The trim in your home is painted in a more durable finish for a reason. It tends to get banged by boots, and dinged by hockey bags and other gear. Touching up the trim in your house is a much easier task if you match the current colour and sheen (often a semi-gloss) of the trim work. You won't have to be as precise with the touch up to achieve that freshened up look.
August–Treasure hunt
Pay homage to the natural beauty of our Atlantic environment. Go for a hike in the woods, a walk in a park, or a stroll on a beach. Find a natural item to display in your home. Some ideas might include a shell, rock, sand, a stump or branches. Add the items to a shelf, a table, or use them in a vignette.
September–Shelf
It's time to get back to the organizing. A beautifully-styled bookshelf can tell a story about the people in the home. Begin by removing all the books and other objects from the shelf. It would be great if this shelf was part of the clutter busting that was planned for your January resolution, but if not, now is the time to pare down the items that live in this bookcase. Stack some books horizontally as well as vertically for visual interest. Add in some sculptural items, like a shell or an interesting rock from your August treasure hunt. Place a couple of photos among the books. Don't crowd the objects. Leave enough room so the eye can move from item to item in a relaxed way.
October–Room rearrange
Reimagine the layout of your space. Could the furniture work better for the way you live if it was rearranged? Maybe position chairs toward a fireplace. Bring in a chair from another room, take a piece out and imagine a new floor plan. Sometimes we can get so used to the way our spaces are arranged that we don't consider how much better they might function if they were tweaked.
November–Photo roundup
You know all those photos that you took this year? Yes, I am talking about the ones on your computer and your phone, the ones you've been meaning to organize. Now is the time to tag your favourites and order some prints. Make a photo album to proudly display on your coffee table or frame some up for a gallery wall. You can even get a jump on the holidays by ordering a few extra prints for family and friends.
December–Deep clean
A good cleaning can make your space feel fresh again. Plan to clean upholstery, carpets and rugs at the beginning of the month. You can hire professionals or if you have some time and energy, rent a cleaner and do it yourself.
By picking away at your home projects each month, you won't feel overwhelmed, but you will notice a big impact.
I have made some resolutions of my own for the coming year. As many of you already know, in addition to being an interior decorator, I am also an artist. You have seen glimpses of some of my paintings on these very pages in past issues. I have decided to focus more time on my art practice so this is my last décor column.
It's been a joy to hear from readers and I wish each and every one of you a very happy 2017.
Find Kimberley Eddy online at kimberleyeddyfineart.com.