A small ecological footprint, but a large renovation challenge
Contemporary styling in a bright colour scheme makes the small space feel more open and airy.
They're called "millennials" (although the precise definition of that buzz word is less than clear) and some of them are redefining the conventional North American lifestyle by rethinking how much room we actually need to live.
Those are the young folks who can be described as committed urbanites repopulating the formerly shabby downtown cores of many cities. They have rejected the "burbs" and the sprawling housing estates and long commutes to work in favour of older housing stock and a lifestyle where the almighty automobile is in disrepute.
They eat healthy food, exercise regularly and seek to minimize their ecological footprint—so they walk, bus or cycle to work, to the park and to restaurants and shopping and recreation.
St. John's, Saint John and Halifax might be the most likely examples of the phenomenon in this region.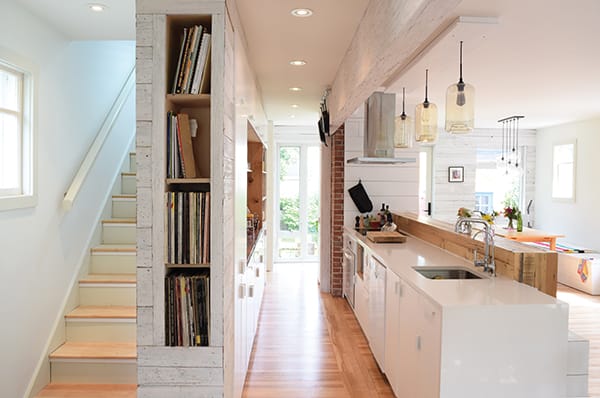 While old housing stock (and we're talking 1940s and earlier here) has convenience of location going for it, the homes are often smaller than modern equivalents, cut up into tiny rooms, and poorly insulated (hence doors everywhere to keep the heat in).
So they're being renovated. We look at one example in the west end of Halifax, the home of Marla MacLeod and Adam Fine—a couple who meet the general criteria described above. They have a brand new daughter, their first child, and Marla is still on maternity leave from the Ecology Action Centre in peninsular Halifax. Adam is a professional musician by trade, but currently also studying urban planning.
Location is key
The overall quality of the general neighbourhood was a huge consideration for them. People are nice, and they can walk everywhere—to the coffee shop, for groceries, to other shops, for recreation—and they are on a bus line. They can both cycle to work.
While they are admitted urbanites, they also love camping and other outdoor activities, so when the need arises on free weekends they simply rent from the city's CarShare service whereby vehicle expense is only a factor when they actually need one—no car loan, no depreciation, no insurance bill, no maintenance costs, no new tires.
All good.
But they had this tiny circa 1940s house all cut up into tiny rooms, and a baby on the way. What to do?
Enter Alec Brown, a Halifax-based architect who happened to own a very similar home in the same neighbourhood. Alec had renovated his home, for the same reasons, and set to work on Adam and Marla's challenge.
The basement is unfinished and the second floor contains the bedrooms, so the main floor became the issue.
"There were 10 doorways," says Adam, and the rooms they linked were tiny. "Now it's one giant room."
The kitchen was the usual cramped galley style. Exterior windows were small and the space was starved of natural light.
So it was gutted, reconfigured and refreshed in a very serious way. A confining and light obstructing combination of small rooms and doorways was transformed into one large multi-purpose space. "It's now chockablock with function," says Alec.
The kitchen was completely realigned by moving it 90 degrees and alleviating the cramped space limitations. It was also modernized with a gleaming bright colour scheme and a shiny new "antiseptic" appearance while counter space was significantly extended.
Marla delights in the fact she can be engaged in other pursuits in the now wide open space but still be in a position to keep a close eye on the baby.
Keeping it natural
A glass back door and an almost floor to ceiling window now flood natural light into the formerly dark and unwelcoming main floor. Beyond the door and the new backyard patio, Marla can enjoy gardening.
The contemporary styling, however, was balanced by introducing reclaimed natural wood finishes wherever appropriate thereby retaining some of the original character of the house, said Alec.
These young homeowners are now happy campers.