Much, much, much more…
Music, laughter, confession and being with Mother Nature make a person feel good inside. They're good for the soul. So is fly-fishing. But pleasure is subjective—not everyone gets the same degree of satisfaction from casting a line as small as a hair tied to an artificial fly the same size as a real one.
I'm a fisherman.
My knuckles sometimes get rapped for calling myself a fisherman rather than a fisher, or a fishing woman; but I like the term fisherman. To me it characterizes the sport, not the gender. All geared up in fishing attire with stuff hanging from the vest, a ball cap and in waders, it's difficult to tell the gender of the person casting the line in any event.
There are many ways to describe fly-fishing.
It's a philosophical attitude that incorporates a deep respect for nature. It is contemplative. It's a solo activity that one does in the company of friends. Fly fishermen are usually solitary individuals who desire very little company when fishing, but they appreciate an audience so they can share their experience with friends later.
Fly-fishing teaches patience; hours can be spent casting a line, observing what is happening on and under the water, and waiting for a fish to rise to the bait.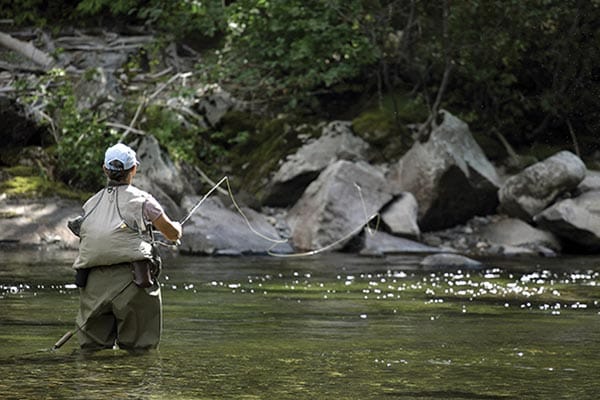 Aw heck. You know what? There really isn't any way to describe fly-fishing in a way that non-anglers can understand. Those who do fish don't need a description—they simply feel it. Let's just say that fly-fishing is addictive! I recently read an article by a chap who said that if he didn't fly fish he would be a gambler or an alcoholic. I understand his reasoning!
There's a sense of competition that goes hand in hand with fly-fishing. First it's with oneself to get the fly in exactly the right spot each time, or to get a bit more line out there. Then when there's a rise, there's competition between the fisherman and the fish. Who will win? Will the fish take the fly? Will it get off or be landed? If the fisherman wins and the fish is landed, one of the most rewarding experiences is to release it and watch the beauty swim away unharmed.
Fishing has been part of my life forever except for a few years when my sons were very young. I recall being a pre-schooler on a brook in Northern New Brunswick with my father. I had a branch for a rod and a piece of twine for a fishing line. My Dad cautioned me to not talk or make any noise because it would "scare the fish." Even yet I feel the frustration of not being able to yell "Dad, why don't I have a fish yet?" or "Dad, I'm hungry".
It was many years later that I realized that my Dad wanted to enjoy the quiet solitude of being on a patch of water without being interrupted by a yappy kidlette. It had nothing to do with scaring fish! I tried the same tactic with my sons, but it didn't work. They were close in age, and all four preferred throwing rocks in the stream to fishing!
Fishing is a sport, yes, but one that is meditative and fills us with awe about the natural world. Fish, water and nature are in harmony. Its spirituality is often compared with religion. In my youth we had a Northern Irish fire-and-brimstone minister in our church. Our family attended church each Sunday; three generations of us filled a pew. My father was not one—he was in the woods or on the water somewhere!
Minister Moore visited our house regularly trying to get my father to "see the light." Dad finally convinced him that Mother Nature offered as much (or more) spiritualism than did the little church on the side of the hill. He enticed the minister to spend a few days with him in the woods, running a river by canoe, and fishing. It worked! Never again did the minister or congregation castigate my father for not going to church! Instead there were sermons about common ground between nature and spiritual escapes.
Friendship is a large part of fly-fishing. Almost every fisherman has a buddy or two to go fishing with on a regular basis—there's little more rewarding than sitting on the bank sharing a bite and a beer after a few hours of casting. There is something therapeutic in the combination of companionship, moving water, and fly-casting. Problems of the world are solved and disappear when hiking to a river, standing in it, and casting a fly line. There are times when I'm fishing that the feeling of happiness bubbles up inside me so strong that I'm sometimes moved to tears. That feeling is still there when I sit quietly and recollect the experience, even months later.
Fishing is used to heal sufferers, both emotionally and physically. Casting for Recovery is one program offered around the world to survivors of breast cancer. It has been held for a few years on the Margaree River in Cape Breton with local volunteers providing guiding and instruction. I was fishing the Margaree a few years ago when the program was offered, and I was thrilled to meet some of the women who were benefiting from the exercise and enjoying the camaraderie. The motion of fly-casting is similar to exercises prescribed after breast surgery or radiation to promote soft tissue recovery. The motion helps to heal the muscles and gives the patient greater range of movement. When incorporated with all the other aspects of fly-fishing—the rhythm of casting a line, being in a natural setting, enjoying the company of others—stress is relieved and a sense of calm is introduced.
Another program that is just beginning to take shape is Project Healing Waters that is offered to military personnel suffering from post traumatic stress disorder (PTSD). Here too, participants are offered basic fly-fishing, fly-casting and fly tying classes. The program is designed to ignite or rekindle participants' appreciation and enthusiasm for a wide variety of activities associated with an outdoor lifestyle. The serenity of natural surroundings helps to erase anxiety and being emotionally numb. It may seem simple but organizers have found that developing the focus to tie a fly, to have the patience to cast for fish, and to be relaxed and have a good time with others starts PTSD suffers well on the way to recovery.
Many of us, fishermen or not, have experienced real strong down times. Collectively we could make a list that would run the gamut of experiences that cause depression or distress. Each of us has developed strategies to get back to good health. Fly-fishing is my principal strategy—and it works every time.
Laughter is supposed to be the best medicine; it reduces pain, connects people emotionally, improves the flow of oxygen, reduces blood pressure, and lifts your mood. Fly-fishing does all this and more. Fly-fishing is my passion and my best medicine!