Tales from The Trading Post
IT DOESN'T REALLY have a name. They're just garbage bins after all. But among the cottagers of Molega Lake, in Queens County, NS, that dusty area to the side of the dirt road where we leave our garbage, recycling and compostables is known as "The Trading Post."
Many of us have added to our cottages or gardens at The Trading Post. In return, we've left our own cast-offs for others to pick up.
You can tell when someone has left something at The Trading Post. It isn't put inside one of the wooden bins as instructed by the large signs erected by the municipality, but placed on showroom display, as if brand new merchandise on The Price is Right or Wheel of Fortune. When you spot a piece of furniture or an appliance at The Trading Post, you almost expect the Queens County equivalent of Vanna White to pop out behind the bins, her arm raised, as an announcer extols the virtues of the item left behind: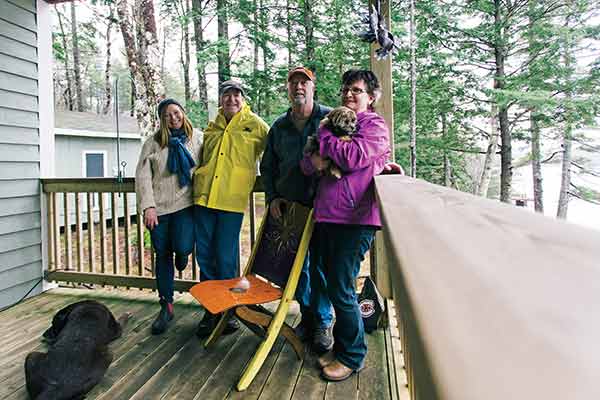 "It's a compact, 24-inch fridge for a tiny kitchen, in working condition! All it needs is a good cleaning!"
"It's a vintage sofa with original brown upholstery, feels just like Velcro!"
"It's a set of mismatched casserole and cake pans, great for a rainy day baking spree at the cottage!"
Great finds
I've found many a roadside treasure at The Trading Post. My first great find was a long wooden bench spied while friends and I were heading out from our cottage on an antiques road trip along the LaHave River. I knew it wouldn't last long, so we hid it in the woods behind the garbage bins to fetch on our way back in. We were ecstatic with our non-purchase, better than anything else we bought that day and strapped it to the top of my friend's VW bug.
That bench has since been scraped and repainted, and kept bums dry at countless campfire storytelling and stargazing sessions.
I've lugged other things into the back of our SUV and found a home for in the cottage: a pair of retro slipper chairs, since reupholstered; a set of legs from a woebegone chesterfield that I screwed into the bottom of a log and made into a rustic bedside table; a vegetable drawer from an old fridge to replace our busted one; a wire plant stand just the right size for holding an ice bucket on the dock. And I've left things behind too: the small enamel table with wheels that didn't suit our place was gone before we made the trip back from Greenfield, no more than a 10 minute drive up the road.
Act quickly
The speed of transactions astounds us, me and my cottage neighbours. "It's almost as if someone's waiting in the woods," says next-door-neighbour Graham Chisholm, his eyes wide.
Graham and Judy's best pick is a trio of pine chairs, every bit as sturdy and charming as the new ones around their kitchen table.
The most bizarre thing they've traded is the composting toilet they no longer needed once they put in a septic field and cherished indoor plumbing. "So long to that!" says Judy. "I was happy to leave that one behind."
Over along the point, Jeff and Sharon Whynot regale with stories of their Trading Post booty over morning coffee. Sharon's favourite find is a push mower that she was thinking of buying new before spotting not one, but two, at The Trading Post.
"I actually had a choice. They were set out as if to say, 'try me!' I was going out to buy one, and there it was," she laughs. "It's a gem."
Chrissy and Glen Horton, our other next-door-neighbours, are also customers at The Trading Post. Chrissy, in fact, just brought back a load the weekend before, and their cottage was full of half-finished projects, tables with a first coat of fresh paint and a baker's rack that might turn into a plant stand; she isn't sure. It was just too good to pass by without snatching it up.
"I'll keep looking at it and then I'll figure out what to do," she says cheerfully. "And if I don't need it, I'll bring it back. Someone else can have it."
Chrissy recalls one time, on a girls' night at the cottage, how she and her girlfriends hauled back an overstuffed floral burgundy chair—"It was gawd awful," says Chrissy with a shudder—and set it on the porch like a prize for Glen to see once it was safe for him to return. While it never did make it past the front door and into the cottage, Glen did enjoy running over it with the four-wheeler. "It turned out to be a lot of fun in the end," he says with a booming laugh.
Chrissy and Glen say The Trading Post hauls were invaluable when they were building their cottage and new stuff wasn't a priority. But now, years later, it's the thrill of re-invention that has them slowing down for the drive past. "Everyone's in a different phase. So if you no longer need something, you know there's someone else who could use it," says Chrissy.