A safe woodstove will heat your home: A defective one might destroy it
"OLD WOOD best to burn, old wine to drink, old friends to trust, and old authors to read." ~ Francis Bacon
It's hard to argue with someone as sage as Francis Bacon, but I'll be bold enough to suggest that while he's spot on about old wood, an old stove in which to burn it is not always the best choice.
However, a used woodstove is often unavoidable when purchasing a home, or it may simply be your preference to buying new. No matter what your reason for having a used woodstove (and it may seem obvious to say this), the installation and operation of an appliance in your home that contains actual naked flame should never be treated lightly.
To bring together a helpful list of tips and information you'll need when considering older woodstoves, I didn't have to look very far. I share my life with a fellow who lives and breathes hearth, barbecue and just about anything else that belches fire from its belly.
Steve Keeling has been in the hearth industry for more than 25 years, doing everything from chimney sweeping, to hearth sales and services, and now representing manufacturers of hearth products. He has also been WETT-certified for almost 30 years. WETT (Wood Energy Technology Transfer Inc) is the non-profit training and education association which promotes safe and effective use of wood-burning systems in Canada, and certifies inspectors and technicians.
Steve kindly sat down with me and went over what any homeowner should know before they purchase a house with a woodstove, or think about buying one used. And considering his seemingly endless capacity to talk woodstoves, and my comparatively limited interested in the nitty gritty of their innards, I've really taken one for the team here in listening patiently, writing it all down and summarizing for you the most salient points.
When Buying A Home Or Used Stove
I'll preface everything I am about to tell you here with a note that as a final step before you sign the papers to purchase a home with an existing woodstove, you will need someone who is WETT-certified to inspect it. Your home inspector can be certified to do a basic visual inspection that will give you an overview and let you know if your system meets current standards. However, you can also hire a WETT-certified technician, who is further qualified to evaluate the condition of the entire woodstove system, including things such as the inside of the chimney, the stovepipe and the top of your chimney.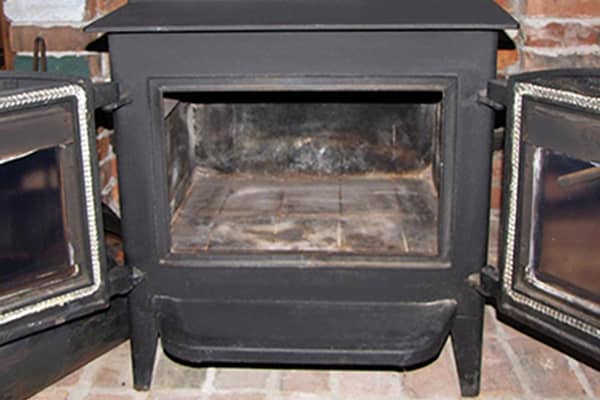 For potential new homeowners, Steve suggests this option, because "… a detailed inspection may save you time and money down the road and avoid surprises about expensive repairs that might be required." Similarly, if you have purchased a used stove, a WETT-certified technician is required to do the installation.
But before you reach that point, there are many things that Steve recommends you can do to check out woodstoves when house hunting or scouting for a used stove.
Things to look for: The foremost item you want to find on an older woodstove is a sticker on the back that shows it meets ULC/CSA safety standards. This means that particular model has been tested and approved.
You'll also want to keep an eye out for an EPA sticker that lets you know that the model meets current environmental standards. Don't be afraid to open the door of the woodstove and check the gaskets that seal the door to make sure there's no fraying. If there is a glass window, check for cracking, and also check the firebrick liner for any cracked or broken/missing materials. Any corroded metal, warped or cracked pieces should raise a flag.
Know some basic hearth requirements: If you are thinking of purchasing a considerably older home, the hearth that was built for the woodstove may not meet current standards. These require that the woodstove must be sitting on non-combustible floor protection made of material such as tile or concrete. This material must extend at least 18 inches in front of any loading door, and 6 to 8 inches past the rear and sides of the woodstove. The ULC/CSA approval sticker will have more details for each individual stove model.
But what if the older home you have your eye on has a beautiful old stove that you are simply in love with?
"Well," says Steve, "these stoves are often unlisted and that can limit your options." An unlisted woodstove is one in which the model has not been tested and thus has no ULC/CSA approval sticker. This can happen with much older models, and unfortunately, those are often the ones that we love for their unique style.
There are standards which cover these unlisted stoves. For example, they must be a minimum of four feet from any combustibles, including things such as walls and furniture. If you discover an older woodstove that is closer than four feet to a structure such as a wall, this may present a real problem.
Moving a woodstove can be onerous and expensive, and in the end, the appliance may not be efficient enough to make it worth the money and bother. And while you may be able to work with a WETT-certified technician to ensure that the model meets all the current requirements, if the model is unlisted with ULC/CSA, it's unlikely an insurance company will cover it. Your option may be to consider keeping it simply for aesthetics, as a non-functioning appliance.
Once you've done your preliminary work, Steve has a final piece of advice:
"When you're ready to purchase a home or install an old woodstove, hire a pro. Trying to bypass standards or turning a blind eye to an old stove installation isn't worth the risk to your home and family."
He's no Francis Bacon, but he speaks wise words.