Give your hearth a fresh new look, without a complete redo
Who doesn't love gathering around the hearth on a fall evening, enjoying good company or a juicy book in the glow of the flames? I'll tell you who doesn't—people whose hearth looks like it stepped out of a 1982 catalogue for the Faux Brick & Fake Brass Company. But what if your budget or lease restrictions say no to a renovation this year? Don't despair. I've got lots of ideas to transform a bland hearth into something special without having to knock out any brickwork or lay so much as a single tile.
Start With The Big Picture
Never start a decorating project without some sort of plan. Sketch ideas out, make a Pinterest board, whatever it takes for you to do a bit of pre-planning into the overall look you are trying to achieve. Going at it piecemeal will get you a piecemeal look, so put in a bit of time up front to ensure any work you do improves the space, rather than making it look half done or disjointed. Assess the overall style of the space and decide how your plans for the hearth will fit in to this. Have a look at your room's colour scheme, and ensure that anything you have planned fits in to this.
Material Details
Moving on to the specifics of the project, first, consider what the current hearth/fireplace is made of. Do you have a traditional brick hearth? Stone? Wood? The material will give you the basic parameters for what sort of change you can make.
Paint is one of the easiest ways to transform a space, and this holds true for a fireplace as well. Brick, stone, or wood can all be painted. I recommend this route more for certain situations than others. For example, if you have a red brick fireplace circa 1965, go right ahead and paint that. Paint it now and paint it any colour you like. But if you have a gorgeous, natural wood hearth surround and mantel, think carefully before painting it, because that is a hard road to return on.
If you have decided to paint, again return to some inspiration images, via a site like Pinterest, and see what others have done. Brick and stone can be given a whitewash or pickled look that is very beachy, but it can also be given a more dramatic makeover with darker colours as well. Painting brick and stone is similar to most surfaces, in that you have to clean, prime and then paint, with a few differences. Clean the brick carefully and thoroughly, usually with vinegar or TSP (trisodium phosphate—available at most paint or hardware stores) and a rough or wire brush. If you are considering painting the firebox itself, investigate paints that can withstand high temperatures. Next give the surface a primer coat that seals it so the paint will not soak in excessively. For a solid colour, count on at least two coats of paint. A wood mantel can be tackled with a good primer and two coats of paint.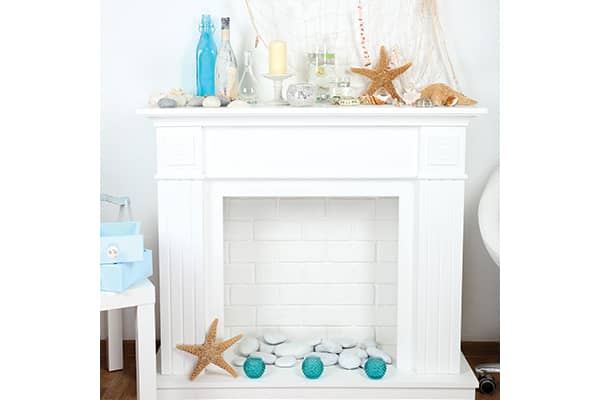 To Burn Or Not To Burn
First you need to determine if the fireplace is functional—or if you even want it to be. Old fireplaces are, in simple terms, a hole in your house that lets warm air escape. Understanding that they are not particularly energy efficient may help you decide if you actually want to burn wood in one. If you have not used the fireplace before, it is essential you have it inspected before you burn anything in it. This is a simple matter of safety for your home and household occupants, as well as ensuring you have insurance coverage.
So, how to spruce up the functional firebox? Think about your grate, screen and fireplace tools. These are all useful items but they are also aesthetic items that deserve as much consideration as any other piece of décor. Again, consider the overall style in the space when choosing the style of these items. Modern or traditional? What colour? If you have painted your fireplace white, cast iron black can be a beautiful contrast against this. On a darker fireplace, think of brass and metals with lustre. Check local hearth shops, but also hunt around a bit. Online retailers, yard sales and auctions are great places to find unique sets or hard to acquire pieces.
Another alternative that allows you to burn, so to speak, is to consider an electric insert. While there are a variety of gas and electric inserts available, many will require work done on your firebox and chimney. An electric, plug-in insert is as simple as it sounds. It can be set in the firebox and simply plugged in. There are a wide variety of companies who make these in a wide range of sizes to fit most fireplaces. Check with your local hearth shop for more information.
But what if you have decided not to burn? Decorating the firebox of a closed fireplace is only limited by your imagination. You can use the negative space of the firebox—the space in and around objects—to draw the eye to a displayed item. To do this, ensure that you are not crowding the space with objects, while still being aware of the proportion of the object to the firebox space. You wouldn't want to place one tiny object in a fireplace and leave it there, looking forlorn and alone. Consider grouping a few small items together.
Alternately, go for a larger single object like a piece of statuary or a massive vase with flowers.
Some Other Ideas:
Groupings of jars filled with sand and candles.
A variety of candles (real or flame less), either alone or in candleholders (mix and match the shape and size).
A large basket or grouping of smaller baskets filled with foliage or flowers.
Logs with holes drilled in them to hold flameless tea lights.
One large potted plant, or a grouping of different sizes of pots and plants.
Seasonal décor, such as pumpkins and gourds, or Christmas ornaments.
Battery-operated mini-lights that add a glow to the firebox—think of wrapping them around logs or foliage.
An alternative to using the negative space of the firebox to highlight a display is to simply fill it to the brim. Small logs are often stacked to fill a closed fireplace, but this is another area where the only limit is your imagination. If you are a book lover, you can fill it with books or magazines. As they may be difficult to access, consider finding books second hand or at yard sales for this. In doing this, you can create a display of a specific colour tone, or a variety of colours.
My top recommendation for decorating any hearth space is to think about objects that you love, and that reflect your personality. Don't go for the first stack of fake foliage you see in the store. Search around your home and think about objects that you'd like to see displayed or incorporated within a larger display. Your home should reflect you and any decorating project is a chance to surround yourself with things that make you love the space you're in.