When it comes to servicing a gas fireplace, it pays to be proactive
The winter checklist kicks in when temperatures drop in the fall. Service the snow blower. Switch to snow tires. Search sheds and garages for shovels and ice scrapers. Clean the chimney. We're all too familiar with setting the stage for the white months—yet some overlook the very heart of the modern home: the natural gas or propane fireplace.
"Because gas fireplaces burn so clean and are so easy to operate, it's easy to forget about regular cleaning and maintenance," says George LeBlanc, general manager of a hearth products store in Moncton, NB, and an instructor for fireplace technicians.
"The thing to keep in mind is that the Canadian Building Code references a document that recommends annual inspections for all gas and propane appliances—and that includes fireplaces."
According to LeBlanc, there's also the warranty to consider. "Most manufacturers and retailers call for regular maintenance," he explains. "When there's a five- to 10-year warranty involved, they want to be sure the customer is taking care of the product."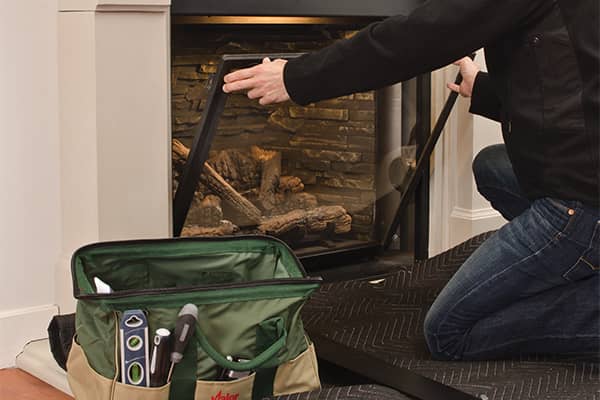 There may be general agreement that an annual service call is essential, but the scope of inspections varies from retailer to retailer. "Call five different stores that sell gas fireplaces and ask what they include in their yearly service," suggests LeBlanc, "you'll get five very different answers."
At LeBlanc's store, an annual service call runs from $139 to $249, depending on the location of the home, the size of the gas fireplace, and frequency of use. Technicians conduct a 21-point inspection that begins with asking the homeowner to report any concerns with either the function of the unit or the level of heat.
"Gas fireplaces don't usually need much in the way of repair," says Stephen Sawler, a Bridgewater, NS, business owner who specializes in hearth products, "but regular cleaning and maintenance are critical if you want to keep your unit running safely and efficiently."
In Sawler's experience, the glass door, in particular, can require expert attention. "We used to advise homeowners to clean the glass doors themselves," he explains, "but it's no longer a matter of popping a few screws. On many of the newer models, removing the screen has become so complicated that homeowners are unable to get at the glass."
Sawler's base price for an annual check-up for a gas fireplace is $89.95. For that amount, homeowners get a general service that includes checking the pressure, inspecting connections and gaskets, de-clogging burner ports, and cleaning the glass. Equally important, he says, they get peace of mind from knowing that a qualified technician has readied their fireplace for safe active duty on the first chilly evening.
Annual inspections are clearly good practice, but in a time of rising costs and tightening belts, are homeowners really willing to shell out upwards of $90 each year for general maintenance and peace of mind?
"Many of our customers have yearly inspections," says Sawler, "but some opt for check-ups once every two or three years, especially if they use their units infrequently and can manage some minor cleaning and adjustments."
A good number of LeBlanc's customers also contract for yearly inspections. "But not everyone," he admits. "Some treat us the same way they treat their dentists. They know what they should do, but rather than come for an annual check-up, they wait until there's a problem. You'd be surprised how many requests for service we get when there's an ice storm approaching."
As a general rule, gas fireplaces deserve the same level of respect we extend to their wood-burning counterparts. A good quality unit will run smoothly without inspections, but only for so long. With winter in the wings, it pays to be proactive when it comes to any heat-generating appliance. There's no good time to have the gas fireplace quit, but some times that are worse than others. Just ask George LeBlanc about Moncton's last ice storm.
Common Points of Inspection for a Gas Fireplace
Although inspections vary according to the type of gas fireplace and how frequently it is used, a comprehensive inspection will include many of the following measures:
Removing the contents of the combustion chamber
Vacuuming the firebox
Cleaning the fire logs
Cleaning openings for the pilot light and burners
Checking safety switches
Ensuring the glass is intact
Looking for dents and debris
Checking for loose or dirty connections
Inspecting valves, lines and gaskets
Cleaning the glass door
Ensuring proper heat output
Identifying necessary repairs