The rise of the eco-gardener
Last issue, I wrote about gardening as a form of healing…this issue, we're looking at how we humans can help nature heal with our gardening skills.
It's a breezy, sunny morning in Western Head, just outside of Liverpool. There's a whisper of fog hanging out on the horizon, looking for an excuse to come in, and that's adding a bit of a cooling hint to what otherwise could be a sweltering day. Rosmarie Lohnes and her crew from Helping Nature Heal have been on site for several hours already, creating a fantastic new landscape and garden for homeowner Peter de Vries. But this isn't the traditional landscaping job that you see in subdivisions. The de Vries home sits on a piece of land above a rocky shoreline, looking right out at the Atlantic. The property was carved out of a typical shoreline forest, with various spruces, a few stunted hardwoods, and a variety of shrubs, wildflowers and grasses living together in the wind and salt spray. The homeowner wanted to return the land around his home to as pristine and natural a state as possible—no mowing of grass, not a lot of fastidious plants that require oodles of care and particular growing condition, and a privacy wall for both himself and his neighbours.
Enter Rosmarie Lohnes, who has spent the past 15 years building her business of sustainable landscaping. Based in Bridgewater, NS, but originally from Ontario and a graduate of York University with a conservation and environmental studies degree, Rosmarie specializes not only in working for individual homeowners, but also with larger scale projects and clients; creating living shorelines on public properties, remediating toxic sites to become healthy and beautiful natural spaces, creating peace gardens in schools and other public buildings. Her landscape designs feature hand-created stone walls, patios, paths and steps, habitat for pollinators such as bees and butterflies, erosion management, organic food gardens, and always, spaces where the home or landowner—or the public—can pause, contemplate and enjoy the restored bit of nature.
Today's project is moving yards and yards of soil (which they make themselves offsite, using a specific recipe of soil, compost and other ingredients) around the property to prepare to plant the dozens of pots of plants—wild blueberries, creeping phlox, grasses and ferns, and shrubs like northern bayberry—that were offloaded earlier in the day. Rosmarie tweaks the soil mix for each client, depending on what the local growing zone is like, but generally adds a mixture of beneficial fungi, manure, kelp meal and other seaweed-based products from a local company. "We're all about feeding the soil and feeding the roots," she explains. "If the soil is healthy, and the plant roots are healthy, the plant will have the best chance to settle in well." Two weeks after planting, she returns and gives everything a foliar and root drench with similar additives, and again a month after that. The first winter after creating a planting, she puts down winter protection—brush and hay bales—to help protect still-establishing specimens against the elements. The following spring, the plantings will receive a spring feeding, and should be well on their way.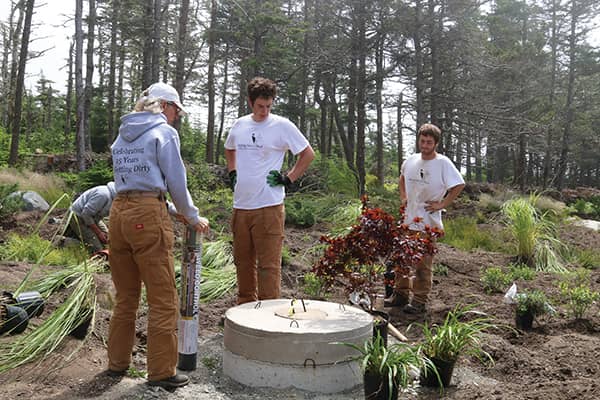 Watching the staff working is a revelation. There is no heavy machinery involved, no backhoes or big dump trucks. There are numerous shovels and wheelbarrows, a lot of shoveling and moving of soil and mulch, the occasional buzz of a combi-head chainsaw when a windfall tree needs to be removed or broken branches cut in the surrounding woodlands. Rosmarie isn't opposed to using heavy equipment when necessary, but the company doesn't own any. "I love technology but there is an appropriate use for it, and I rent a piece if I really need it. I'd rather have multiple staff on hand than have to be constantly maintaining a piece of heavy gear." She's very proud of and grateful for her staff—currently she has 18 employees, some of whom have been working with her for a number of years, most of them under age 30. It's not easy work, but they are acting as a team, taking breaks together and gathering in a group to have lunch or a snack. The banter is cheery, lighthearted and genuine.
Restorative Connections
Customers can be as involved or detached in the design and installation process as they wish, Rosmarie says. She was trained in horticultural therapy and recognizes the deep restorative connections that people can gain from working with soil and plant material. She also was an apprentice at the renowned Windhorse Farm, not far from Bridgewater, where she learned from Jim and Margaret Drescher a great deal about restorative gardening and landscaping. The evidence of that experience is seen in some of her projects. Broken and dead branches of trees and shrubs are gathered together into a low brush wall that serves a number of purposes. This structure acts as a windbreak against the worst of prevailing winds; it gradually breaks down, providing organic matter for the soil; and it provides shelter and nesting sites for wild creatures of all types.
We've all seen ugly yards with unnatural humps in them broadcasting to everyone "Septic field!" You'd never be able to find the septic field at Tim and Ann Freeman's eight-acre property in Upper LaHave, NS. Rosmarie created a meadow garden where the bed is located, and then she and her team worked in the forested area, where they created a pond and creek system, a labyrinth, and walking trails. A raised vegetable garden provides the family with edibles; Tim is an artist who works with reclaimed metal to make unique, and sometimes life-sized, sculptures, which grace the property and add to its charm.
One of the more unusual services Rosmarie's company specializes in is creating a living shoreline. "People don't like to see their investment washing away in a tide or flood situation, so they invest in their future, and their children's future, with this type of work," she says. Rock walls are good for helping protect against erosion, but not perfect—a living shoreline, including live plant material, helps prevent erosion and protect against the ravages of wind and wave action. She's been building these shoreline installations since 2002, and has projects underway or completed along the south shore of NS, as well as on the Northumberland Strait. In 2014, Rosmarie was recognized with the HB Nicholls Award, at the Coastal Zone Canada conference, given to recognize significant contribution to Canadian coastal zone protection and restoration. She has also received support from NSERC (National Sciences and Engineering Research Council of Canada) for her shoreline work.
When so many people embrace the instant-fix school of yard care, it takes time to educate and change perceptions of what a healthy landscape can look like, but Rosmarie thrives on the challenge. "More people are using their landscapes, not just looking at them—growing their own food, creating a space for meditation and healing, protecting their land against the ravages of climate," she says. And while it's hard physical work, with many challenges, "If I didn't do this work, share this passion, every single day, I would probably die." Watching her tenderly apply a jar of inoculant into the soil, then plant a bayberry bush, I can't help but think she's got a long and happy future in this work.
Native Plants For An Ecological Garden
Rosmarie stresses that she doesn't use exclusively native plants, but will gladly incorporate other species that a homeowner loves into the overall design. It might be a favourite tree, like a Japanese maple, some flamboyant flowering hydrangeas, or a particular type of perennial. But she loves the diversity of native species available to her, and how many of them bring multiple qualities to a planting. Some of her favourites:
Myrica pensylvanica: Northern Bayberry is a shrub that will grow darn near anywhere. It can range from low-growing to about three metres (nine feet) tall, with fragrant, dark green foliage. It's not quite evergreen, but its leaves stay on throughout autumn, and it produces grey-blue berries that can be used to make bayberry candles.
Tsuga canadensis: Eastern hemlock is Rosmarie's favourite tree. She loves the soft, downward flowing growth habit, and the softness of the needles. "It feels and looks like a hug," she says. It's not happy planted right at the coastline, so she uses it further inland where it can be sheltered from salt and wind by more tolerant spruce and other species.
Larix laricina: Whether you call it hackmatack, larch, or tamarack, this tree is one of a very few that is a deciduous conifer, meaning it drops its needles every autumn. First, the foliage turns a gorgeous golden colour. New growth is a gentle green, and even the petite cones are highly attractive. What's not to love?
Ferns: There are so many fern choices—for full sun, for shade, for hot and dry, for cool and moist—and while they don't flower, they are colourful, deer resistant and beautiful.
Lupinus polyphyllus: Who can resist lupins? Their elegant stems of flowers in shades of blue, purple, pink and white create a photographer's dream in late spring and early summer. Although the most commonly found lupin in our region is an introduction that is native to western North America, you'll also sometimes find escaped varieties from gardens. Various types of pollinators love lupins as a source of food.
Rosa virginiana: While we have a number of roses that grow wild around our region, one of the most wonderful is the native Virginia rose. In midsummer it covers itself in fragrant, single pink flowers, and it grows just about anywhere. In autumn, it further rewards with a colourful foliage display, before dropping its leaves. The red rose hips aren't as fleshy as those on some species but birds do enjoy them.
Native grasses: Beach dune grass is an important plant to help stabilize dunes and beachside land against erosion, and require next to no care. No mowing required!—leave them alone to move in wavelike motion in a breeze, and enjoy the sound of their movement against the sound of water.
Iris versicolour: Blue flag iris. Another colourful wildflower, blue flag iris blooms in late spring through early summer, with eye-catching purple flowers. If you leave the spent flowers on the plant, they will form seedheads that provide good late-season interest.
Asclepias: Native milkweeds are important for encouraging many pollinators, including the Monarch butterfly. Butterfly weed (A. tuberosa) has red, orange or yellow flowers; swamp milkweed (A. incarnata) has white or pink flowers.
Cornus sericea: (Red-osier dogwood). This shrub often suckers, so that it can spread to make a hedge or windbreak. White flowers in late spring become white or pale bluish fruit, but for many, the show comes in the winter, when the twigs are ablaze with red, scarlet or yellow colour (depending on variety).