A plan to "spruce it up" turned into a complete renovation for this Peggy's Cove cottage
On this drizzly summer afternoon, the view from Peggy's Cove Cottage is a symphony of greys enlivened by brilliant pops of colour—the yellow of a passing rain slicker, the bright blue of a fishing boat bobbing in the cove, the red top of the famous lighthouse.
It was under different skies in 2011 that Claire and Paul Paruch made their decision to buy the lovely little saltbox house. "The day we came out to look at it was a spectacular sunny day in October," recalls Paul. "Right there in front of us was that amazing rock, the lighthouse and the blue sea.
"We were looking beyond the house to the beauty in front of us."
Claire had spied the 'For Sale' sign in front of the cottage while visiting Peggy's Cove with a friend, but had no intention of buying a vacation property. However, fate intervened when the property serendipitously "popped up" while Claire was enjoying a favourite pastime of perusing real estate websites.
The house was showing its age—it had been built in the 1870s and had last been renovated sometime in the late 1970s—but the Paruchs imagined a lick of paint and some new furnishings would spruce it up enough to open it as a vacation rental property.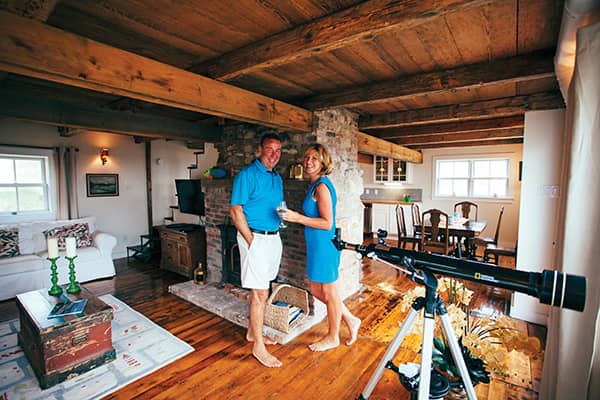 They were mistaken.
Soon after they took possession of the cottage, they noticed a bulge in the entryway ceiling—a bulge that was filled with water. "On opening it up, we discovered to our horror that the whole house was soaking wet. There was a lot of rot," says Claire with a grimace.
Over the course of the next two years, the Paruchs spent countless hours of their own labour on the renovation. They also enlisted the help of local craftsman and jack-of-all-trades Steven Mehle—a man Paul credits with holding the project and their spirits together, when the going got tough.
"What began as a small, cosmetic project ended up as a 22-month total 'sill plate to ridge beam' renovation," says Paul. "It was unexpected, exhausting and really challenging at times, but I can honestly say that in the 22 months, there was not a harsh word between Claire and me."
"Nothing was going to be perfect"
The first step in the renovation was lifting up the foundation. It was heavy work that took three months and involved the use of a jackhammer—a feat that earned Claire the nickname "Bob the Builder".
Next, the walls were dismantled, revealing seaweed insulation and timbers marked with roman numerals. (Enquiries in the village suggested that the cottage might have been originally constructed from an 1870s version of a pre-fab house kit that was shipped to the Cove for assembly.)
At this point, Paul says he discovered one of the joys of renovating an older home. "Today, we expect everything to be plumb perfect. But this renovation was liberating in that sense. Nothing was going to be perfect. Things had shifted over time. I could pretty much throw the level away."
The renovation continued until the cottage had been completely gutted. Gorgeous softwood floors were reclaimed from under layers of shag carpet, linoleum and battleship grey paint. Walls were removed to create an open kitchen, dining and living room. A thick granite chimney in the centre of the room was brought to light from behind 1970s bricks and kitchen cabinets. The hearth and firebox of the fireplace were faced with repurposed bricks from an old chimney that had been demolished on Robie Street in Halifax. A Vermont Casting fireplace insert, purchased on Kijiji, was set into it.
Upstairs, the bedroom ceilings were opened up and beams exposed. The bathroom was remodelled and updated with luxurious touches.
Choosing new windows proved to be an involved process. The Paruchs wanted windows that let more light in the cottage and could be set high enough to provide a better view of the lighthouse, but they also wanted to preserve the historic feel of the outside of the cottage. The couple spent weeks driving around casing other homes until they settled on a four-paned model.
Secondhand Chic
When the structural work was finally finished, the real fun began.
"I like to say this home was furnished by Kijiji and eBay," Claire says, and she isn't joking. She points out a side table fashioned from a butter churn. "We had to go out in a snow storm to get that."
There's no question that Claire has a decorator's eye. A trip to Gold River netted a fisherman's trunk that serves as a coffee table in front of a pair of comfy couches. Colourful nautical prints dot the walls, some painted by local artists and some by Claire herself.
Two of the bedrooms have beautiful brass bedsteads—more secondhand finds. And the third bedroom, which has a stunning view out to sea, has a bargain-basement bead board headboard that Claire transformed with a coat of white paint.
The house manages to feel both snug and cosy, and still beachy and airy.
And the pièce de résistance? A chef's kitchen that's both modern and perfectly at home in the quaint, comfy cottage.
Worth The Effort
Since the cottage was finished, it has welcomed visitors from as far away as Germany, England, Dubai and California, as well as places closer to home. And the reviews have been outstanding.
One entry in the guest book says, "Fabulous! Fabulous! Fabulous!"
"A slice of heaven," writes another.
As Paul and Claire gaze at beautiful Peggy's Cove through one of the windows they worked so hard to choose, there is a sense that this story has a happy ending.
"Would I do it again? Would I take on a renovation like this, knowing what I know now?" says Paul. "No way!" But Claire smiles, perhaps dreaming of secondhand finds and another gem waiting to be lovingly (and painfully) restored.