The Allure of Rock Walls
In 1992, Paulette Sweeney-Goodwin embarked on a mission. She started to build a stone wall against the embankment in front of her home in Kemptville, NS. Her husband's grandmother had dreamed of a rock wall in front of the same home. "But that was wishful thinking—it didn't happen in her generation." Then her husband's mother wanted a stone wall. "But that didn't happen in her time either, so I said, 'Let it be this generation!'"
Before long, Paulette had a resource book from the library. She focused on a page that explained a dry wall method that didn't use cement or mortar. Across the road was a field with several piles of rocks, free for the taking. She also discovered a pair of steel-toed boots at Frenchy's—a made-to-measure size six. It was a good omen. She was ready to rock.
Much of Paulette's inspiration to work with stone came from her visits to the basement. She always had a special feeling when she looked at the foundation that had held up the Goodwin home for six generations. "You know, they had so little to work with compared to today, but everything is so sturdy. I always thought it was a humbling experience—just to walk down the stone steps, or touch the stone wall and brush my hand along. I'm still in awe of it to this day."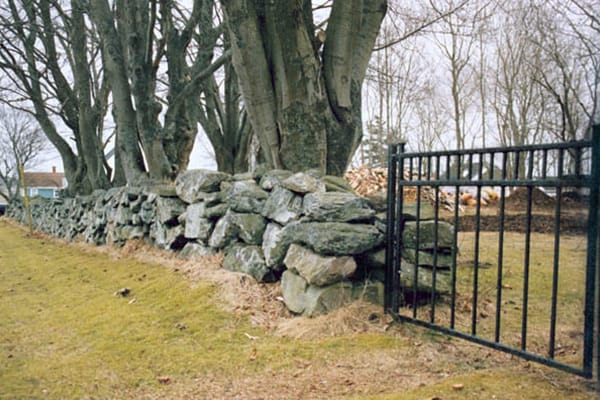 Slow but Sure Builds the Wall
It took Paulette five years to finish the wall. "You can't rush a stone wall. That would be like rushing a flower to grow. You need to be very patient. It's a process." She also decided early on to work in sections measured by the width of her arms. She'd say, "I'll just do it stone by stone," and she only looked back at what she had accomplished. She adds, "I came to realize that no matter what chore we undertake, if we do it in increments, the task will be accomplished. We'll reach the goal.'
Over the centuries, stone has been used to build everything from ornate temples, castles and pyramids to simple walkways and stone walls. In Atlantic Canada, stone walls have been around since the early settlers cleared tracts of land. Most walls were created to prevent animals from getting lost or invading a neighbour's property.
Smaller walls were used to enclose a space for lawns and gardens, protecting certain areas from being trampled by animals or children. Many stone walls were built to earmark divisions and boundaries between landowners. Others were built in front of people's homes, to spiffy up appearances, or in lieu of a picket fence or hedge.
Adding to an Existing Wall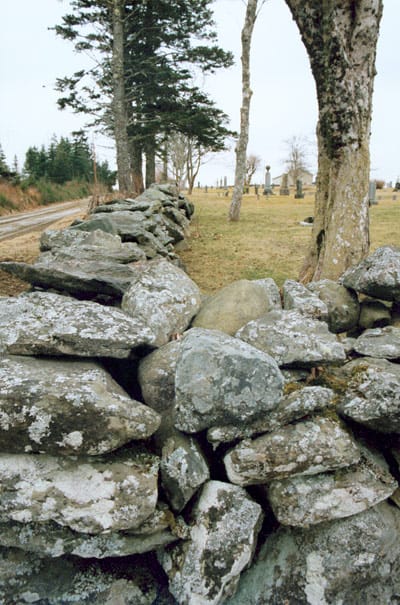 Today, most people build stone walls to add points of interest on their properties or to enhance their gardens and lawns. Some people just love stone and want to preserve some of the old ways.
The windowsills of Josie Baxter's Cedar Lake, NS, home are full of small rocks. Fascinated by their shapes, colours and textures, she loves to collect them. But her favourite rocks are too big to perch on a windowsill. These are the marbled old mossy ones—chunky rocks that make up parts of the many stone walls found on her property.
Originally built by a homesteader and his seven sons around 150 years ago, some of the walls are nearly two metres high. "He must have built them this high to keep the deer out of the orchard. I've never seen anything like it. They're just like a jigsaw puzzle."
In one area of the property, Josie took up where the settler, Sam Foote, left off. He clearly intended to carry on as several piles of stone were laid out in the direction of the road. For the past six years, Josie has added a 19.5-metre section to the original stone wall. She also made a new 44-metre curved stone wall closer to her home. "It's just a matter of picking up a rock from here and putting it there," she chuckles. "And all I had was a damn wheelbarrow! Some days, I just look back at the wall and say to myself, 'Did I do that?'"
Building Walls and Friendships
Will Neily and his family moved to Nova Scotia in July of 2000. They bought a gem of an older home in Arcadia. In his travels, Will had noticed a number of rock walls so he decided to build one in the hopes that it would transform the ugly ditch just in front of his home. "I didn't have any equipment and didn't realize what a job it would be until I got started." Armed with a wheelbarrow and a shovel, he dug out the ditch and into the embankment, and laid his first rocks. "I put a line down so at least the wall would be straight. There are a few hills and valleys—it isn't level—but at least it's straight!"
His biggest aggravation was bugs. Many a time he moved a wobbly wheelbarrow through hoards of buzzing mosquitoes. Occasionally he couldn't stop himself from trying to swat one and of course letting go of a handle of a wheelbarrow full of rocks was to court disaster. Moving rocks was further complicated by the fact that the road in front of his home is on a pronounced incline. It was always a challenge to turn the wheelbarrow and dump the rocks at precisely the right moment, to avoid ending up in the middle of a connecting highway.
Of course, the personal rewards far outweighed the glitches. "There's a lot of satisfaction when you actually get rocks that fit well together. I remember thinking, 'Wow, I'm glad this rock came along at this time.' Now that may sound absurd, but it did feel good!"
Will also recalls the number of people who stopped by to chat, ask questions, give support and advice. Neighbours and strangers alike took pride in his progress and cheered him along. "Even now, I notice how there seems to be a gathering of people wherever someone is building a stone wall."
Indeed, walls seem to have an engrossing quality. English poet and essayist Alice Meynell once said, "A wall is the safeguard of simplicity." That sums it up rather nicely.
Get Ready To Rock
How to Build a Rock Wall
Plan.  A stone wall is usually in a 2-3 proportion (eg. 20 centimetres wide and 30 centimetres high).
Locate a supply of rocks. Easily found in abandoned fields, forests, and ditches. (Be sure to ask for landowner's permission!) You can also buy rocks, like granite, by the truckload.
Prepare the area. Mark a raised line with string the length of the proposed wall. For a circular wall, use a garden hose to mark the edge. Dig a trench. At the very least remove the sod. (Easiest to do in early spring or late fall when grass roots are still dormant and the sod is wet.)
Place as many large flat rocks on the bottom as you can find. Fill in the spaces between the rocks with smaller stones.
Lay stones in a two-over-one and one-over-two pattern.
Lay stones lengthwise in the opposite direction to the bottom layer so that each "seam" is covered. Rocks should overlap each other. This avoids long seams or ruts and reduces damage caused by repeated freezing and thawing.
Frequently lay stones at a slight inward slope or V-shaped angle. Avoid laying stones with a downward angle to the outside of the wall, as they will gradually cause that section to crumble.
If your wall is thick, use junk rock or rubble to fill in the middle.  Also use smaller, or odd sized rocks to fill in spaces between bigger rocks. Use wedged shaped rocks to shimmy up and level other rocks.
As you are building, set aside as many large, two-sided flat rocks as possible. Save them for the final layer, so your wall has a finished, smooth top.
Work safely. If possible, work when it's dry. Stones are slippery underfoot and harder to handle when wet. Bend your knees and use your legs to lift. Straddle and roll big rocks when you can. Use a wide plank to roll into position rather than lift. Wear steel-toed boots and work gloves. Stop before you get overtired. Take a break and look back at what you've done.
Enjoy.