The Benefits of Ground Covers
Thick blankets of fluffy snow are a welcome sight for those who participate in winter sports. Savvy gardeners also appreciate the benefits of this insulating layer. But dependable snowfalls have become increasingly fickle affairs for Atlantic Canadians. Our gardens can look pretty barren during this season of sleep if not camouflaged with pristine white. One way of coping is to add evergreen ground covers to the landscape.
Ground covers are often chosen to plant in difficult areas—places where grass won't grow, steep slopes, or shaded spots. Dozens of species are suitable for this purpose but only a handful can flaunt the additional feature of being truly evergreen. The first step in adding a ground cover to your property is to decide which one is best suited to your area.
Choice Ground Covers
English ivy (Hedera helix 'Baltica') This is a classic choice with its shiny, forest green foliage. Ivy takes a few years to become established, but once it settles in, be forewarned! This sprawling vine will grab hold of the nearest tree, wall, or chimney and clamber nimbly to the top. You can control it by hand pulling. Do you have problems with heavy shade? This plant will thrive in such spots!
Japanese Spurge (Pachysandra terminalis) If you're attracted to the idea of dozens of miniature palm trees poking through the snow, this plant will fill the bill. Excellent in masses under the heavy shade of trees. Full sun turns the leaves of this 6-inch to 10-inch (15-25 cm) plant, yellowish. It spreads rapidly by underground runners.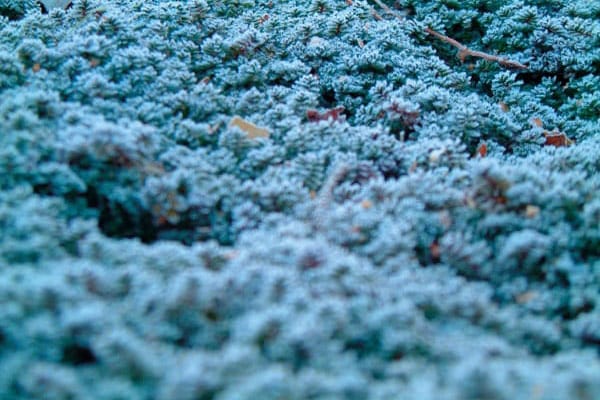 Myrtle (Vinca minor) Also known as periwinkle, this rambunctious grower can be found wrestling with overgrown grasses on old homesteads. Don't dismiss it because it's common. You'll go far to find a tougher opponent for the worst conditions. I've stuck pieces of this vine beneath a grove of spruce trees, to see great coverage three years later. Stems running along the ground root readily at many places. Ever-glossy leaves become a nice complement for the prettiest blue flowers in May. Mounds to approximately 6 inches to 10 inches (15-25 cm).
Bugleweed (Ajuga reptans) A "Joseph's coat" ground cover that exhibits different foliage colours for each season—from maroon in winter to green in summer. A cultivar with variegated leaves (Ajuca reptans 'variegata') is also available. Seeds from original cultivars can germinate and pop up in future years and will appear as the species plant. Ajuga grows as a nice flat mat on the ground and prefers moist soil. The purple spikes in May are attractive to hummingbirds.
Thymes (Thymus sp.) Breathtaking in bloom, these closely woven, carpeting plants demand full sun and excellent drainage. They also have the highest weeding requirement of all evergreen ground covers. Creeping white thyme, (Thymus serpyllum 'Alba'), hugs the ground with emerald green foliage in February. In June, white blossoms appear. Woolly thyme, (Thymus pseudolanuginosus), forms a nubbly dove-gray blanket year-round. It feels exactly like a newborn lamb. Woolly thyme is not as prolific a bloomer as its cousins. To encourage more flowers, feed it 20-20-20 water soluble fertilizer in early spring.
Bearberry cotoneaster (Cotoneaster dammeri) Pronounced cot-tone-ee-aster by those in the know, this prostrate species delivers the added benefit of white flowers in June, and persistent red berries throughout early winter. Small round leathery leaves are carried on slightly arching woody branches. It's an excellent choice for the top of a retaining wall or rock as it will hug the edge in its descent. Roots can be found emerging from many stems of this plant where it comes in contact with the soil. New plants can easily be started from rooted portions if kept moist.
For Best Coverage: Planting Tips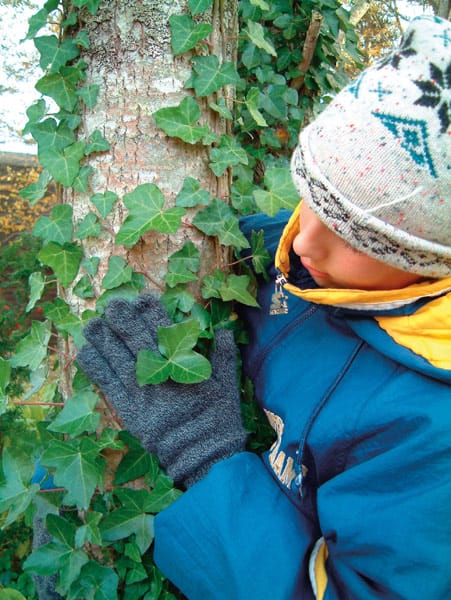 The most important criteria when planting ground covers is to prepare the soil well. These plants will be living in situ for many years to come. They deserve a good home. All existing weeds should be removed to reduce competition during establishment of the desirable plants. The soil should be loosened to a depth of 8 inches to 10 inches (20-25 cm) with 2 inches (5 cm) of organic matter, preferably a composted product, worked in. This will help to retain moisture and feed the plants initially in their new location.
The best time to plant is in early Spring. Position the plants approximately a foot (30 cm) apart in a staggered formation. The exception to this is Cotoneaster dammeri. Because of its rate of growth and spread, it can be planted 18 inches to 24 inches (45-60 cm) apart.Rather than fertilize the entire area, I prefer to place a trowel full of composted manure and a handful of bone meal at the base of each plant. You may want to mulch the area between, with a light layer of shredded bark to reduce weeding requirements. However, some ground covers grow so quickly that this is not really necessary and in the case of some carpet-forming plants such as thyme, not advisable.
A water soluble fertilizer is my favourite method of encouraging rapid growth. This can be applied at half strength bi-weekly through the growing season.
Plan Before You Plant
If you'd like a portion of your property to feature ground covers, start planning now. Measure the area to determine how many plants you'll require. Decide on the look you like best and the spread rate for that species. Most ground covers are planted 12 inches (30 cm) apart.
Contact your local garden centre or nursery to see if you can order for spring delivery. Ground covers are commonly sold as 3-inch (7 cm) potted plants or more economically as rooted plugs in flats. Bare root plants may be the best buy of all, however these require planting shortly after delivery. You can keep them wrapped in damp newspaper, or store in moist peat moss or shavings for a short period of time.
Prices range from $3 each for potted plants, to $1.25 for individual plugs, and approximately .99 each or less for bare root.
Continuing Care
Don't allow your new ground cover crew to become thirsty during the summer. Provide water when Mother Nature does not do it for you. Keep the area well weeded and within a year or two you'll find yourself with a virtually maintenance-free, wonderfully green planting that will provide interest during every season.
Know a friend with ground covers to share? Visit in early April and dig up rooted portions. Ground covers grow quickly and in no time at all, transplants will grab hold in their new location. You may find it hard to believe as you set your small rooted plants into bare ground this spring, but before you know it, you too will have enough ground cover to share with your friends…or transform even more of your property into an evergreen landscape.