Plug-and-play ambience
Ah, there's nothing like sitting in front of a cosy fireplace for relaxation and comfort. Add a couple glasses of wine, some soft music and voila—instant romantic atmosphere. For those who live in condos or apartments where adding a wood or gas fireplace isn't possible or for those who just can't afford the installation or manage the ongoing work of wood, a modern electric fireplace is an attractive alternative.
"The thing that's most appealing about electric fireplaces is their versatility," says Gary Murphy, co-owner of Heritage Hearth Products in Halifax. "Whether you live in a house, a condo or an apartment, an electric fireplace is a plug-and-play product. Push the mantel up against a wall, plug it into the nearest outlet and you're done."
Murphy should know. He's been in the business longer than the electric fireplace has been around. Back in 1980, when he started, he remembers "pooh-poohing," as he says, company reps touting the idea of an electric fireplace to replace the standard wood and gas fireplaces—fixtures in some homes for centuries, perhaps since people started building homes. Since Murphy's introduction to the newest take on the classic fireplace, he's seen the electric version improve by leaps and bounds.
Murphy says that the first electric fireplaces were created to be not much more than slightly-decorative electric heaters, but today they achieve their effects through various technologies. "The electric fireplace most people are familiar with has a repeating-flame presentation," he adds. "The series we sell generates a flame created by steam and a diffuser, so flames have a random look. Some have a filmed version of a gas fire. It's not the same product it was 20 years ago."
"Beauty is in the eye of the beholder," says Murphy. "Some people can look at an electric fireplace and just see a fireplace. Others will say it still doesn't have the crackle of a wood fire. But everybody will concede that it has improved immeasurably."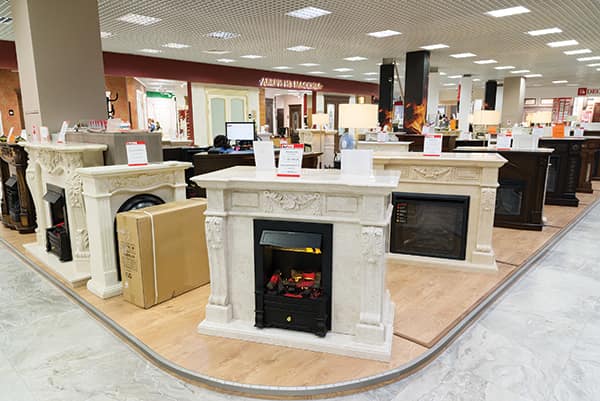 It's not merely improvements in technology that have made electric fireplaces a more attractive alternative to traditional fireplaces. "When you look at a gas fireplace or wood-burning fireplace, there's a whole bundle of infrastructure and considerable cost," says Murphy. "Given the installation particulars and the cost of a gas or wood fireplace, my clients might opt for the electric fireplace as a credible alternative. So, for seniors or those downsizing, this is a practical product. It can go anywhere." If you put a fireplace in your living room and decide later that you want to do something different with that space, it can be moved to the rec room or a bedroom. He adds, "Or, you can take it with you to your next house. Even if you have a tiny home, as long as you have electricity, you can have a fireplace."
As for the affordability of fireplace operation, Murphy says, "It's one of the more expensive units per cost of BTU, about the same as a four-foot baseboard heater. But it's only heating a small space. Fifty per cent of the people who buy one say they don't care about the heat. They might never even turn that feature on. Others might put it in a room where their existing heating system might not be providing the comfort level they would like."
There's that versatility factor again. Unlike other fireplaces, because the heating element can be turned off, the electric fireplace can be used year-round. Murphy says some people just enjoy the ambiance of the faux flames without using it as a heater. And while it's not the cheapest source of heat, it makes a great second fireplace.
Versatility extends to design as well, says Murphy. "There are wall-hanging models, extended linear versions, and portrait-style units—pretty much everything." Some models are extra wide, others more square. They can be placed in an insert to more closely resemble a traditional fireplace or hung on the wall, even over a sofa, for dramatic effect. They even fit into corner cabinets, which multiplies the cosiness factor.
Because of the wide range of technical and other options, the price of an electric fireplace ranges. Murphy says quality models start at about $700 and can go as high as $5,000. "Most are in the $800 to $2,500 range, and the average is about $1,500," he says. While there are many brands on the market—Murphy sells a number of them—he has always carried and displayed just one, Dimplex. He says because this Canadian company has been around since the beginning, the units can be serviced easily and he can order parts for all models, even the oldest ones.
Whatever the model, electric fireplaces have taken their rightful place beside traditional gas and even wood-burning fireplaces as an attractive option for houses, apartments, condos and cottages.
Mantel Packages
Whether you're going for a sleek, ultra-modern look or hoping to emulate that classic wood-fireplace feel, a mantel package will help achieve your goal. It includes the unit itself and makes the installation of an electric fireplace complete and attractive.
"Mantel packages come pre-made, with a variety of cabinets—like media console versions or more traditional ones," says Trina Langille, owner of Warmth By Design Inc. in Truro, NS. She says there are two types of clients buying packages. The first is a result of the aging demographic we find on the East Coast. "We tend to sell to people who have just sold their house and moved into a condo or an apartment and miss having a fireplace. On the flip side, people who are doing renovations are buying the linear model because they don't want to have a wood or gas fire. They just want a flame look."
The linear mantel package is the newest trend, says Langille. "We sell a lot of those. The packages are modern, with a black glass surround. They are fully recessible and can be up to 100 inches long. They have crushed glass in them and different lighting options."
On the other hand, Langille says, the more traditional packages look so much like old-fashioned fireplaces that people hang stockings on them at Christmas. These mantels are elegant affairs, some complete with solid-hardwood side columns, a granite-style surround—the frame for the fireplace—and a pedestal base. All wiring is hidden within the mantel. Some are equipped with wireless Bluetooth connections for stereo components in compartments hidden within the mantel. The effect is like a classic built-in mantelpiece but with the added convenience of a remote control. Langille says the most popular mantel in her store is The Taylor by Napoleon. "While it has logs and backlighting, it's a white mantel. Whites and greys are the modern look."
Langille says some in older homes with actual working wood or gas fireplaces are converting to electric. "Those who want to switch away from wood can get an insert box to put in an existing fireplace," she says. "We do a lot of customizing of wood fireplaces. People put in electric for that little bit of ambience." Some mantel packages come with a night-light setting; the fire goes out, leaving a faint glow as a unobtrusive way to light your way around the room in the middle of the night.
Perhaps the biggest advantage of mantel packages is their affordability. According to Langille, prices range from $800 to $1,900, the average around $1,400. You can enjoy the ambience of a flame and add heating flexibility with an electric fireplace mantel package far more easily than by installing and operating either a wood or a gas fireplace.