That lovely traditional fireplace is likely wildly inefficient for home heating. What are your options for a retrofit?
Many of us have an abiding fondness for the large cars we remember from our childhood. Built like a tank, with space for four bottoms across each bench seat, and powered by the ubiquitous V-8 engine, the good old-fashioned family automobile was capable of cruising along as smoothly as a luxury yacht. Those cars were majestic, comfortable, and—by today's standards—wildly inefficient. If you're lucky enough to have one that is still operational, you might decide to get it gussied up to enter in the occasional parade or show-and-shine event, but you should not rely upon it as your regular commuter vehicle. According to wood heat experts, this is also how we should view the open fireplace that still graces the living room in many older homes.
As with those old cars, our attachment to the open hearth is partly nostalgic; we associate it with happy memories of family Christmas gatherings, raucous evenings with friends, and likely a few more intimate moments. But it's also deeper than that. Firemaking is in our DNA, and the hearth remains a potent symbol of safety and domesticity.
Unfortunately, a traditional fireplace is not well suited for home heating.
It's not even a good way to heat a room. If it lacks a properly functioning damper, as is often the case, that elegant old hearth is essentially a hole in your house. When there is no fire burning, warm air in the room is continually being sucked up the chimney. When there is a fire burning, it will voraciously gobble up combustion air. The brick or stone hearth will eventually absorb some heat and radiate it back into the room, but this will be offset by the forces of convection, as air is drawn to the hearth, creating cold drafts throughout the house.
Fireplace insert a good investment
If you recognize this as a problem, but still want to continue burning wood, the best thing to do is install a fireplace insert, which is an airtight steel box that sits in the hearth recess, with fireplace doors sealing off the front and a steel liner running up the chimney.
Today's inserts are technologically advanced; their inner workings are the same as high quality woodstoves, 
with controlled combustion providing similarly high efficiencies and low emissions. They come in a broad range of styles, though the dimensions of your hearth may limit your options. (Old coal fireplaces, for example, are generally too shallow to accommodate an insert.) Many models are available with an optional electric blower, to increase the circulation of warm air from the fireplace.
Including installation, an insert will set you back at least a couple thousand dollars. If you plan on using wood as 
a source of supplemental heating, it's an excellent investment. But if you're not that committed to efficiency, and wish to maintain the fireplace only for occasional use—or just for ambiance—it's still worth taking some steps to reduce heat loss from the hearth.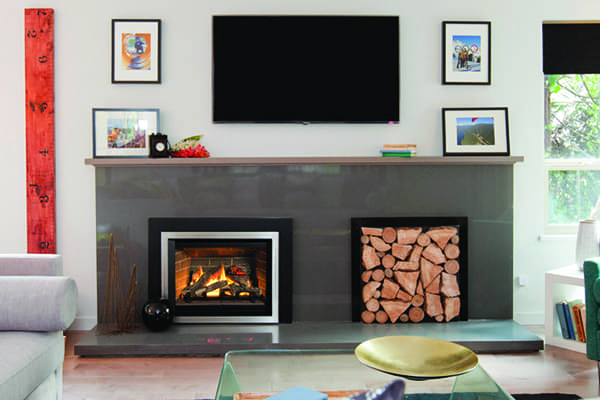 Reducing heat loss
Installing good quality fireplace doors will go a long way toward sealing off that gaping hole. Factory-made door kits, meant to be surface-mounted on the hearth, can be bought off the shelf at some stores, in the $200–$700 price range. But again, it may be hard to find one that matches the dimensions of your fireplace opening. A good fit is important, since the objective is to reduce air leakage. For this reason, many homeowners order doors from custom manufacturers. Your local hearth products dealer may have a business relationship with one or more of these companies, so they can arrange the order and the installation.
Custom doors also offer a greater range of designs and finishes, to suit the room's décor. Many people want something that looks more substantial and permanent than sheet metal. Brass finishes, which were once popular, have largely given way to antique copper, pewter, or black iron. There are various traditional and contemporary designs, but some homeowners commission a one-of-a-kind creation with ornate metalwork, to make the fireplace a showpiece.
Whatever route you go, you want tight-fitting doors, with reasonably robust hinges that will continue to operate smoothly for many years. Depending on your choice of materials and the complexity of the design, expect to pay between $500 and $2,000 for custom doors.
It's important to note that installing surface-mounted doors will not turn your old fireplace into a modern wood heating appliance. The doors are meant to seal off the fireplace when it is not in use, to prevent heat loss up the chimney. When you have a fire going, the doors should be open, even if they are made with heat-resistant glass. By enclosing the fire, you would be making your fireplace do something it was not designed to do; an old hearth, in particular, may not be compliant with today's fire safety codes and should not be pushed to its limits. The door kit should include a screen curtain that can be pulled shut after you have started or stoked the fire, to prevent sparks from leaping into the room and setting the sofa on fire.
Some people in the business recommend that fireplace doors be installed in conjunction with a top-sealing damper—a spring-loaded cap at the top of the chimney, operated via a cable attached to a lever on the inside wall of the fireplace. The best models are made of stainless steel.
Being able to close the top of the flue will prevent infiltration by precipitation, wind noise, leaves, insects, and birds or other wildlife. A mechanism with various settings makes it possible to regulate the draft, thereby controlling the intensity of the fire. (Removable handle extensions are available, so the damper can be adjusted while a fire is burning.) A top-sealing damper assembly will cost in the neighbourhood of $300, plus any installation fees.
Any modification to a wood-burning hearth should be inspected by a WETT-certified (Wood Energy Technology Transfer Inc.) technician. It's a complicated business. Some homeowners, after considering all these choices, opt to decommission their fireplace by closing off the flue with insulation and capping the top of the chimney. If an artificial electric fireplace just doesn't cut it, you can put some attractive birch logs on the grate for decoration—as long as you make sure no one attempts to set them ablaze. Alternatively, the hearth niche can serve well to set off an antique mirror or a painting, or an arrangement of flowers, greenery, beach stones, or candles. Even if it does not warm your bones, it will draw the eye.