We're going to have winter, regardless; let's make our homes inviting for the season
The Danish word hygge (hoo-guh) roughly translates to "cosy" but it really covers a whole approach to life that involves relaxation, gratitude, and enjoyment—especially during the cold winter months. Of course, the Danes don't have the market cornered. The Germans have gemütlichkeit, the Norwegians have koselig and the Dutch call it gezelligheid. Whatever word you use, it translates to a concept of cozy conviviality that is especially present during a long, cold winter.
It's a hot trend, and one that is used to market things like "reading socks" (Google it. I can't make this stuff up.), but it's also often seen as a bit of a smug Scandinavian nod to the fact that countries like Denmark consistently score high on measures of overall happiness. Well, guess who else happens to score high on those measures? That's right, Canada.
In Atlantic Canada, we're no slouches when it comes to burrowing down in the winter and making the best of it. Sure, we like to complain about the weather, but we also like to ski, snowshoe, visit maple producers, have bonfires, skate, and get toasty by the fire. We know how to do cozy conviviality, even if we don't have a special word for it.
As most of us don't need any tips on how to enjoy ourselves through the long, cold winter, I'll stick to some tips and ideas for creating a warm and welcoming ambiance in your home. You'll either be nesting comfortably on your own, or happily entertaining guests who've shoveled their way out to join you.
Furnishing for socializing
If you are rearranging or replacing furniture, think about coziness. This doesn't have to mean oversized and overstuffed, though if that's what you like and that's what you have room for, then indulge yourself. But even small spaces can accommodate cozy, comfy pieces that encourage you to curl up and read a book, or hunker down with friends for a conversation.
When furnishing a space that will be primarily social, you needn't tether yourself (and your room) to a few large pieces. Think flexible seating that allows you to use your space a few ways. Consider a loveseat and comfy chairs rather than a sofa and loveseat combination. Add a large ottoman or pouf that can double as a spot for your tray of cocoa, or extra seating. Small benches also work well for this sort of double duty. By day they can sit next to a wall with a few decorative items, a tray, or some books on them. By night, they are transformed into extra seating for your guests to enjoy while they sip a mug of mulled wine and enjoy your company.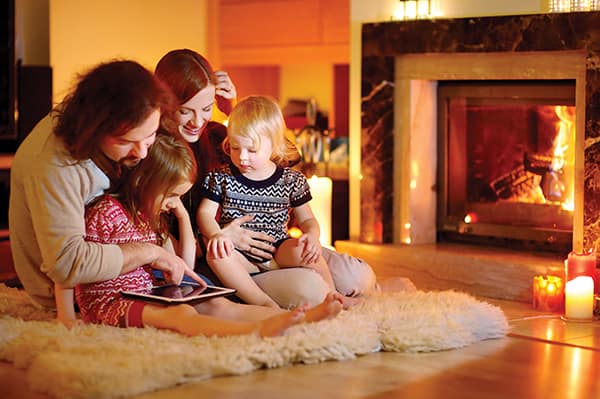 Lighting the Fire
To really bring a sense of cozy warmth to a room, nothing beats actual fire. If you are lucky enough to have a fireplace, use it! Nothing keeps winter's creeping, existential dread at bay quite like a cheery blaze. Modern gas, electric and even wood inserts and stoves can be stylish and thrifty when it comes to heating bills. If you have an old wood fireplace, then you have a beautiful hole in your house that essentially sucks out hot air. I wouldn't be doing my job if I didn't recommend you consider the option of replacing this with an insert. These are especially handy during the always-enjoyable Atlantic Canadian tradition of winter power outages. Even many gas inserts these days can be started and run without electricity, giving you a source of warmth when all else fails.
If you don't have a fireplace, you can still bring the warmth of a flame to your home with candles—in fact Norwegians burn more candles per person than any other nation! If you have concerns about safety, or the output from burning candles, the newest generation of flameless candles are pretty amazing imitators of the real thing.
Consider using candles in arrangements. Clustering groups of candles and holders together, and even adding some decorative elements to these. And remember, be they traditional or flameless, candles are meant to be lit at some point. If you have a lovely candle in a holder on your mantel and it has a layer of dust on it, you need to question why it's there. Burn it or bin it.
If you are relying on your electric lighting for a feeling of cozy warmth, here are a few handy tips. First, ditch the overhead lights. For those cozy evenings alone or with friends, turn off the over head lights and focus on your lamps and candles. A key element of good lighting in any space is having options at different levels. So along with your overheads, try using table lamps and floor lamps to cast light at different heights. Clients almost invariably point to a corner of their room that they will admit suffers from poor lighting, and this is not surprising. Lighting is often overlooked both in terms of function and in terms of a decorating budget. However, but chosen with a bit of care, it has the potential to add some real impact to your space, both in terms of how well you can see and how finished the space will look.
And for these cold winter nights, switch out cold, white bulbs for something a little warmer (unless it's a task lamp that you need for pastimes like knitting or reading).
Finally, add a few reflective surfaces in your room. This can be anything from mirrors to décor pieces like shiny metal picture frames or candle holders. Give the light something pretty to bounce off will add that extra touch of sparkle and intimate light to your space.
Warming up your décor
Making your decor toasty and warm is as simple as remembering a few key elements: layering, texture, and tone.
Layering is an essential method in any good decorator's approach, as it can create a rich and interesting feel to a space. There are a number of approaches you can use. Consider any display, tableau or vignette you have in your room: that can be as simple as a few picture frames on a sideboard, or a display of your carved bird collection. The eye doesn't find a lot of interest in a single line of things placed in a row. Clustering objects together in groupings creates a much more visually interesting space. Layering elements on top of or in front of each other creates a cozy look. Take a console table and add a table lamp on one end, with a picture frame next to it, a figurine in front of that; and even hang additional pieces on the wall or prop them on the table behind the lamp. Experiment a bit with groupings of objects like plants, books, décor pieces, art and more.
You can also layer things like cushions, throws, and rugs. Now, maybe you're thinking, "I'm just not that person who can toss these things around in a room and make it look finished and beautiful." Fair enough, but that's one of the best uses for the internet! Head to a resource like Pinterest, and have a look at how other people are layering their rooms. Find a few images that resonate with you and how you'd like your space to look, and then note key pieces in the space and how they have arranged them. Then give it a whirl! What's the worst that can happen? You end up with a pile of cozy cushions and throws that aren't decorator-perfect. You can still sink into them with mug of cocoa in one hand and a bottle of Baileys in the other. And that's half the battle.
Another important element in cozy home décor is the use of texture. You want things that look and feel like you could just curl up in them and hibernate. Warm, fuzzy textures can give you warm fuzzy feelings. Leather, sheepskin, faux fur, velvets, knits, and wool can all be used to add a richness and warmth to your décor.
You can incorporate these through the expected channels of cushions and blankets, but also consider other ways to bring in soft, welcoming textures. Some people switch out window treatments as the seasons change, and bringing in a heavier, softer drape for the winter can also help in older homes with less efficient windows. If you're thinking of layering, consider a small rug in a faux fur or sheepskin that can be added to your existing carpet or rugs–or provide a covering where your floors are normally bare. You can use a small, area rug at the foot of a reading chair or under your ottoman or bench. Oversized chunky knit rugs are also a great seasonal addition to space.
If you have a hearth, focus some décor around this. Add a few arrangements of layered décor, and throw a sheepskin and pouf in front of the fire for anyone who might want to curl up there.
Finally, there's tone. Most people aren't going to be motivated enough to paint their rooms as the seasons change (and even I think that's excessive!) but you can always swap out smaller things like throw cushions, blankets, small rugs, and décor pieces to reflect a warmer colour scheme for the winter. You don't need to have a neutral base palette for this to work.
Take a look at the room or rooms you are decorating. What are the two main colours? These are usually the colours on your walls and in your largest pieces of furniture. Take these two colours and find one or two complimentary colours that work with this. You can use online colour tools from most major paint companies to do this. Once you have a few colours to use as your accents, choose the softest or warmest tones of these, and focus your seasonal pieces around this.
Of course, many people will tell you there are rules to what colours are best suited for each season, but I suggest you never use a colour that you don't like. Go with what you are most comfortable with. If you love pink but think it's more suitable for spring, think again. Imagine a soft, dusty pink throw, with a white sheepskin and some grey velvet throw cushions. Nothing could be further from summer. If you are bringing in pieces like this only for a season, then indulge yourself with colours and textures that you love.
Once you've made your space as hygge as you care to, invite a few friends over, light the candles, spice up the cider, and hunker down to enjoy these cold, crisp nights!
Cheryl Cook is the owner of SeeSea Interiors.