A glimpse of the eye-catching accents and decorative divas that take up our leafy quarters
Gardening is considered very much a form of art as well as a hobby, a skill and an avocation, so it's not surprising that art would be used in the garden. And to great effect: it can provide a pleasing point of contrast to plants, a thoughtful accent to draw or divert the eye-or a surprise and burst of laughter.
The Art of the Garden
Gardening is considered very much a form of art as well as a hobby, a skill and an avocation, so it's not surprising that art would be used in the garden. And to great effect: it can provide a pleasing point of contrast to plants, a thoughtful accent to draw or divert the eye-or a surprise and burst of laughter.
Ask gardeners, designers and artists why we use art in our gardens, and you can be sure of a variety of responses, as diverse as the tastes of the individuals themselves. I've seen pot people created out of varying sizes of terra-cotta pots, bird and animal sculptures moulded of chicken wire and willow (though not together!) and stepping stones and planters in mosaics of stone and tile.
Using Art in the Garden
Just as there's a place in the garden for herbs versus perennials and shrubs, there's a place-and preference-for different types of garden art. Some people prefer items that are functional, such as decorative birdbaths and feeders, which can be as lovely as they are functional. Others like to use a piece of statuary-or a decorative pergola or archway-as part of the overall "bones" or hard structures that define their gardens.
Sometimes, the point is whimsy itself; we just want a chuckle, as in finding a giant clay garlic clove resting among a planting of herbs, or a wind chime created out of old garden tools adorning an arbour. In all cases, there's something truly wonderful about juxtaposing clay, metal, stone or other materials with hard surfaces next to the soft, living sculptures of plants.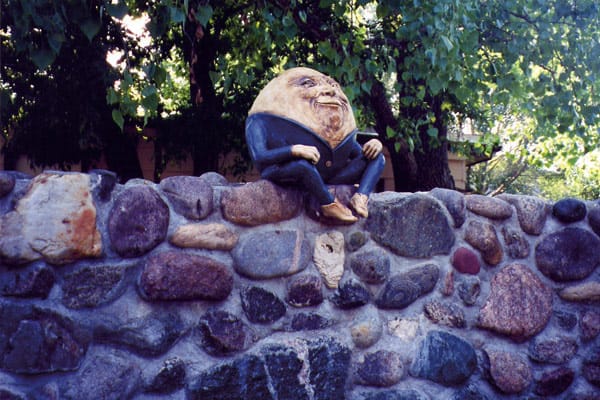 The Garden as Home Extension
Ultimately, gardens are a part of our homes and, just as we use art to accent and enhance our interior living spaces, we do the same in our exterior places. "Art extends our living space outdoors and integrates the whole," says Niki Curry, a gardener in Granville Beach, NS, who also designs gardens for others. "In fact, I look at my garden as a dynamic work of art-a kind of slow-motion performance art, a many-ringed circus. Sculptural pieces provide focal points, set stages, define spaces, give one pause for introspection-it's nice to have a seat, relax."
Frederick Hann, a landscape architect in St. John's, NL, concurs. "I like to think of sculpture as an element that adds drama to the garden," he says. "In this respect it is theatrical and can metaphorically play the part of an actor and, as such, have a definite presence in the garden." Frederick works with local sculptors, including Gerald Squires, Pam Hall and Luben Boykov. Apart from providing a focal point, sculpture can also mark the departure or destination point when associated with a path, he says. The important thing is that, as with any piece of art in any setting, "To be effective it must add meaning and beauty to the owner's personal space."
Garden Artists and their Art
When you can combine your love of plants with a flare for creating wonderful objets d'art for the garden, you're a happy person indeed. Laura Fraser-Slipp of Glenmont, NS, has artistic creativity in her bloodlines: her father builds musical instruments, one grandmother is a painter and the other a potter. She followed this heritage by attending art college before going to work at a nursery and garden centre in the Annapolis Valley. A large metal sculpture caught her eye there, prompting her to try her own hand at creating garden art. She also enjoyed working with plants to the point where she enrolled at the Nova Scotia Community College's Horticultural Trades program at Kingstec campus. At the school's garden party last March she displayed some of her work, including a fabulous copper sun and some large echinacea flowers. "I always liked the look of copper, so I started experimenting," she says.
Karin Bach and Tim Isaac, who live near Alma, NB, are also artists-in clay, which works well in garden settings. "Placing artwork in gardens creates intriguing focal points and adds interest, of course," says Karin, an ardent gardener herself. "But it also helps us as humans to connect to being part of it all-the natural and adapted plants, the created setting." Karin's work includes animal forms, especially unusual animals that have character and intrigue to them, she says, such as tortoises and toads. Tim's work is more abstract, including the archway he created in their own garden. "It creates a formal line between outside, the natural world, and our created version of nature," Karin says. "But it also keeps the space open and inviting."
Recycled into Garden Art
Materials recycled from yesteryear can also add character-and conversation pieces-to a garden. Some inspired gardeners have painted old wringer washing machines in brilliant colours, planting them with annuals, or created sculptures from bits of rusted metal from farm implements and machinery.
Garden art that is weatherproof year round, even in the wilds of Atlantic climates, enhances the notion of four-season interest in the garden. In winter, a birdbath laden with snow or a sculpture encased in ice takes on a different look from that seen during the lushness of summer. (The shadows cast on snow by arbours and obelisks can be artful in and of themselves.)
Art as Practical Piece
Some of the items that we see mass-produced and marketed as garden art have a long and distinguished history as accents or tools for outside spaces. Take gazing balls, those oft-maligned glowing orbs of blown glass sometimes seen sitting awkwardly and alone in the middle of a yard like a bad seed. Victorian gardeners were among the first to enhance their garden plantings with these reflective ornaments, although theirs were often only a few inches across in diameter. Historical references vary, but some say that the balls placed outside were similar to butler balls, used by servants to observe the needs of dinner guests without staring at them directly. Other references say the balls were placed near entryways of homes to protect the inhabitants from witches, who would be distracted or deterred by seeing their reflections in the mirrored surface.
The trick to using a gazing ball effectively is to position it so that it actually has something to reflect. Personally, I'm very partial to gazing balls when they are used as accents in a garden bed, or are lolling about in a pond, catching light from sky and water. And that's the secret: what works for my garden might not work for yours, and vice versa.
Another Dimension of Beauty
The gardens surrounding The Dunes Studio Gallery and Cafe at Brackley Beach, PEI, are filled with art-ranging from locally created pieces in sculpture and fabric to unusual and stunning works imported from exotic locales such as Bali. Peter Jansons, the owner and himself a potter whose work often finds a home in the gardens of others, says incorporating any sort of art in a yardscape is a form of personal creativity, not unlike picking out plant material.
"I think we put art in our gardens to add another dimension of beauty," he says.