It all began with a headache on Jan. 1, 2000, when Y2K worries pushed this segment of the hearth industry into the spotlight. Suddenly, the allure of age-old wood heat-independent of wires and gas lines-had buyers lining up.
Joe McGuire doesn't mind paying his home heating bill. After four or five years of relying on oil and the roller-coaster price structure associated with it, the Gander, NF, man decided to return to his roots and buy a combination wood/oil furnace. The cost? Ten days of cutting seven cords of wood and between two and three tanks of oil per season, or about $800.
"It's more work, but it's worth it," he says of the effort involved in keeping his 1,800-square-foot home warm. "Wood is cheaper and it's a more constant heat, especially upstairs. I'd never go back to straight oil again."
Indeed, the marketplace for wood-burning stoves seems to have reawakened. It all began with a headache on Jan. 1, 2000, when Y2K worries pushed this segment of the hearth industry into the spotlight. Suddenly, the allure of age-old wood heat-independent of wires and gas lines-had buyers lining up. The chopping, carrying and storing of wood (not to mention the dirt it dragged in and the smoke emissions that settled around the house as a result of less-efficient stoves) may have made the traditional heat source unappealing in the past, but millennium fears overrode all that. Then came last season's high oil and natural gas prices. Suddenly, homeowners who were hard hit by the financial pinch began to rethink their heating methods. The ensuing demand is expected to push up the price of a cord of wood this year, but the cost savings will remain.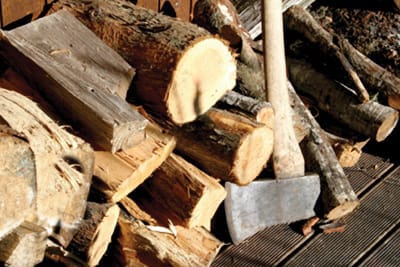 In 1991, the cost of furnace oil was around 34 cents per litre. Last year, it soared to nearly 70 cents per litre. While it is currently hovering at around 53 cents, analysts caution that an increase is likely soon. At the Department of Natural Resources in Halifax, program officer Hal Dobbelsteyn promotes the use of indigenous (it's produced in the province by Nova Scotians) wood as the cheapest of all fuels-and one that is kind to the environment when good forest management is practised.
"It makes good sense in any number of areas," he says.
That hasn't helped it win the popularity contest, though. Using a system that takes into account efficiency of operation among other factors, Dobbelsteyn says oil remains the most common source of fuel used in Nova Scotia, at a cost of about $16.50 per million BTUs of heat. Electricity holds the number two spot, at nearly double the price, or nearly $28 per million BTUs of heat. And wood, when purchased for around $140 a cord, is in third place with a price tag of $10 per million BTUs of heat. In cities such as Halifax where consumers pay as much as $180 per cord of wood, the cost is still only $13 per million BTUs. In places like rural Prince Edward Island, where a cord sells for $110, the cost is, naturally, less.
Contractors say one unique feature among this year's group of wood buyers is the number of people requesting eight-foot lengths rather than cords of wood already split. Buying lengths to split at home can slash the cost of a cord by nearly half. The savviest consumers are a year ahead of the market. They realize that burning wood that is green in colour is a bad idea for two reasons: it can cause a chimney fire if used immediately, and it will mean that part of the heating dollar is spent burning off excess water rather than heating the home. These consumers make their wood purchase a year in advance to allow proper drying time. They store the wood off the ground in a well-ventilated area to ensure it continues to dry. (If it must be stored outdoors, wood should be kept in a shed or under a plastic tarp for protection from rain and snow.)
It's important, too, to know that not all cords are created equal. Seasoned hardwood such as sugar maple, beech and oak provide the most heat for the money, although a 20 to 30 per cent mix of softwood and lower-quality hardwoods such as poplar or white birch makes the wood fire easier to start while providing adequate heat on warmer days.
Sound like a lot to consider? For many homeowners, the process involved in choosing, storing and ferrying wood every day McGuire estimates he handles each piece of wood he burns about 15 times-simply doesn't balance out the cost benefits.
"The social structure is that most people are not home during the day, so who's going to look after the stove," asks Stephen Alford, job supervisor of Jorgensen Forestry in Breadalbane, PEI, where he also runs a side business selling wood. "For those who can do it, there are savings, but for some people, it's just not worth all the work."
Whether because of a changing employment climate, dislike of the physical labour or the dirt involved, it appears the vast majority of homes rely on wood only as a supplementary source of heat. The flame's dance, scent of burning logs and gentle radiant warmth have always induced reflective contemplation and conversation. Modern burning units bring the benefit of being able to enjoy all that on evenings or weekends only.
Advances in technology have made the stoves being purchased today among the cleanest, most efficient and longest-burning heating appliances on the market, particularly if they are built to standards approved by the United States' Environmental Protection Agency and if they are installed by a WETT-certified (wood energy technical training) expert. The pot-bellied varieties of yesteryear may have produced billowing clouds of smoke and particulate. Indeed, conventional woodstoves that are more than eight to 10 years old emitted between 30 and 80 grams of particulate matter (smoke) per hour but the newer models have reduced emissions to as little as three to six grams per hour, a reduction of more than 90 per cent.
"They're designed to maximize the conversion of wood to heat and to burn smokeless," says Dobbelsteyn. "A common concern these days is pollution from wood heat, but a properly-operated wood appliance should not smoke. If there's smoke coming out of your chimney, that's unburnt wood and not good. You shouldn't be able to see it or smell it."
And that's a tradition that benefits everyone.
For more information on wood heat see the Web site:
http://www.gov.ns.ca/energy/consumer-information/energy-prices/wood-heating.asp