Many people dream about buying a boat when the kids leave home or when they retire. Here's what you need to know to get started.
As Hurricane Bill bore down on Nova Scotia last August, Dan Sutherland worried about the sailboat he'd just bought, fulfilling a lifelong dream. After the youngest of their six children left home, Dan and his wife, Anne, sold their big house. Dan was close to retiring from the military, and had always wanted a boat-they purchased it only weeks before the storm. Now, he worried his boating adventure might be over before it began. "We had a little bit of a panic," Dan said as he recalled how they agonized over what to do.
As the hurricane approached it was downgraded to a tropical storm, and the couple heeded the advice of friends. "We took the sails down," Dan says, "and removed anything else the wind might catch. Then we let the boat ride out the storm."
The couple paid just over $16,000 for their 1980s-era boat, a Mirage 27, after they moved to a smaller house in Chester Basin, a sailing community on Nova Scotia's South Shore.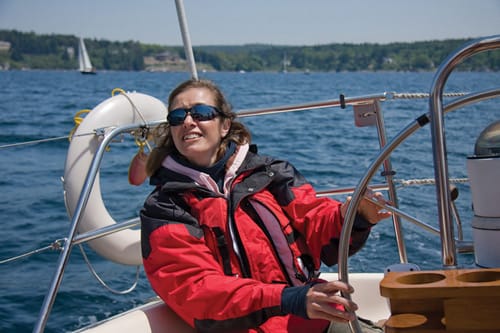 The Sutherlands are typical of people who get into the boating lifestyle when their circumstances change. Boating shows are chock full of empty nesters exploring their options, says Randy Monaghan, an industry expert in Charlottetown.
"When people have got their kids off to school and they're not always running to soccer practices many start exploring boating, either as a time-filler or something they always wanted to do," Monaghan says.
Boating can be enjoyed at any age and on many levels. Atlantic Canada offers clean waters, beautiful scenery and a lively social aspect; boaters enjoy exploring the region's shallow-water bays, islands and out-of- the-way spots, a hobby known as gunkholing. In New Brunswick, the branching St. John River system is adored by many, including long-time powerboat enthusiast, Bob James, 71, and his wife, Hilary, 69.
"Usually we boat alone in the day. In the evening, we meet up with friends, on sailboats and powerboats," James says. "We raft up together, barbeque and have a few drinky-poos. By our age, we're in bed by 10 pm."
In Newfoundland, new boating clubs are being established as recreational boating grows in popularity. Peter Lawrie, an officer at the Royal Newfoundland Yacht Club, in Conception Bay, estimates that about half of the club's members are over 60. "Boating keeps you thinking and motivated," he says. "The work keeps retired people busy."
But although the appeal of the water may be obvious, new boaters face a daunting array of choices. Boaters must consider budget, whether they want a sailboat or a powerboat, used or new. They must decide what they want the boat for-many older boaters love to quietly around their bay, others wish to cruise the coast; the fittest and most adventurous want to blue-water cruise the world.
"There's a huge spectrum of boating activity in both power and sail," says Ed Bottrell, senior cruising and powerboat instructor/evaluator for the Canadian Yachting Association. Physical fitness is a consideration, although age is not necessarily a barrier. Two years ago, the St. Margaret Sailing Club, in St. Margaret's Bay, NS, taught a novice sailor in his mid-80s.
"Motorbikes had been his lifelong avocation," says Bottrell, who is also head instructor for the club's introductory sail program for adults. "But his kids and grandkids were telling him that bikes were too dangerous, and he should get into sailing. He thoroughly enjoyed the program."
Because of the demands associated with handling sails, sailing generally requires greater fitness than operating a powerboat. As sailboats get larger, some jobs get more demanding. The lines of an average-size, 30-foot keelboat are under hundreds of pounds of pressure, meaning they are not easily manipulated.
"Even cruising is not a sedentary activity," Bottrell says. "Balancing on the boat, walking up and down stairs and on and off docks-it's a healthy lifestyle."
Bob Harrity, lifelong sailor and commander of Kennebecasis Power and Sail Squadron in Saint John, NB, says it's a lot easier to turn a key than pull in a sail full of air.
"There's no question that as you get older things change. Most older sailors I know have switched to power," he adds. Large powerboats can also be demanding, requiring skill and knowledge. It's a good idea to have a working knowledge of your boat's engine, electrical systems and plumbing, and to carry a good tool kit and spare parts, says Bob James in New Brunswick. And all boats require time to keep them clean and seaworthy; some boaters prefer to pay others to handle maintenance tasks. According to Ed Bottrell, there are three things necessary to adopt a boating lifestyle: money, time and basic skills, including on-the-water experience and knowledge of navigation. There are many ways to learn. The St. Margaret Sailing Club's introductory Set Sail program offers four hands-on sessions, based on the Canadian Yachting Association's Learn to Cruise program. At course end, participants also write the test for the Pleasure Craft Operator Card (PCOC), which has recently become mandatory for anyone operating a boat with a motor that is used for recreational purposes.
Dan and Anne Sutherland took Set Sail, then acquired their PCOC. "The $50 for Set Sail was the best $50 I ever spent," Dan says. "During our first lesson, the wind blew and rain pelted the boat, but I loved sailing straight away. I'm a water person, but my fear had been that we'd be out on the water and not know what to do."
Last year the Sutherlands kept their boat on the water until late fall. They're hoping to get it out from under tarp on land and on the water by late April or early May this year. (Dan wants to put it in early but not until the kitchen is done, says Anne.)
"As new boat owners, we're still learning," Anne says. "We like speed but my favourite part is after we've used the motor to get out of the bay-that moment when you shut the motor off and the sails come out. It's quiet and beautiful." Such moments also speak to veteran sailor Judy Silva, a former teacher, and her husband, Jim, a mechanic who used to test jet engines. The couple have a summer home on Grand Lake, part of the St. John River system, where they have a Pearson 28. "The water is warm, the people are friendly and it's peaceful and beautiful," Silva says. "Grand Lake always has wind in the afternoon. There are many places to explore."
Silva says that Abbott, the couple's Australian cattle dog, loves jumping from the dinghy-which takes them from shore to where they're moored-onto the boat. The Sutherlands are hoping their seven-year-old dog, Jake, will learn to like sailing, but so far he's nervous around water. "Lots of people take their dogs on their boats, but mostly those dogs started as puppies," Anne says. They're not giving up yet on Jake though-they bought him a lifejacket last Christmas.