Building a new home is an exciting, intimidating, marvelous, terrifying exercise in which lifelong partners engage. The years of dreaming and yearning together, the long months of careful planning together, the hundreds of important choices made together, the delicious shared anticipation, the necessary give-and-take of the initial process and the inherent last-minute compromises along the way are all true testimony to the merits of a healthy, open, sharing relationship….
In theory.
In reality, building, or even just buying a house, can test a relationship. Care is warranted. There's a great deal at stake.
For many boomers, the existing family home is just fine, thank you-no mortgage, good neighbours, lots of memories. Increasingly, others build, or modify, into the last home, the final domicile, the ultimate living quarters, the made-to-order empty nest, the one set of design criteria uniquely adjusted and nuanced for personal, specific lifestyle needs and comforts. Ideally, there's not another exactly like it on the planet. It's not just yours-it's you!
We discovered very quickly that building such a home (in a two-person partnership) calls for meticulous planning, timing and firm agreement down to the finest detail in a monumental effort to minimize surprises and mistakes-for surprises and mistakes are costly in both time and money. In the main, we surprised ourselves by co-operating and collaborating cohesively with only minor slip-ups. For instance: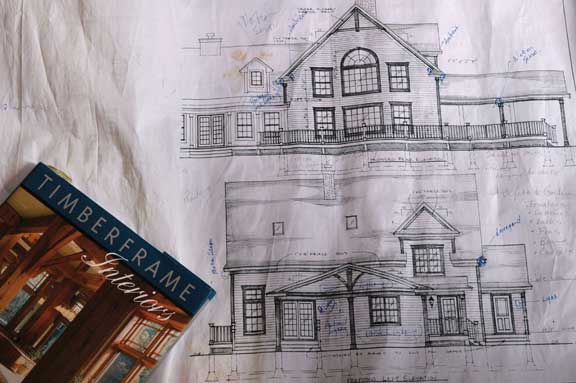 Living in a building site is inconvenient. Our driveway/parking area was for months so much of a disaster area that most days we could barely find a spot for ourselves. It was strewn with all manner of lumber, plywood, trusses, insulation, piles of stone and sand, carpentry benches, air compressors, vehicles belonging to the construction crew, a huge refuse container-and, smack in the middle of all that, the great pile of firewood and the great pile of topsoil ordered, with the best of intentions, quite prematurely. Nobody could turn around. It was awful.
(Be warned-our absurdly optimistic March completion date became August. This is entirely typical. When your construction crew turn away smiling benignly at the mere mention of the completion date, this is an important clue.)
Then, at the other end of the process, there was the charming and talented interior design consultant Linda brought in the week after we finished the interior painting. She was there to advise us on complementary colour choices (read fix Jim's mistake while avoiding matrimonial conflict by introducing a credible, impartial third party).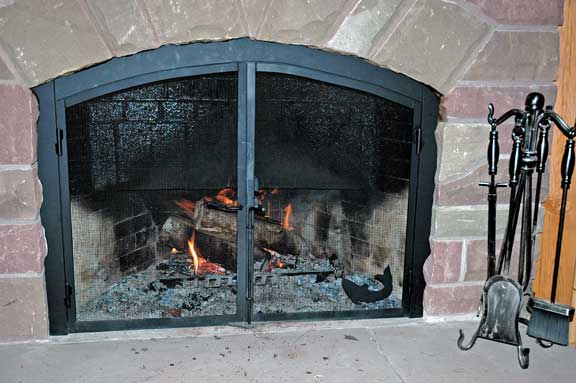 My original colour scheme (some of which universally raised eyebrows) was remedied by the impeccable taste of Janice McCrea and her design team of The Decorating Shoppe in Halifax-but painting twice is expensive.
The early planning process calls for fairly intense exchanges requiring empathy, close collaboration and a willingness to compromise-not to mention a wary eye on the quickly escalating costs-for two reasons:
This is where the fundamentals are established: the size and configuration of rooms, light flow, heat flow, traffic flow, air flow, privacy, convenience, aesthetics, inside and out-and on, and on.
As much as is humanly possible, these should be final decisions because changing from the drafted plans means your trade estimates (tentative at the best of times) go out the window.

The actual basic construction phase-foundation, framing, well and septic, plumbing, wiring, roofing, siding, decking, chimney/fireplace, heating system, and even insulating and gyprocing-tend to go pretty smoothly.
In our case, the customizing was expressed in six major areas:
The choice of a timberframe hybrid rendered the exterior and interior of the building both unique and imposing. By extending timberframing to the front entrance, the carport, the covered porch and the front side gables, the timbered look was extended to three sides of the building.
The decision to custom-design the kitchen into an unusually long (31 feet), but very practical, shape renders it outside the norm.
The decision to have a central staircase custom-designed in an unusual wood grain (elm) and to fit that particular room offered a further distinguishing element to the interior architecture.
Cabinets, closets, bookcases, window ands door trim were all custom-built by a fine quartet of skilled finishing carpenters for whom no challenge presented a problem and no innovation was too much trouble.
The main fireplace in the great room, featuring a 20-foot high by 10-foot wide stone chimney facing, was custom-designed for that particular application-as was the oversize fireplace door, custom-fitted by a local blacksmith to every curve and bump around the stone opening.
By remodeling the original second floor, and creating two bedrooms-complete with roof skylight-around the nine-foot brick chimney for the second fireplace, our guest rooms with their quaint roofline sloped ceilings and dormer windows are themselves now unique.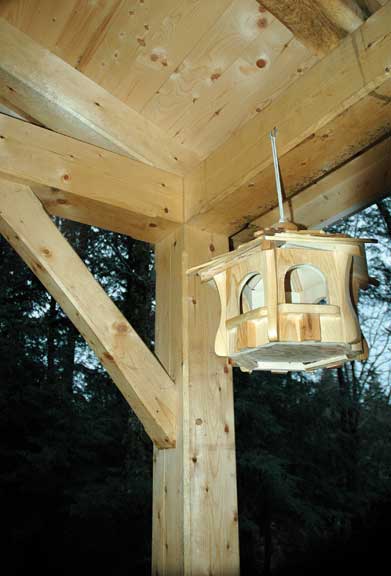 The smoothest, easiest, quickest, slickest and most exciting phase of basic construction was what Linda gleefully referred to as "erection day." We didn't witness the hundreds of hours of skilled work by the Acorn Timber Frame Ltd. people who laboured for half a winter to produce our custom-engineered timber package. We only saw trailer-loads of code-numbered timbers arrive in the company of a boom truck and watched in awe during the next day-and-a-half as each piece was lifted into position and lowered into its pre-cut joint with an ease and precision that invoked amazed head shaking among a gathering of curious neighbours and friends. It was like some huge Lego set. One day we had a raw, naked concrete foundation-and the next afternoon stood this huge, church-like structure that will still be standing 400 years from now.
In striking contrast to the gradual and labourious conventional framing process, the timberframed section constituted instant gratification...and looked fabulously unordinary, inside and out. Now, where there might be just a passing interest in roof trusses or two-by-sixes and tongue-and-groove decking, persons of the female persuasion tend to harbour firm ideas-very firm ideas-on interior finishing. This is the stuff that really matters, you know-the parts that will be visible, the elements you see every day, the aesthetics, the "touches."
Suddenly, the place was awash in flooring samples, window frame and baseboard samples, catalogues of windows and doors and light and plumbing fixtures, paint and stain swatches. Interior decorating magazines and books littered every horizontal surface. Fiscal management was suddenly just a good intention. This is the part of the process where a large number of relatively minor expenses, plus tax, accumulates to frightening proportions, real fast.
But it is true that while basic construction must be sound, it doesn't need to be pretty. Only the finish work is seen; and the finish work is what you see every day for as long as you live in the home. Mistakes or poor choices will annoy you for years. Skilled tradespeople who take obvious pride in their work are worth seeking out. Referrals and references are golden and the research well worth the effort.
In our case, the timberframe beams set the scene aesthetically, and everything else flows from there. Our enterprising head carpenter, Danny MacPhee of Upper Rawdon, NS, took it upon himself to produce window and door framing with an antique, countrified look and appeal.
(Danny also acted as our ex-officio, but absolutely vital, construction co-ordinator-finding the right skilled people; diplomatically offering sound advice and making it sound like it was our idea; ordering materials and advising where to find particular materials. We would parade through hardware stores or lumberyards like little kids sent to the store, carrying little notes from Danny penciled on pieces of wood. This we now know for certain: you absolutely cannot build a house without a Danny.)
The piece de resistance in the great room is the 20-foot fireplace painstakingly built, brick by brick, by Scottish master stonemason Albert Hannah of Maitland, NS, ably assisted by Amanda, surely the most attractive mason's helper on the planet. This disarmingly attractive young woman climbs up and down a ladder all day, every day carrying loads of bricks and mortar that would challenge your average quarterback. Also a distance runner, she presents a whole new definition of fitness.
The Rumford firebox Albert built (a design that dates from the late 18th century), combined with an oversized flue, works like a charm and radiates a surprising amount of heat a surprising distance.
The firebox, flue and chimney were less than half the job. The stone facing was fashioned with quarried rock from Pictou, NS, in four basic colours. Albert was obliged to shape each one by power saw, then chisel by hand, make all the pieces fit, and balance the colours and shapes for symmetry as he went-no small feat. Such capability in masonry in scarce in this part of the world.
In these times of mass production, corner-cutting, super efficiency, and corporate convergence, custom-making anything is becoming unusual. Our choice was to make a lasting architectural and cultural statement that, hopefully, will continue within our family for generations to come.
The folks who built and previously occupied the original house from which we started held a very special place in their hearts for the property. We now revere it as they did. At the end of the day, a house is only a house. It is the succession of families, or generations of the same family, that turn a house into a home and furnish it with soul.