New materials and designs for sinks add flair to this most functional of fixtures.
When it comes to kitchen renovations, most people think about cabinets, countertops and appliances - everything but the kitchen sink. Yet the sink is essential in any kitchen. Add a functional faucet and garnish with pull-out sprays, pot-fillers, prep troughs and built-in compost buckets for a prize-winning kitchen recipe.
"The name of the game is function, function, function," says Theresa Tanner. Co-owner of The Plumbing Barn in Halifax, Tanner has sold bath and kitchen products for 25 years. Because the vast selection of kitchen fixtures can be overwhelming, she advises consumers to select products with lifetime finishes. "Everything looks gorgeous when it's new and shiny."
In the past, buying a sink was easy. The only decisions were whether to go with stainless or porcelain, and one bowl or two. According to Tanner, stainless steel sinks are still the best-sellers - thanks, in part, to the trend toward stainless steel kitchen appliances. But fewer consumers today are asking for the traditional, top-mounted, shiny stainless steel sink. Instead, they want sinks made from either resin-coated acrylic or colourful, enamel-protected cast iron; and when they do want stainless, they want it in a darker, less shiny, satin finish. 
The shape of kitchen sinks has changed as well, with a trend to straight walls with tight square corners, and flat bottoms that make a better resting place for big tippers like wine glasses and crystal. Older styles of kitchen sinks were usually about seven inches (18 cm) deep. Newer models run as deep as 10 inches (27 cm), with better space for washing large pots and pans.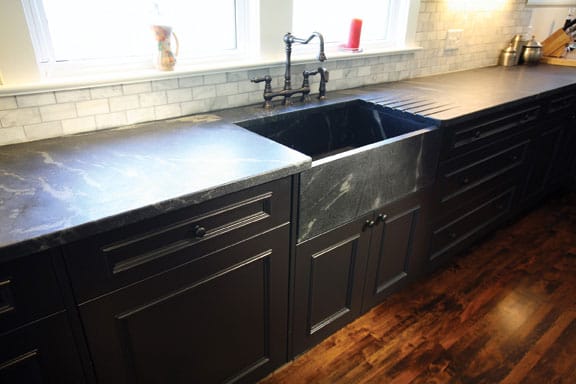 Increased availability of natural countertop surfaces like marble and granite, as well as manufactured materials such as Corian and Zodiaq (both DuPont brands), has inspired new ways of mounting the kitchen sink. Many of Tanner's customers opt for a contemporary undermount method, in which the sink is mounted below the countertop. Another popular style is modeled on the utilitarian sink from traditional country kitchens. The modern farm sink, or country sink, has a signature apron front that drops down visibly instead of disappearing behind the facing on the base cabinets. Most of the farm sinks that Tanner sells are white, although stainless steel is catching on.
No longer referred to as a bar sink, the prep sink has a new, trough-like shape. "Prep sinks have evolved from the same need to be different, yet functional," explains Tanner. Her personal favourite is the Mystic, a striking new model that is shaped like a winding river. Tanner attributes her enthusiasm for this "entertainment" sink to her Cape Breton, kitchen-party roots. "Fill it with ice, add some oysters and a bottle of fine wine or champagne to chill, and voila," she says with a grin.
With so much to choose from and an eye for a good product, Tanner just outfitted her own kitchen with Kohler's new cast iron, double-bowl, Smart Divide sink. Because the low-profile divider between the two bowls is half the height of conventional dividers, the Smart Divide sink is better able to handle large pots and baking dishes. Tanner chose classic white to match her appliances, and went with an undermount installation that emphasizes the curves of the sink and the unique lip of her granite counter. "I want my kitchen to have that 'wow' factor," says Tanner. She added a built-in soap dispenser and an oil-rubbed bronze, pull-out faucet for a functional, uncluttered look.
Faucets now come in a variety of styles from traditional to contemporary. High, gooseneck models make it easier to fill tall vessels and rinse empty wine bottles. Pull-out spray heads extend the faucet's reach, and are just as useful for rinsing the remaining suds from the sink as they are for cleaning salad ingredients. New styles come in an array of finishes, including brushed chrome and nickel, burnished brass, black iron, and oil-rubbed bronze.
Like Theresa Tanner, Margot Beveridge went with an oil-rubbed bronze faucet for the kitchen in her 1920s Halifax home. Beveridge's Taymor faucet came from Nova Scotia Building Supplies in Mahone Bay, NS. "This colour is everywhere right now," laughs Beveridge. "It will probably date my kitchen, but I don't care. I love it." She extended her vision of a black and brown palette to the hardware for her Shaker-style ivory cabinets, the pendant lights that hang above the breakfast bar, and the rich-hued, coffee brown Silestone (a manufactured quartz composite) countertop. Beveridge's only regret is that she didn't know about pot-filler taps until she saw her neighbour's new kitchen.
Wall and deck-mounted pot fillers are separate faucets. When mounted near the stove, they eliminate the need to lug heavy pots of water from the sink. Like the tall goose-necked faucets with built-in water filtration systems, pot fillers are new on the residential kitchen scene. "Main faucets, prep faucets, pillar taps, and pot fillers are all in today's repertoire for the modern kitchen," says Jim Davis of Doucet-Watts & Davis Interiors in Halifax. "Today's faucets know no boundaries."
If today's faucets know any boundaries, they're the holes they fit in. Faucets require from one to three holes to accommodate taps and spigot. Separate accessories require additional holes. Without careful planning, an expensive granite countertop can end up looking like a slab of Swiss cheese.
The trick to selecting kitchen fixtures - from the main sink is to choose only the things - from the main sink and faucets to secondary sinks and innovative accessories - is to choose only the things you'll really use; to measure twice and cut once. Then, just before cutting, check again to make sure that everything you have chosen is available in the shape and finish you want. Until then, nothing's carved in stone.
Sitting-pretty sinks
Top-mounted sinks (also called over-mounted, self-rimming or drop-in) rest on the countertop. They are less expensive to install than under-mounted sinks, but the area along the edge of the counter and the sink is sometimes more difficult to clean.
Under-mounted sinks (also called sub-mounted) are usually more expensive to install, but are easier to clean and result in a more integrated look. Used most frequently with solid-surface or stone countertops, under-mounted sinks expose the edge of the countertop, which makes them unsuitable for most laminate countertop finishes. 
Flush-mounted sinks sit level with the countertop for an integrated look.
Farm sinks are all the rage these days. In white porcelain or enamel-coated cast iron, they offer a traditional look. Update to a contemporary style with stainless steel.
Popular materials for sinks
Stainless steel is still the leader in sink materials. The lower the gauge, the sturdier the stainless steel, so look for a premium quality product (18 or 19 gauge) that will be more resistant to stains, scratches, dents, and corrosion.
Acrylic is another common material for sinks. It comes in attractive colours and is resistant to stains, but can be less resistant to heat than stainless steel.
Composite materials come in a variety of colours, some resembling granite or stone. Sometimes more durable than natural surfaces like granite, they are especially resistant to heat, stains, scratches, and scuffs. 
Porcelain sinks have a porcelain coating over a base of cast iron or other metal. They will last forever, but may chip or discolour.