One couple decides to build their dream home-themselves.
In the summer of 2002, my husband and I did something drastic. We decided to build a home-ourselves. Not bad for a guy and a gal rounding the rim on 60. The spot we selected was 500m from the main road, so we also decided to power up with solar. The fact that our home has not collapsed, and that we are still married, is a bloody miracle. Kidding-But it has definitely been a source of amusement and amazement to friends, relatives and offspring.
First, a little background. For much of my adult life, I've lived in Canaan, an isolated rural area on the Tusket River outside of Yarmouth, NS. I spent 18 of those years growing organic fruit and vegetables for stores and restaurants while my husband, Barrie MacGregor, worked for economic development agencies in town. We raised three children in Canaan, and revelled in the beauty of that isolated "special place."
Alas, the farm got into trouble and went the way of the dodo bird. Five years ago we sold it and started anew. We rented a home in Yarmouth, but we never got used to having curtains in our windows. And somehow, the sound of traffic didn't quite measure up to the call of the loons. We had, however, kept a hunk of land on the Tusket River south of the farm property.
We cut trees, making a 40-foot swathe through the forest from the main road towards the river. That winter, Barrie ordered the Canadian Wood Frame House Construction manual from Canadian Mortgage and Housing Corporation (CMHC), and read copious books, magazines and websites on solar. We visited people who had gone that route, and I designed a basic house plan. Midway into our planning, serendipity stepped in. We met Randall Pitman-a retired community college instructor with a passion for solar-who mentored us through the process.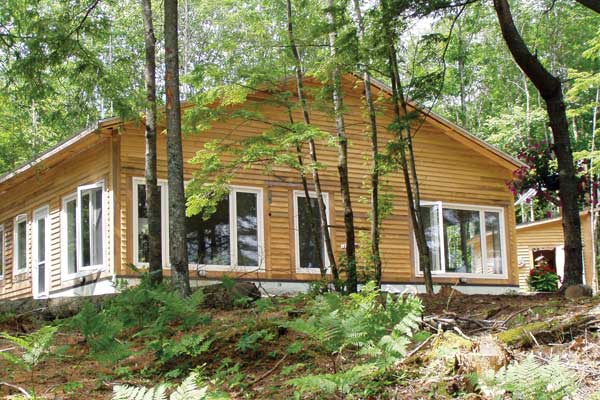 We drafted a simple house plan: one bedroom, one bathroom and an open kitchen/dining/living room/office/den. This could all be accommodated on a 32x40 cement slab on grade. We'd use propane for fridge, stove and hot water, and have lots of big windows (passive solar). We knew we could heat the entire home with an airtight wood stove, but we also decided to install in-floor heating as a backup. As phone lines were critical for my freelance business, Aliant buried the cables in the middle of the driveway. We finished cutting the road the following spring, and hired various contractors to build the road, pour the cement slab, install the septic system, drill the well, and take care of the plumbing and electricity once the house was built. No one batted an eye when we gave them house plans drawn on simple graph paper.
The summer of 2003 was notoriously wet. It took ages to get the slab poured so we used that time to burn the piles of brush strewn all over the site and surroundings. We had lots of help from our daughter, Margo, and her friends. They are all fit, and borderline pyromaniacs. The site ended up looking like a National Park-only more natural.
Finally, in mid-August, the concrete work was finished and we started to frame up. At first, we worked with a flimsy second-hand stepladder, hammers that came over on the Arc, and a decrepit skill saw that actually terrified me. (Years ago I had inadvertently run the blade over the cord.) One day, Barrie surprised me with a sturdy ladder, a new hammer and a compound mitre Makita saw. It was love at first sight-with the saw that is. Again, just kidding.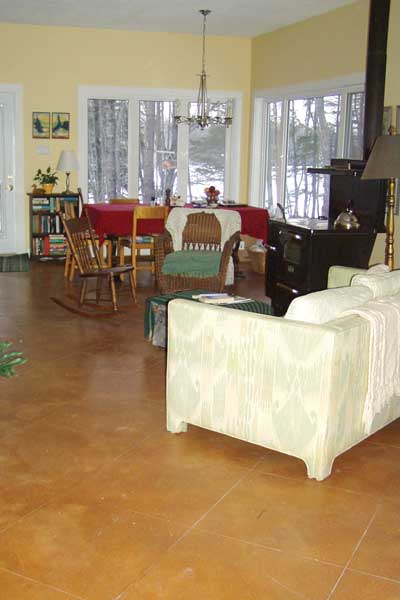 We did a lot of head scratching and wondering out loud, but things eventually fell into place. Walls took shape. The roof emerged. Windows and doors got installed. Friends and neighbours frequently showed up with hammers.They always received a hearty welcome!
As the leaves started to turn red, we started to put on the siding. From the get-go we decided to use hemlock. It's native to Nova Scotia, weathers naturally, doesn't rot, and never has to be painted, stained or oiled. Bonus: rodents like squirrels and mice don't like it. Barrie made a couple of four-inch "jigs" out of scrap plywood, which helped us with the spacing as we layered one board over the other.
On days when the weather wasn't great, we worked inside doing things like strapping the ceiling and insulating the walls. At this point we decided to hire a crew to gyprock and crackfill. Smart move, as winter was approaching and we still had the solar stuff to install.
We decided early on to build a "solar shack," an 8x12 outbuilding for all the solar gear (four SHARP 185w modules 24 volt solar panels; one Trace SW 4024 inverter; eight Surette S460 batteries; and a 6500 watt Honda generator). By the time sons James and Luke came home for Christmas, we were ready to roll. Mercifully the weather co-operated and by January 4, 2004 (their last day of vacation) the solar shack was finished and the panels installed!
One challenge was to come up with a floor covering that we could live with. Hardwood is handsome but can be a problem when installed over in-floor heating. Linoleum can be boring. We heard about a unique process called acid stain and discovered Dale Murphy in Wolfville, NS, who was a pioneer in the field. He scored our cement floor in large harlequin squares, applied a Coca-Cola coloured stain followed by an acrylic sealant. Acid stain gives concrete a mottled, marble-like or leathery look, characteristic of ceramic tiles. It's beautiful, affordable and easy to clean!
Overall, did we have any glitches? Yup.
In the spring of 2003, we had torrential rains and the river rose to a 100-year high. Water reached the spot where our dining room would have been. Luckily, we visited the site on that day and wisely moved the house back 50 feet.
Then there was the day the plumber removed the back door-casing and all. It was the only way he could get the bathtub/shower unit in!
Also, we didn't know that a propane fridge should be vented to an outside wall and because of the window placements in the kitchen area, we couldn't do this. We bought a fridge with a CO2 monitor, which is totally safe and legal, but the bureaucracy associated with getting it installed would be great fodder for a Just For Laughs show.
Oh yes, and there's a funny story about the inside doors in this house. There are only three, but they happen to be within a few feet of each other. Solution? Pocket doors! There's a not-so-funny story about the batteries "sulphating," and we're still trying to solve that problem. We recently installed a solar panel on the roof above our hot water tanks. We're confident that our propane costs (for hot water) will be significantly reduced.
Would we do all this over again? You bet we would.