Mix sand, water and gravel, then add colour, glass or rocks, to match nearly any décor.
After a year spent debating the relative merits of windows and doors and fixtures and floors, I thought that my husband, Brian, and I had reached that much-anticipated point when most of the big renovation decisions had been made. Then I realized we had one more to make: the material for the countertop on the peninsula that divides the kitchen and the dining area in our open-concept home on the Gaspereau mountain above Wolfville, NS.
My priority was a material that would resist stains and scratches and be easy to clean. Brian's priority was a material that would transition well visually from the kitchen to the dining area and complement the light maple cabinets and the warm, dark shades of the cork flooring. I should add that Brian is an architect, which is a real advantage when we need to make design-based decisions. I'm a counsellor, which is even more of an advantage when we don't agree.
Twenty years ago a decision about countertop materials would have involved little more than a quick flip through laminate samples. Today the decision begins with laminates and extends through an assortment of composites to natural wood and stone. We weighed the advantages of each, comparing prices and eco-friendly attributes. Soapstone had its appeal, but my enthusiasm dimmed with the prospect of bi-weekly applications of oil. Eventually we considered concrete.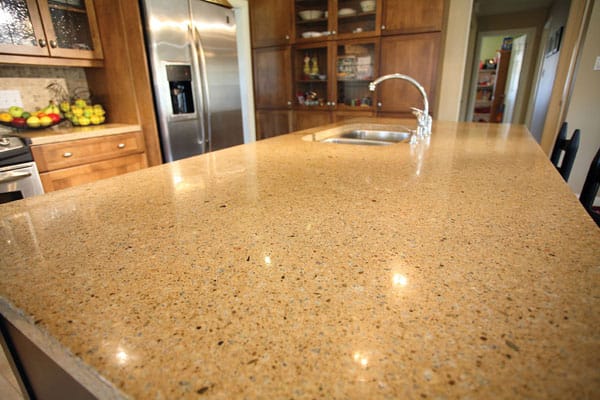 Concrete is a versatile arrival on the countertop scene in Atlantic Canada. Like North American wines, it began in California and gradually moved east. Concrete countertops are made from a sustainable mix of sand, water and gravel (see box for details) and, depending on the finishing, curing and colouring, can mimic marble, granite, limestone and terrazzo. But don't mistake them for a cheaper alternative: prices are comparable to either natural stone or quartz composites like Silestone, with the cost of concrete reflecting the time spent adding functional and decorative inlays and in customizing colours and shapes.
We wanted to learn more about them, so we talked to Nicole Coolen, a young architect from Dartmouth, NS, who used them for the first time in a summer house she designed on Nova Scotia's eastern shore. "It's exciting to take a material and use it in a way that you wouldn't expect," says Coolen. "Using materials from the site enhances the sense of place and brings the outside in." She describes how beach glass and rocks will stress the proximity of the sea, while the stone from the excavation of a building will more closely echo the colours of the surrounding landscape.
The business that made the countertops for Coolen's eastern shore project is one of the few in Atlantic Canada to elevate the concrete countertop to an art form. It is also located only four kilometres from our house. A few days after meeting Coolen, we took a left turn at the end of our driveway, another left turn where the pavement turns to gravel, and a right turn down a rutted road that leads to Formed Stone Designs. It is here that Peter and Julie Rosvall pre-cast custom countertops, most of which are inlaid with a combination of decorative objects like pieces of metal, glass, beach rocks and coins, and functional items like trivets and drain boards. It's possible to have a concrete countertop poured on-site, but Peter and Julie find that doing the work in their shop allows greater control over the manufacturing process. "There are too many other things happening on a building site," says Julie.
Because each piece is custom-made, there is no inventory in the shop. For examples of Peter and Julie's product, we contacted some of their customers. Berwick, NS, residents Maria Carty and Bill Reid installed a concrete countertop and sink in November of 2006 after seeing Peter's work in the home of one of Maria's soccer friends. "One of the drawing features was that we could customize the colours," says Maria. To complement their walnut cabinets and antique black island, Maria and Bill chose a granite-like colour mix made from stones and aggregate from nearby Bridgetown, NS. Although their sealed concrete counter is durable, they are careful with it. "It requires a little more thought," says Maria. "We wipe it down with water or a gentle soap, and we use cutting boards. We would never put hot pans directly on it."
When Heather and Mike Townsend wanted something special for the kitchen of their Wolfville home, they had Formed Stone Designs make them 30 feet of warm gray-brown countertop, including a 3' x 6' seamless section with an L-shape at one end. After two years of regular use, the counter shows no signs of the hairline cracks that occur in most concrete countertops.
With these endorsements and a desire to support a local, sustainable product, the next step for us is for Brian to do some drawings. Contractors can provide measurements and a template for installations like sinks and compost buckets. Next comes the sample stage, which Julie describes as the most exciting part of the process. Peter will work with our paint colours, flooring and cabinetry to create several mixes of stone, sand and dyes that will harmonize with our home. Once we agree on the mix, he'll take Brian's drawings and then we will have between six and eight weeks to wait until our new countertop arrives. Peter will deliver it, put a bead of caulking on our base units, and set the countertop in place. Brian will have some trim work to do in his spare time, and we will need a plumber to install the sink, but all of the required holes will be precisely in place.
The new counter will likely have variations in colour and patina, and over time it will age, but lately that doesn't seem like such a bad thing. In fact, it seems a lot like my marriage: aged, imperfect and solid.