We bought the place partly because of the greenhouse. While it's unheated and not a place I use in winter for growing anything (although oregano still pops up here and there), basking inside on a chilly but sunlit day is a great antidote to the winter blahs. Spring will see it holding seedlings and containers of annuals, waiting for the risk of frost to pass. In summer, my heritage tomatoes grow in the greenhouse, where they actually get enough heat (despite the fog) to eventually ripen. It's wonderful to work in the greenhouse out of the elements. The smell of warm soil and green growing things is a balm to the gardener's soul.
There are plenty of home greenhouses in Atlantic Canada. Some may be the portable type — shelves covered with a durable plastic cover, useful for starting seeds indoors or hardening off transplants. Others may be the homemade type like ours — wooden lathes and polyethylene plastic framework, with plenty of shelves and bench space inside. Still others may be constructed from kits purchased from retailers or customized units designed and installed by wholesale greenhouse specialists.
Jana and Frank Fetjek had a greenhouse custom made when they built their new home in Cambridge, NS, in 2001. "We did some research on greenhouses. We wanted something that would last, so we didn't scrimp on quality," Jana says. Their double-glazed, 15' x 12' polycarbonate greenhouse is attached to the south side of the house, where it receives maximum sunlight and is sheltered from cold winds. The Fetjeks have done something innovative by building the greenhouse foundation four feet underground. It's a few steps down to enter the greenhouse, which is partially insulated by being set in the ground. The floor is crushed gravel (see sidebar for more). Accessible from inside the house and from an outside entryway, it helps to heat the house throughout the winter. "We just open the doors and, since warm air rises, the heat from the greenhouse adds itself to our home," Frank says.
An organic gardening enthusiast, Jana uses the greenhouse primarily to start seedlings, especially her beloved, slow-growing rock garden alpines, but also annuals and the veggies that stock the Fetjeks' bountiful kitchen garden. Late autumn finds Jana seeding greens such as spinach and lettuce; she says it's great fun to harvest fresh salad in January and February. She also overwinters cacti and succulents. "We spend a lot of time in the greenhouse during winter, just puttering about," she says. "It's a great cure for the winter blahs!"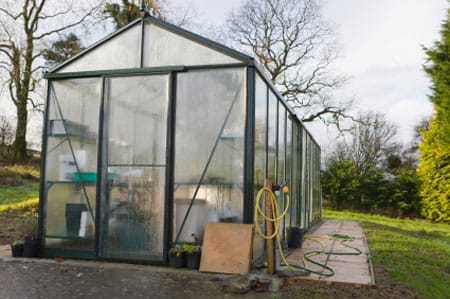 In 2004, Gail Mullin of St. George, NB, had a 12' x 12' greenhouse built, well-insulated and with electric heaters to control the temperature. She starts seeds in March using heating pads and grow lights. She also uses the greenhouse to overwinter plants such as geraniums that she wants to keep growing from year to year. "With the hot sun during the day I often don't need the heat on," she says, "but I keep it set at 50°F (10°C) so that there's no chance of freezing, ever."
With the price of energy fluctuating the way it has been in recent months, potential greenhouse owners are concerned with energy efficiency. Jean Ikeson, who has lived in Windsor, NS, for a number of years, is a long-time orchid grower who has built greenhouses for her own use in Ontario and Nova Scotia. She says what you cover your greenhouse with depends partly on whether you're using it year-round or only in the summer. Options include polyethylene film, which is inexpensive but has next to no R value, so it loses heat easily and is expensive to heat. Glass is expensive and, of course, fragile, but the light penetration is excellent. Double-pane glass has an R value of 2.0. Polycarbonate panels (a rigid plastic composite) are durable even in Canadian winters, and easy to cut and shape if you need to modify your greenhouse for ventilation or heating.
A newer option for a year-round greenhouse is the five-wall rigid polycarbonate panel. Panels are composed of multiple cells of plastic that trap some heat and give an R value of up to 3.03  These don't allow quite as much light to penetrate as glass panels, but they are less expensive and more durable.
Building your greenhouse against your house can help lower both the cost of heating the greenhouse and the home, as the Fetjeks have found. "A home-attached greenhouse is more efficient because you have a warm wall and can use the greenhouse to divert heat produced by the sun into the house during the winter," says Jean Ikeson. "In return, the house helps heat and insulate your greenhouse at night."
Thinking about building or buying a greenhouse? Here are some points to consider.
Match the greenhouse to what you grow, whether it be seedlings, tropical houseplants, herbs and vegetables, or specialized plant collections such as orchids, cacti or succulents. Jana Fetjek says you should keep in mind that you might decide to grow other types of plants later, as she did. "I originally wanted mine for houseplants," she says, "and now I grow everything but houseplants!"
Buy/build the largest one you can afford. Otherwise, you'll always wish you had purchased a larger one. Gail Mullin's greenhouse is 12' x 12' and although it's larger than her earlier structures, she says she can always use more room.
Heated or unheated? What you want to use your greenhouse for will determine whether you need a permanent source of heat, such as a furnace or portable heater, or if you can rely on sunlight for most of your growing needs.
Do you want a freestanding structure or one that is attached to the house? Your choice here may be limited by the way your home and yard are designed. It's lovely to be able to go into a greenhouse in winter without fighting your way through snowdrifts and frigid temperatures. However, if you are building a freestanding structure, put it as close to the house as possible, in a sheltered location and away from trees and other structures that could block sunlight.
Plan for cooling options — greenhouses can get very hot in summer. You'll need some sort of ventilation option, whether it's fans and windows or a shadecloth to reduce the amount of sunlight that penetrates the structure. Temperature-controlled ventilation is wonderful because you don't have to be nearby to open the greenhouse on hot days.
Flooring is a consideration. Jana Fetjek's greenhouse has crushed gravel for the ground rather than bricks, cement or other hard-surfaced flooring. "This way, if I spill anything — water, potting soil or fertilizer — it just goes into the ground," says Jana.
Make sure the greenhouse can be disassembled without damaging, in case you want to take it with you when you move.
Look very carefully at inexpensive greenhouses sold at big-box stores. You get what you pay for.