With such diverse functions, lighting a home is a complicated process, and while most homeowners tackle the job themselves, there is much to be gained from professional help. Before adding on to their 240-year old post-and-beam house in Upper Canard, NS, Debra and Ken Morrison had never worked with a lighting contractor. The search for light fixtures prompted a visit to Atlantic Lighting Studio in Wolfville, NS, and a consultation with store owner Chris MacQuarrie.
Before MacQuarrie gives any advice about lighting, she asks about room sizes and ceiling heights to determine the appropriate size and height of fixtures. She asks about the colours on walls and floors because darker shades of paint and wood finishes absorb more light. As well, she asks about the tasks performed in each room, and even the ages of those performing those tasks. "Older people tend to require more light," MacQuarrie says. All of this information helps her determine how much light is required and where it is best positioned.
According to MacQuarrie, a good lighting plan includes four different layers: the ambient or general lighting that replaces natural daylight and lets you see around the room; task lighting to illuminate such activities as reading, sewing, cooking and walking; accent lighting to highlight architectural details and prized possessions like collectibles and artwork; and decorative lighting, in which the room's light fixtures are part of the decor.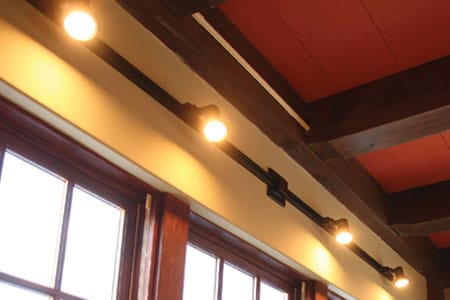 Fortunately, sometimes "one fixture can do it all," says MacQuarrie. In the Morrison kitchen, track lights provide ambient, task and accent lighting.
The term "track lighting" describes either spotlight or floodlight heads that attach to a track. Track heads can provide directional lighting or they can flood an area of the wall or floor. Look for flexible heads that swivel or rotate to allow a more precise aim. Go for a decorative effect by mounting a black track on a white ceiling or make the track disappear by matching the colour of the track with the colour of your ceiling.
The Morrisons chose a black track with black bell-shaped heads for their kitchen. One length of track is concealed behind a beam. Another is mounted on the wall behind the sink to complement the nine-light, black, wrought iron chandelier above the island.
Chandeliers belong to a lighting group classified as pendants. These lights hang suspended from the ceiling, providing illumination for dining tables, night tables, counters and work areas. Styles range from traditional to contemporary, mixing materials like colourful glass, wrought iron and stainless steel.
For multiple layers of lighting, consider recessed fixtures like pot lights, especially the ones that swivel. "Recessed lighting is ideal for task and accent lighting," says MacQuarrie. She positioned the pot lights in the Morrison's great room by working with a room plan that showed where specific pieces of furniture would sit. As a result, some of the lights are strategically located to provide task light for reading; others are positioned to accent the family's artwork.
However, MacQuarrie cautions against positioning recessed lights directly over seating areas. Not only is it uncomfortable to sit directly under a recessed light, but they can cast an unflattering light on the people sitting under them.
Adding dimmer switches to existing fixtures is a quick and inexpensive way to create more flattering layers of light. MacQuarrie recommends dimmers for any area where her clients need one level of light for tasks and another for ambiance. Her only reservation is that a dimmable compact fluorescent light creates a low hum when dimmed. "Some people don't notice but others do," she says.
Whether you are building, renovating or simply redecorating, lighting allows you to influence the way a room is perceived. There are lights to make a room look larger, and lights to make the same room look smaller. And, at the end of the day, there are lights to prevent you from tripping over the dog.