My roots are in La Republique du Madawaska, in northwestern New Brunswick. I left the small town of Edmundston back in 1984 with my father's old 1976 Buick Regal, a toaster, a kettle, a few towels and knives. My head was held high. I thought I knew it all. It took me no time at all to realize I had lots to learn.
Twenty-five years later I am still learning about the wonderful food, culture and people of Atlantic Canada, but I think my father would be proud. I have been blessed to have worked with some incredible people over the years, and I am looking forward to taking this new journey at Saltscapes with you. Together we will explore and celebrate all the region has to offer-some places remote, some in our own back yards.
It is an honour for me to continue in Marie Nightingale's footsteps. Marie is the Julia Child of Atlantic Canada, well respected and adored. I hope to make you proud, Marie.
Madawaska is where my story begins-and I invite you to my home region. Six ethnic groups are responsible for founding this unofficial republic: Natives, Acadians, Québécois, Loyalists, Americans and Irish. Over the years this diverse group of people has come to be known for their hard work, and joie de vivre.
In pioneer days, Madawaskans grew a plant that in English is known as flax; in French it translates as "Braye." Flax was mainly used in the manufacture of cloth, and the pioneers who prepared the flax (Brayeux) by shredding it, became known as Brayon.
I am very proud to be a Brayon. This term also refers to some of Canada's earliest settlers who arrived on our shores from Pays de Bray, in Normandy. They carried on many traditions native to their homeland, some of which still exist today as part of the Brayon culture.
La Foire Brayonne, held in the beautiful surroundings of the Vallée du Haut Saint-Jean, NB, is one of the most important French Canadian Festivals of its kind. Now in its 30th year, the five-day celebration encompasses many activities, from concerts and shows to cultural and sporting events, attracting more than 140,000 visitors annually.
One of the highlights is the Parking Party – a large three-level parking garage becomes the night's hot spot, featuring a different band on each level; the street around the structure is cordoned off for a street dance. It's a great opportunity to catch up with old friends and make new ones!
Perhaps the most popular food related to the Brayon is ploye, a type of pancake similar to the English crumpet. The word ploye translates loosely to "plug," suggesting it would do just that: plug the stomach. Originally ploye was eaten by the poor, giving them sustenance during lean times. Made from buckwheat flour, it usually accompanied every meal, as a substitute for bread.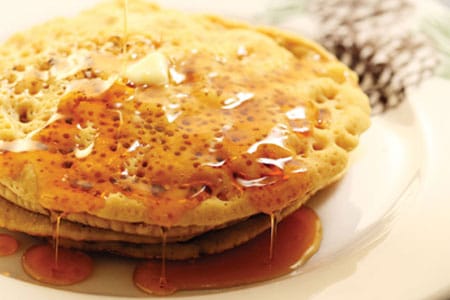 Traditionally it was made with yeast, so it kept from one meal to the next, and was eaten with creton (pork paté), molasses, maple syrup or simply with homemade butter. Ploye is still readily found today in restaurants, homes and at festivals such as La Foire Brayonne. It's truly a must with any ragout or stew.
Recipes featured in this article: