A fresh-baked ham dinner is one of my all-time favourite meals. Unfortunately, some of us have become so ingrained in our traditions that we eat ham only at Easter. That schedule just wasn't working for me-so now I happily enjoy a ham dinner whenever I feel like it.
I also thoroughly enjoy split pea soup-and to make really good pea soup, you need a ham bone. Sadly, the days of going to the local butcher to get a ham bone are a thing of the past, so if you want to make soup, you need to start at square one. That's not a bad place to start, considering the payoff.
To bake a ham, I always buy a whole ham, bone in, and start it the same way: I slather it in molasses and mustard. You can use fancy mustards like Dijon or grainy mustard, but good old yellow mustard is just fine. I use my hands to spread the coating into every nook and cranny, then pop the ham into a 350º (180ºC) oven for two hours. After the first meal of ham with potatoes and vegetables, the possibilities are endless.
First, I strip the most of the meat from the bone, leaving just enough for the pot of soup that will come later. (I prefer not to freeze ham because it has a lot of moisture; freezing just adds more moisture that can come out when the meat is reheated. I will, however, freeze the ham bone if I'm not making soup within the next few days.)
Ham can even be prepared on the barbecue. Follow the same steps using the molasses and mustard rub, then wrap the ham in several sheets of aluminum foil and place on a grill over medium heat. Close the lid and cook for two hours.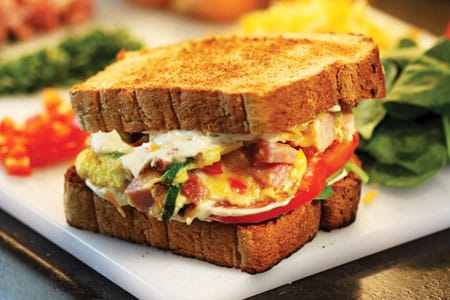 Delicious uses for leftover ham
Sinful Sandwich. Ham on fresh bread with mustard and mayo is a real treat; add whole cranberry sauce or cranberry chutney to elevate the sandwich to a whole new level.
Toasted Western. A western sandwich makes a quick dinner on a busy night. Simply beat a few eggs, add onions and ham and fry, flipping once. Serve on toast with mayo and cheese.
Quiche. A ham quiche prepared with cream and gruyère gives a wonderful richness. Pair it with a salad and it's perfect for a luncheon or brunch.
Mac and Cheese. Adding ham to homemade macaroni and cheese makes a rounded meal by adding protein.
Pita Pockets. Stuff pita bread with ham, apple slices, spinach leaves and poppy seed dressing for a delicious no-fuss meal.

Recipes featured in this article: