A love of forests and the great outdoors developed early in the life of Brad Forshner who, as a young child in Bedford, NS, liked to take long walks through the woods with his grandfather. While some boys his age were learning to count, Brad was memorizing the names and characteristics of the trees that spread their branches above him, the trees he grew to love and would eventually work with.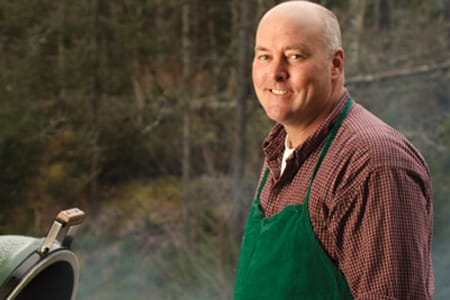 His forest world expanded when, at the age of 12, he moved with his family to Folly Mountain, in Colchester County. There he learned about other hardwood trees native to Nova Scotia, including the sugar maple, oak, birch, beech and black cherry, laying the groundwork for what would become his business-operating a small sawmill with the help of his wife, Susan Gatti, and selling kiln-dried lumber, as well as rustic mantles, stair treads, railings and decking material made from the lumber.
He has never lost his love for the smell of wood shavings. Each type has a unique fragrance and he can identify them all, he says, even if blindfolded.
Apart from his hobby of carving birds, Brad loves to cook, especially on the barbecue. And so it was that he decided to manufacture hardwood grilling planks, as a byproduct of the sawmill activity-so no wood goes to waste.
"The only cooking plank most people are familiar with is cedar, which is not native to Nova Scotia," says Susan. The couple's sugar maple grilling planks also add a nice flavour to fish, meat or vegetables. "They bring out the flavour of whatever you're cooking-people have told us it's slightly sweet. Cedar has its own flavour…it has a strong, distinct flavour."
Susan is no slouch when it comes to knowing her wood. Having been in the forestry business for 10 years (as a licensed scaler for seven of those years, measuring the diameter and length of the logs, determining species grade and calculating footage), she is the perfect business partner for Brad, as well as being his wife.
Along with the sugar maple grilling planks (soon to be joined by oak, birch, beech and cherry planks), the couple turns out wood smoking chips for barbecues and smokers. "For barbecues, you place the moistened chips in tinfoil, poke holes in the tinfoil or leave it partially open, and place it right on your briquettes or coals," Brad says. "For smokers, you can place the moistened chips right on the charcoal. It gives the food a nice little smoke flavour." The chips are available in sugar maple, oak, cherry, birch and beech flavours.
Brad is dad to 20-year-old Matthew, who wouldn't miss a chance to enjoy his favourite barbecue-sugar maple smoked ribs. It's a safe bet that there'll be ribs on the barbecue come Father's Day. Brad's method for preparing them follows, along with two of his other favourites.
Folly Mountain Hardwood products are available at several Nova Scotia retail outlets, including Masstown Market, Pete's Frootique, Clearwater Seafood, River Breeze Farm, the Pork Shop, Fisherman's Market and some Co-op, Quik Mart, and Foodland stores. To order sugar maple planks by mail or for more information, call 1-800-669-0233.
Recipes featured in this article: