Karen Thibeault of Rexton, NB, wrote: "I always look at magazine contests and say, 'How nice — but not for me.'" But when she saw that the contest included mussels, she "just could not pass on this one." Here's what Karen, pictured below, left, shucking mussels with her Aunt Rita, had to tell us about her love for her favourite food.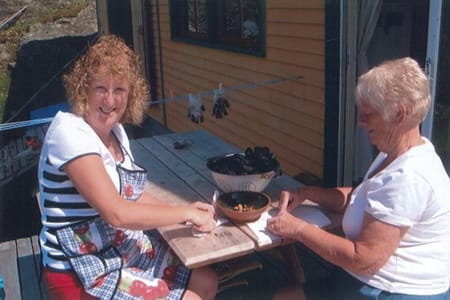 I am a Newfoundlander who recently moved to New Brunswick. Growing up in Gander meant that I was not next to the ocean like many people in the province were, but I was blessed to have access to the ocean whenever it was possible.
My parents grew up on two islands in Notre Dame Bay, NL, known as Exploits Islands. While Exploits was a thriving community from the late 1800's to about 1950, it no longer has any year-round residents. It is now a haven for people who have ancestors from there — in the summertime, the areas around the two harbours are filled with cottage owners and people who are fortunate enough to have their own family homesteads still standing.
I am one of those fortunate people — my great grandfather's home is still standing, and is being restored by several relatives who own it. One of those relatives is my sister, so I still can "go down the bay" and enjoy the islands. Many people in Newfoundland and Labrador have heard of Exploits and would love to visit this beautiful spot, but it is hard to access.
The mussels (wild, of course) that are around the islands have a flavour that is to die for! I have many memories of my older relatives taking us out on a boat with the mussel tongs, and we would bring home many tubs of mussels. The children would help shuck them, and our parents would bottle them for the winter months.
Now, whenever I go to Exploits, my first mission is to get mussels fresh from the waters by my family's home. My elderly relatives always enjoy the mussels that I pick for them. My family (sisters, brother, mother, aunts, uncles, children and husband) ALL tease me and joke about how I am "mad to get the mussels." I endure this good-natured ribbing every summer, and there is one thing I have noticed: not one of my teasers ever says no to eating the mussels that I enjoy picking!
Am I crazy about picking wild mussels? Ask my sister who woke up at 6:45 one July morning last year and discovered that, instead of sleeping, I was in the water by our wharf getting mussels — because the tide was quite low and I could pick without having to totally get in the water! Thank goodness she put the fire on in the house and had fresh coffee perking as I climbed up the cliff, carrying my buckets of mussels proudly — like so many of my ancestors had done before.
It has certainly been a pleasure to share my mussel experiences and the way that mussels connect me to my past — thank you for that. And to whoever reads this rambling — I hope I have put a smile on your face today!
(Karen — you certainly have! Recipe contest winners will be announced on in the January/February 2012 issue of Saltscapes.)